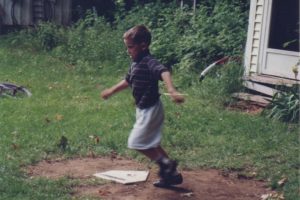 Here at The Toy Guy, summer begins long before the calendar turns, the days get longer and we finally warm up a bit. We've been looking at new toys for this summer for a few months now, and we're excited to share some of what we've found with you.
As the world opens up again post-pandemic, we know families will be hitting the roads for vacations, but there's lots of other time when play will be home-based this summer. As always, we advocate the "balanced toy box," which like a balanced diet gives kids experiences in a variety of different types of toys. From active, gross motor play on bikes and ride-ons to skill and action games to kids' versions of sports and much more, there's so much to choose from this summer—and pretty much at any price you would want to spend.
And while we love our screens and phones and our Nintendo Switch (a lot!), we also want to promote different types of play as well to develop bodies, minds, and particularly in this second summer past COVID (more or less), social play.
Here are some of the toys we think are great for summer 2023: test
Bubbles, Blasters & Foam
Does anything say summer as much as a backyard full of bubbles? We don't think so, and water blasters and foam machines and blasters just amp up all the silly fun.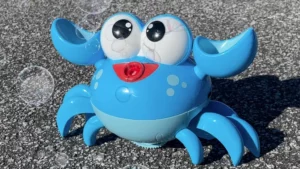 Dancing Crab Bubble Machine from Sunny Days Entertainment
Ages 3 and up
$19.99
Where to Buy
We're kind of in love with this skittering, music playing, bubble-blowing crab. Insert the batteries, pour some bubble solution in the upturned claws, press the button, and watch out! This fast-moving, side-stepper takes off and blows an unending stream of bubbles as it goes along its merry way. It works best on hard, flat surfaces…in other words, outdoors. It it bumps into something, it changes direction. You can't help but laugh when you see this, and toddlers especially will love chasing after this smiling crustacean. The toy comes with four ounces of Maxx bubble solution, and it requires three AAA batteries, which are not included. Take care when inserting the batteries, as the battery door is under the claws and it takes a little dexterity to fit them in—definitely a job for a grown up. It's a lot of play value, and entertainment, and you won't have to shell out a lot of money for it.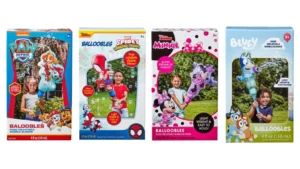 Balloobles from Little Kids
Ages 3 and up
$29.99
Where to Buy
This is inspired…and like nothing we've seen before. It's a character balloon AND a bubble machine. Inflate the character by mouth (though we prefer a pump), insert the batteries and attach the bubble solution wand. Flip the switch, and you're sending a stream of bubbles into the air. The fully inflated toy is about 15 inches tall, and kids will love marching about with a favorite friend. The Baloobles are available as Spider-Man (link above), Minnie Mouse, Paw Patrol, and Bluey. Big, bright, bold, and bubbly, these definitely let kids make a statement of their fandom!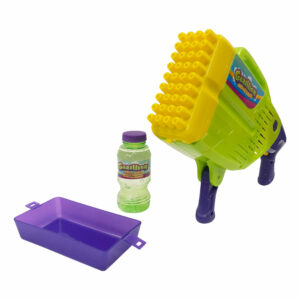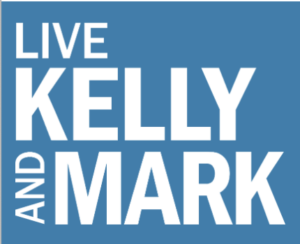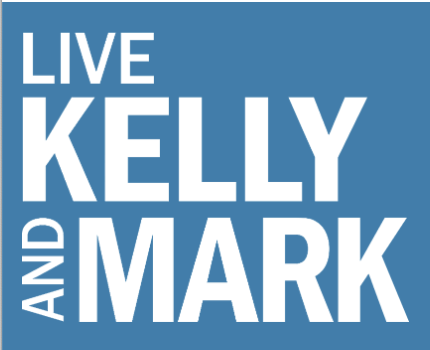 Gazillion Bubbles Stormin' Bubble Blaster from Funrise
Ages 3 and up
$19.99
Where to Buy
Summer storms come with the season, but this one is outrageous. Forecast: bubbles. This is the biggest Gazillion Bubbles blaster ever, and you will completely fill your backyard in seconds. Fill the tray with the Gazillion Bubbles top secret "super solution," and dip the blaster in to the solution. Lift it up, aim, and pull the trigger, and get ready for more bubbles than you've ever seen at one time. It's so impressive. You get about five seconds of continuous bubble blasting before reloading (dipping again). It includes 8 oz. Gazillion Bubbles premium solution, and it requires 6 AA batteries, which are not included.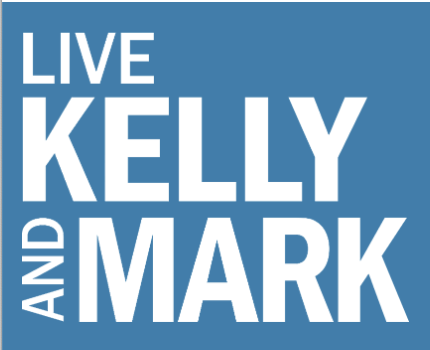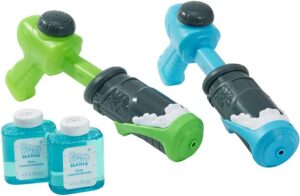 Fom Mania Quick Shot Blaster from Little Kids
Ages 3 and up
$29.99
Where to Buy
It's safe (and messy and fun) to say that 2022 was the summer of foam. Well, it looks like it's not going anywhere, and now Little Kids has created a two-pack blaster set that will keep you foaming all summer long. It's completely mechanical, and no batteries are required. Simply pour the Fom concentrate into the blaster handle, add water, and you're ready to foment some backyard mayhem. (All in good fun, of course.) Pull back and watch as foam blasts out. This will take your water blaster battles to the next level. The set comes with two blasters and two four-ounce bottles of concentrate. Use about half an ounce of concentrate for each refill, and Little Kids says you'll get more than 30 foamy blasts with each refill.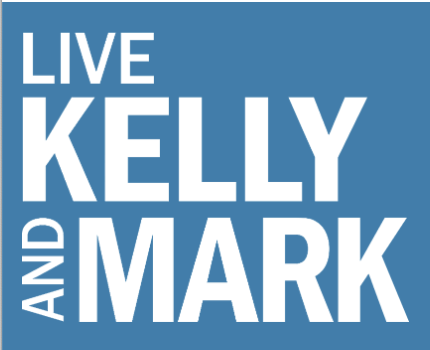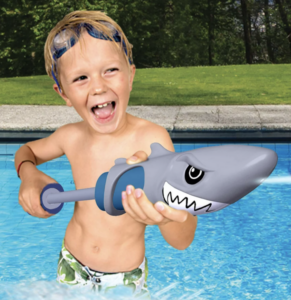 Play Day Max Liquidator Blasters Unicorn and Shark from Play Day
Ages 6 and up
$9.00
Where to Buy
We love these basic water blasters that will pump out a stream of water more than 35 feet. Dip them in the water, pull back on the handle and let fly! These are sized right for small hands, and they're easy to use. Plus, they float, so if you take them in the pool or at a lake, you can create all kinds of games. One of the reasons we like these so much is that they're so basic and deliver a lot of fun for a very reasonable price.
Big Water Fun
On a hot and steamy day, there's nothing quite as much fun as turning on a sprinkler and as we called it, "running under the hose." When we were kids, that meant taking advantage of dad watering the lawn to put on bathing suits and get in the spray. No more. Outdoor water toys are huge, both as a business and quite literally. And they'll still water the lawn. Here are a few that we've been soaking up. Oh, and don't forget to use plenty of sunscreen and reapply it regularly.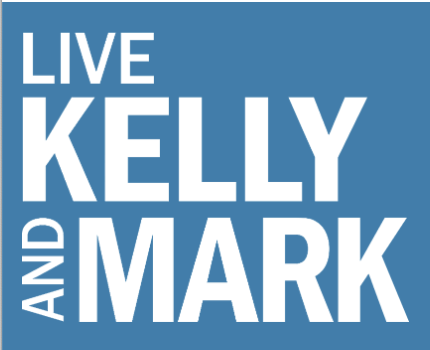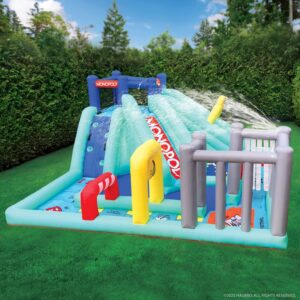 Monopoly Splash from WowWee
Ages 5-10
$798 (on sale for $499 through June 2)
Where to Buy
You won't have to fight over who gets what piece when you play this…because YOU are the pieces. This enormous 15-foot x 15-foot inflatable set lets you play Hasbro's classic game in the backyards. Well, more or less. You can run around the board, got directly to jail and get plenty wet. There's also an obstacle course version of the game. Mostly though, it's a big, colorful set kids will love running around in; they love feeling miniature within the huge game. Your game sets up quickly with the included fan that blows the whole thing up in under three minutes. Make sure you're careful about placement of the game and the fan and follow all safety instructions in the game.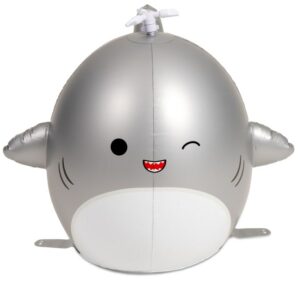 Squishmallows Gordon The Shark Mini Backyard Sprinkler from BigMouth, Inc.
Ages 3 and up
$39.99
Where to Buy
The super hot Squishmallows from Jazwares show no signs of cooling off when it comes to sales and popularity. Now, though, kids can cool off with one of the favorite characters, Gordon the Shark. Gordo has been reimagined as an adorable sprinkler that is easy to connect to a regular hose and sprays a steady stream of water 360 degrees in the yard. It stand about waist high for kids and it's easy and fun to run in and out of the water.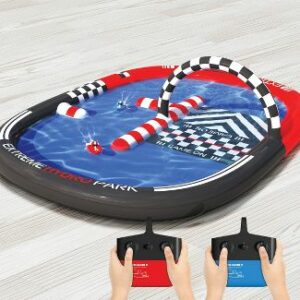 Hydro Racers from The Sharper Image
Ages 6 and up
$49.99
Where to Buy
You don't need to go to the lake or the pool to have an R/C boat race. The Hydro Racers come with a 3′ x 4′ inflatable pool. Fill it up with water, set the boats in it, and you're off to the races…literally. The boats have rechargeable batteries; plug them in or connect to the controllers. Red and blue controllers make it easy to know which boat you're driving. They're pretty zippy, and great for co-play. You don't need to fill the pool entirely, just enough so the boats clear the bottom. Recharging the boats was pretty quick for this type of toy. Controllers require 6 AA batteries, not included.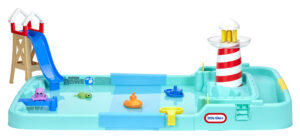 Splash Beach from Little Tikes
Ages 2-4
$74.99
Where to Buy
We love sets like this for creative, open-ended play. This sturdy outdoor play table is easily assembled. Fill it with water, and engage in all kinds of splashing, exploring and activities that engage imaginations and fine motor skills. The features—scooping, slides, sprinkler (when you attach the hose) and much more—are boldly colorful and ideal for small hands. Great for solo or co-play. The set all folds up easily for storage, too, but we're guessing you won't be putting this away until fall comes.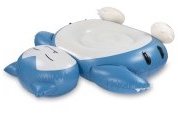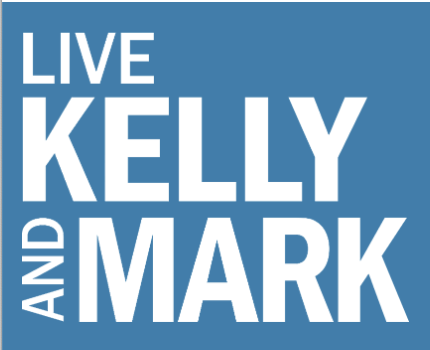 Sunny Days Pokémon Pool Floats from Pokémon Center
Ages 3 and up
$29.99-$59.99
Where to Buy
What would be better on a lazy summer day than relaxing with a favorite Pokémon pal? These outrageous, enormous pool floats are the perfect thing. We're partial to Snorlax (pictured) as the picture of relaxation in the water. There are many of these to choose from, at Pokémon Center, so you can find your favorite floating friend to idle away a day with.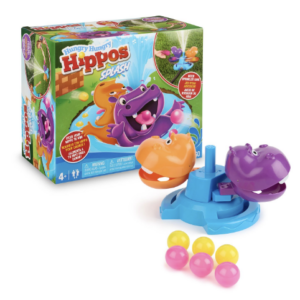 Hungry Hungry Hippos Splash from WowWee
Ages 4 and up
$19.99
Where to Buy
Hasbro's classic game is all wet. And that's a good thing. Hungry Hungry Hippos has been adapted into a sprinkler game for two players. Connect the hose, choose your color, and you're off. It's a race to see who can feed the hippo three balls first. The closer you get, the wetter you get, and you can adjust the hippos for difficulty range–wide open mouth, or slightly open mouth. You can just use this as a basic backyard sprinkler, too.
Active Outdoor Fun
On a nice summer day, Mrs. Byrne (aka Mom) would turn us out of the house and not expect to see us till lunch time. That level of free play (and trust that we would follow the rules about where we could and couldn't go) inspired all kinds of creative activities. We played a lot of games, and while we weren't skilled at things, we had fun. The idea of playing baseball (however badly) or tennis (worse), riding bikes (we excelled at that), or other games without adult supervision was great for keeping us active and negotiating interaction with our friends, learning to cooperate, and so much more. Active play is critical for developing bodies, too, and just because you may be playing at a different skill level, doesn't mean you shouldn't have fun. WNBA basketball star Sue Bird is a real advocate of getting out to play. She knows only a tiny fraction of kids will ever turn pro, but she says this kind of play isn't about that. It's about all the other benefits in the here and now. Here are a few active toys we think are totally on trend for this yea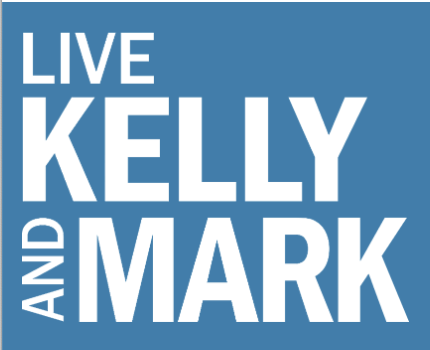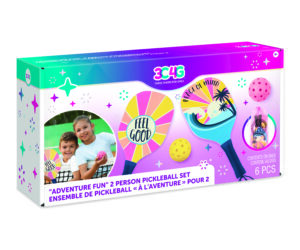 Two-Person Pickleball Sets from Make It Real
Ages 8 and up
$29.99
Where to Buy
Easily the hottest adult sports activity, Pickleball has been sweeping the world as a sport. No wonder kids want to get into the action. These sets give kids paddles and balls all in a drawstring bag for easy transport. The sets don't include a net, but that won't slow down the fun. What's great about these sets is that they've been designed for tweens, so the racquets are appropriately sized and weighted for younger players, and they have a string to go over the wrist to keep the paddle from flying away in a heated game. We also think that this is a good price to test the waters to see if kids are interested in playing more competitively before you invest in a lot of grown up gear.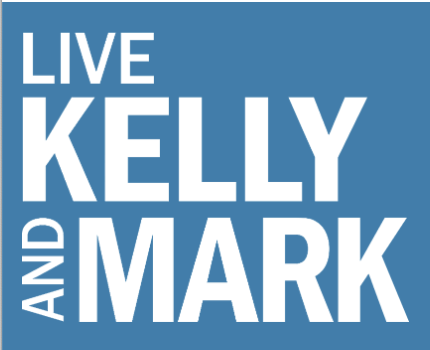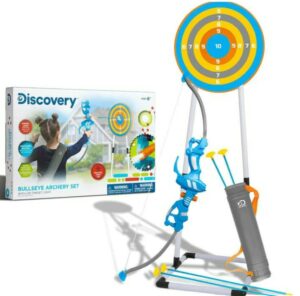 Bullseye Outdoor Archer Set from Discovery
Ages 6 and up
$39.99
Where to Buy
Archery is a great way to develop all kinds of skills from concentration to hand-eye coordination, and much more. We really liked this set because it helps kids build mastery in a fun and engaging way. LED lights on the bow and arrow toy helps guide kids to make that bullseye.The set includes four suction-tipped arrows, one bow, and one arrow quiver for storage. The target also lights up, so this children's archery set is ideal for play during the daytime and at dusk.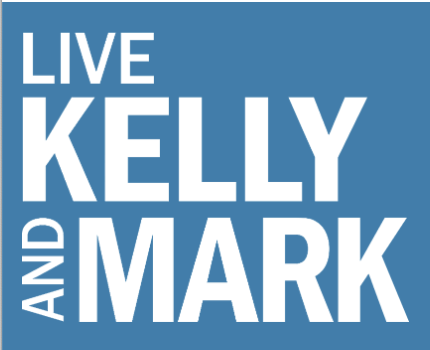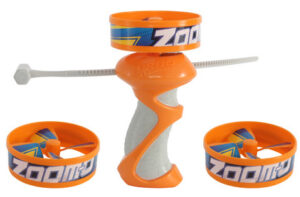 Zoom-O Turbo Disc Launcher from Blip Toys
Ages 5 and up
$9.99
Where to Buy
Here's another classic summer toy designed for lots of active play. Load the disc, pull the rip cord and watch as the disc sails up to 100 feet. The set includes three discs. We recommend playing in a wide open space. Kids love seeing these fly…and competing to see whose flies highest and furthest.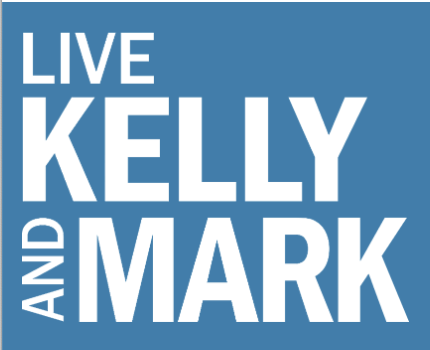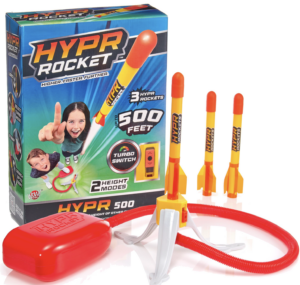 HYPR from Wow Stuff
Ages 6 and up
$21.99
Where to Buy
The classic stomp rocket is a staple of outdoor fun in the summer. Leave it to the crazy smart people at Wow! Stuff to re-engineer this classic for outrageous performance. Yes, you still stomp to launch, but the secret is in the o-ring built into the base of the rocket that allows pressure to build up and power up your stomp. Set up is less than 30 seconds, and the rocket will sail as high as 500 feet, depending on your stomp. Plus, it's been designed to have a "normal" mode for typical backyard fun, and a "turbo" mode when you can really fly high! The link above is to Amazon in the UK, and they ship to the U.S. The toy will be available in the U.S. in July.
Go For a Ride!
During the height of the pandemic, it was almost impossible to find a bike for sale, or other ride-ons for that matter. Well, they're back in stock, and if you haven't gotten one for your kids, this may just be the season. For us as kids, bikes were our freedom. We could pedal around under our own steam. They provided transport, social play…not to mention the fastest route to the public library. (Yes, we were allowed to go on our own after we were 8.) Riding toys are more than bikes, though, there's some great outdoor play in the ones we've found this year.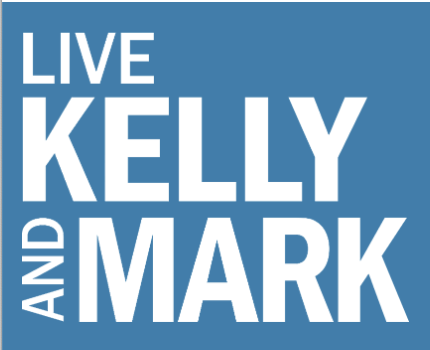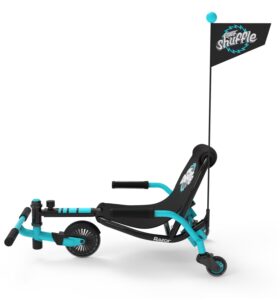 Crazy Cart Shuffle from Razor
Ages 4 and up
$109
Where to Buy—QVC Exclusive in July
It's been a full decade since the Crazy Cart was introduced, and it just gets better and better. This year's version is the first non-motorized Cart that lets kids drive, drift, and spin just with foot power. Sit in the seat, place your feet on the bar in the front, and move the cart by shifting feet back and forth. It's completely silent, easy to use, and tons of fun. Don't forget to wear all protective gear.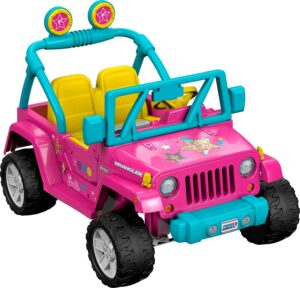 Barbie Power Wheels Jeep Wrangler from Mattel
Ages 3-7
$399
Where to Buy
With the Barbie movie coming this summer, even her littlest fans will want to be stylin' like Barbie. this replica Jeep Wrangler has been decked out in hot colors, comes with 6 tunes, and has working doors. The ride on has two forward speed (5 mph and 2.5 mph) and parent-controlled speed, a great braking system and the ability to go forward and backwards over multiple surfaces, including grass, gravel and dirt. The car seats two with a maximum weight of 130 pounds, and it includes a rechargeable 12-volt battery and charger.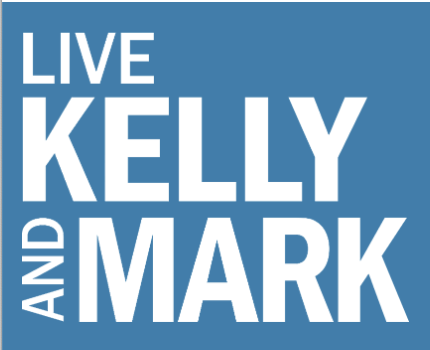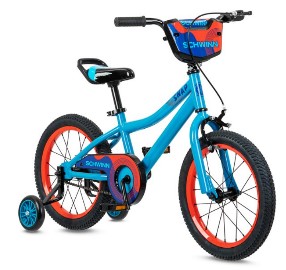 Schwinn 16-inch Snap and Breeze Bikes from Schwinn
Ages based on height and children's abilities
$138
Where to Buy-Snap
Where to Buy-Breeze
Schwinn is perhaps the most recognized name in bikes, and these fulfill that quality legacy…and then some. Super sturdy bikes with training wheels so the youngest riders can learn and gain confidence. These bikes have been designed with young riders in mind, so the proportions, pedals, and more are engineered to make riding easier and more comfortable and ensure proper leg position. (You might be surprised how most bike seats are set too low for kids to ride effectively, causing a lot of wasted energy. Seats should be set so there's just a slight bend in the knee when kids are seated and a leg is full extended.) We're showing the 16-inch version here, but they're also available in 12-inch and 18-inch models.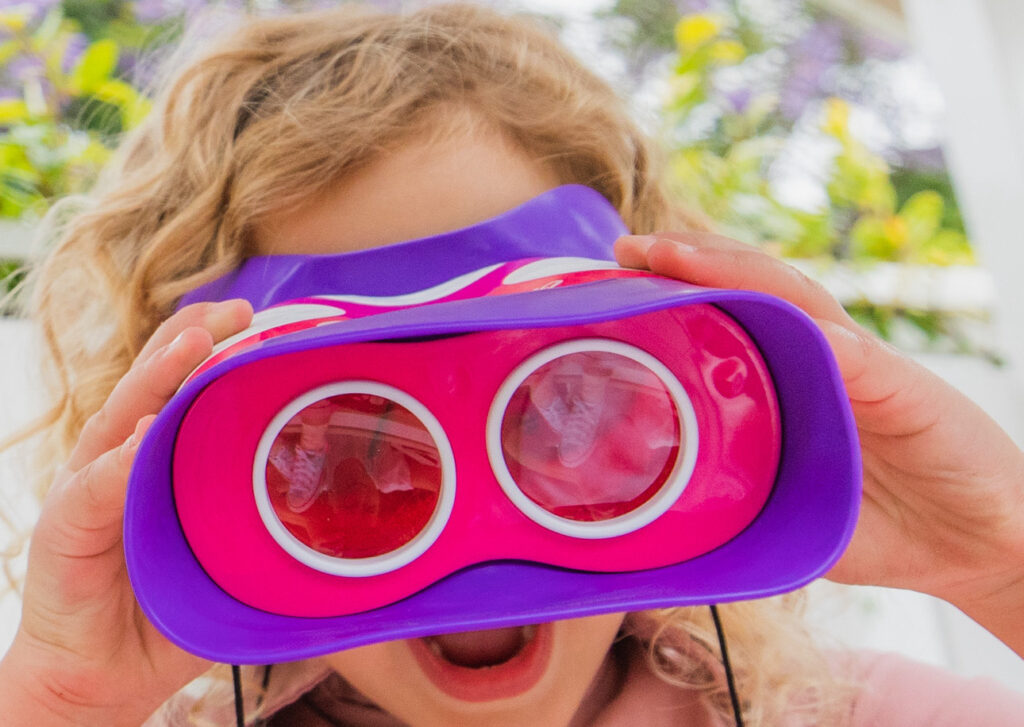 GeoSafari Jr. Kidnoculars from Educational Insights
Ages 3 and up
$14.99
Where to Buy
These kid-friendly binoculars are ideal for the youngest kids to go exploring with. They have 2X magnification, and no focusing is required. Simply look through the padded eyepiece, and it's an instant wow as the world around little kids gets twice as big. Grown ups don't always get the "wow," but kids do, and who knows what kind of imaginative adventures this will inspire.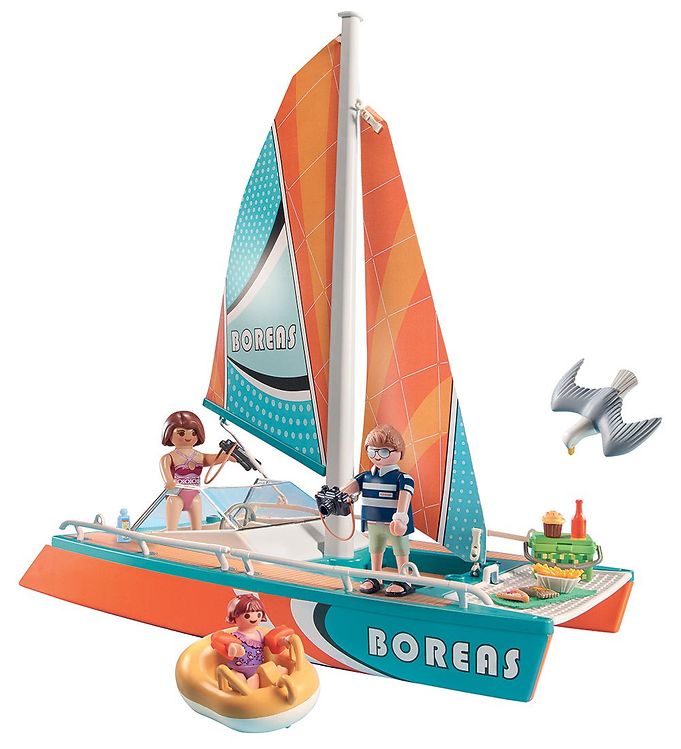 Playmobil Catamaran from Playmobil
Ages 4 and up
$29.99
Where to Buy
Set sail for imagination with this beautiful catamaran that really floats. It features all the traditional Playmobil great design and has two sails, a bridge with steering wheel, and you can even take a a glass-bottom sail. This packs a lot of fun and a lot of value into an outstanding water toy. Plus, you can make the play even more dramatic by adding the battery-operated motor, sold separately for less than $10. We'll be taking this on a short jaunt to make-believe Catalina.

Getting Creative
Summer is a great time to engage in arts and crafts play. Messy things can happen outdoors, for instance, and there are classics like sidewalk chalk that were designed for summertime play. Here are a few new options to complement those classics.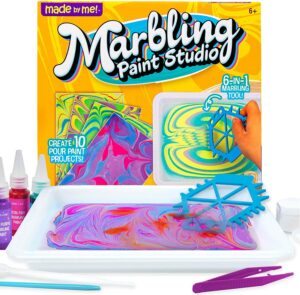 Made by Me Marbling Paint Studio from Horizon Group USA
Ages 6 and up
$18.99
Where to Buy
While some historians disagree on the origins of marbling paper, it's a technique that's been around for 1,000 years…or more. It's a relatively easy way to create dramatic designs, and it's been used in many different ways over the years. You may have seen marbled paper in endpapers in books. (Dickens first editions have a lot of them.) Now today's kids can engage in the wonder of this technique. The way it works is that paper is submerged in a tray of water. Oil-based paint is added, which floats above the water. Use a tool to create designs, and then lift the paper to transfer those designs from the water to the paper. It's simple…and magical. This kit comes with enough materials to create 10 different projects.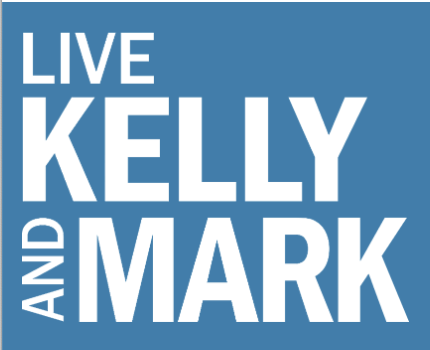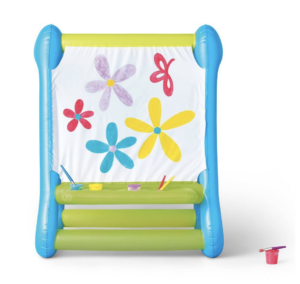 Giant Outdoor Easel from Mondo Llama
Ages 4 and up
$30.00
Where to Buy
Apparently, this is a "thing" this year…or so we're hearing from a handful of parents and seeing on Tik Tok. This giant easel inflates to 48-inches tall and has a big white surface kids can paint or fingerpaint on. Use washable, water-based paints, and you can hose it down after play, deflate it, and store easily. (If you must save your little one's masterpieces, you can attach paper to the easel.) One of the things we like about this is that it can be controlled mess and mayhem as kids splotch and splatter color onto the big surface. You can hose the kids off after play, too.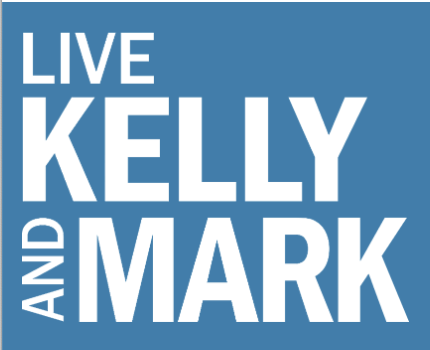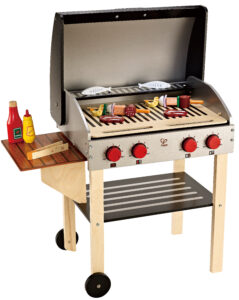 Gourmet Grill with Food from Hape
Ages 3 and up
$159
Where to Buy
Creative play is more than paints and crayons. It's also role play and make-believe. Few companies give kids the kind of rich opportunities for this kind of play that Hape does. This gorgeous let's pretend toy lets kids imagine they're the kings (and queens) of the cookout. It comes with more than 20 accessories to create a realistic cooking adventure, and it's on wheels so the fun can move around as kids would like.
Fun in the Great Indoors
Not every play time needs to be outside in the summer. If it's too darn hot, or too darn rainy, indoor play is always an option. We played a lot of board games on our porch, or curled up in an old chair and read a rainy afternoon away. The point is, every kid has their own play style, and these toys let them engage in a variety of activities to express that.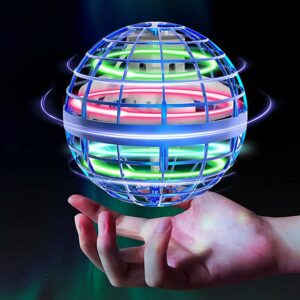 Flying Ball Orb from TikDuck
Ages 6 and up
$32.98
Where to Buy
We've seen a lot of this kind of toy, but what impressed us about this is how well engineered it is, how bright the lights are, and how (relatively) easy it is to control. After a few test flights, you'll be pretty close to being a pro. The lightweight and flexible flying toy also has enclosed propellors, which means inevitable crashes won't wreck the toy, and it's great for indoors or outdoor play. The unit has a USB rechargeable motor that takes about 25 minutes to fully charge and delivers about 8 to 10 minutes of constant flying time. Plus, one of the things we really like for indoor play is that it doesn't require a lot of space to let the operator shine…in more ways than one.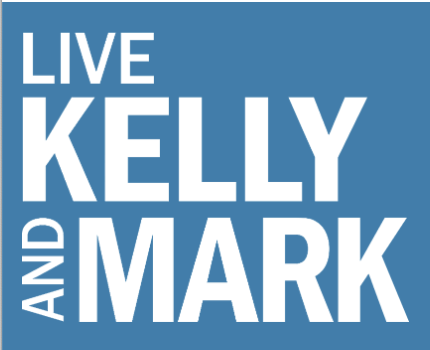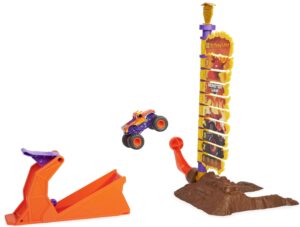 Monster Jam El Toro Loco Big Air Challenge from Spin Master
Ages 3 and up
$19.99
Where to Buy
Kids love competing with their toy cars, and this is the ultimate bashing, smashing, flying challenge. Set up the target tower that has more than 5 areas you can smash. Then adjust your launcher, slam, and see how well you did. Compete to hit the tower at the highest point and release the "fireworks," and rack up points. Pro tip: It's not as easy as you might think, but it sure is a lot of fun!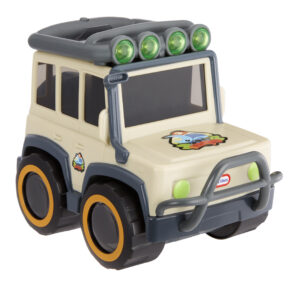 Big Adventures Safari SUV from Little Tikes
Ages 3 and up
$24.99
Where to Buy
We love how this toy stimulates imaginative play for little ones. The SUV is really a bunch of backyard exploration tools, too. The wheels come off and are binoculars. The spare tire is a compass, and the headlight is a powerful flashlight. This encourages all kinds of active, open-ended play that stimulates kids' natural curiosity.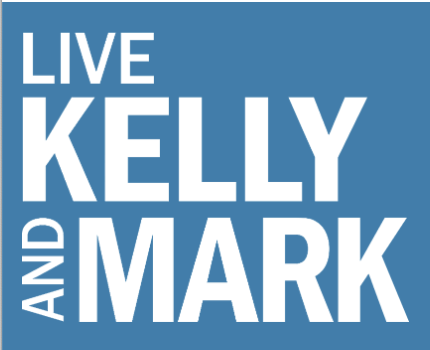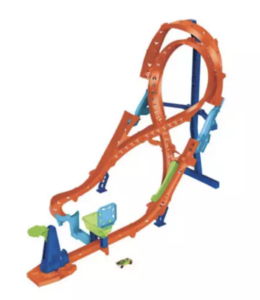 Hot Wheels Action Figure 8 Track from Mattel
Ages 5 and up
$34.99
Where to Buy
For 55 years—and three generations of kids—Hot Wheels has always meant racing excitement, unbelievable jumps and stunts and fully loaded vehicle play. This set is kid-powered, a great value and has all kinds of great action and stunt play. The set stands more than two feet tall. Load up the car, and choose your path. Use the diverter to send your car through the figure 8 or send it through the jumps. The vertical speed is a wow for kids, and they'll have a blast trying to hit the stunt. Pro tip: You're not going to hit it every time, but that's part of the excitement. The set comes with one Hot Wheels car, but we're guessing you're going to want to pull out all your 1:64 scale cars to send them through this awesome track.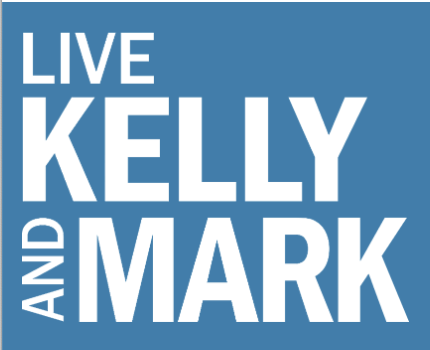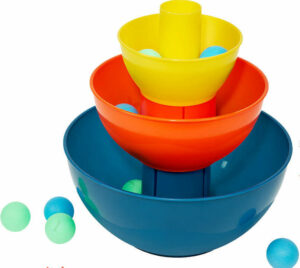 Ball'zn from Little Kids
Ages 8 and up
$24.99
Where to Buy
This fast-paced party game will bowl you over. Pun intended. Set up the three-bowl stack in the center of the table. The large blue bowl goes on the bottom, red in the middle, and yellow on top. You'll know them by the decreasing side. Then pick teams or play one-on-one. Try to bounce your colored ping-pong balls into the top two bowls. If you hit the very top, narrow, opening, you win the round instantly. Score two points for landing a ball in the yellow bowl, and a single point for the red ball. And if you get your opponent's balls, you can try to bounce them into the bottom bowl, where they'll lose a point. The round ends when all the ball have landed in one bowl. It's hilarious chaos, and when you're done, everything fits together in one unit…just like one of your kitchen sets.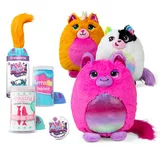 Misfittens Wave 2 from Basic Fun
Ages 4 and up
$9.99
Where to Buy
These adorable, super squishable stuffed kitties are inspired by the #ifitfitsitsits meme trend on social media where cats, animals, and even some people, are pictured sitting in things you might not think they'd fit in. Each of the 12 characters in the collection comes in a smallish jar. Open it up; pop our your pet, and watch as the kitty grows in size. It's soft and snuggly, and when it's time to find another tight place, squish it all back down till it's time to come out and play again.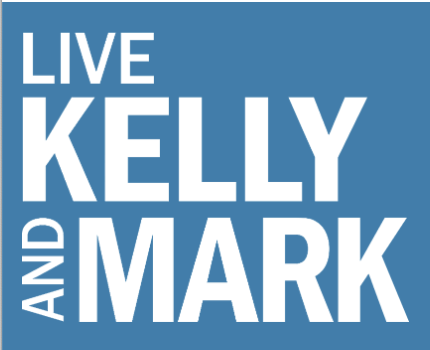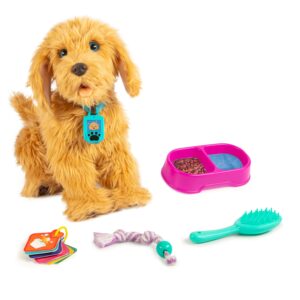 Moji the Lovable Labradoodle from Skyrocket
Ages 4 and up
$79.99 (limited time)
Where to Buy
These electronic pets just keep getting more realistic. Moji is so soft and cuddly you might be surprised by the advanced tech that allows the puppy to respond to your touch and voice commands with over 150 unique reactions. Moji's smart collar has a screen that displays animated puppy emojis that communicates their thoughts, from feeling super excited to needing to go potty! Tail-wagging, head-tilting, and performing a dozen tricks like "High Five!" and "Speak!" Moji comes with interactive cards, a 2-sided bowl, chew rope toy, and grooming brush that Moji interacts with. Requires 4 C batteries, not included.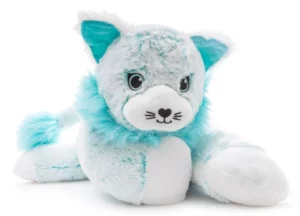 Fluffyweight Stuffed Toys from Fluffyweight
For ages 2 and up
$48 & $78
Where to Buy
When it's time to calm down after all that activity, have we got the toy for you. You've heard of weighted blankets. You may even use one. A few years ago, these weren't a thing, but in anxious times, people have found a lot of comfort being snuggled by them. Now that same calming effect has a cute interpretation for kids in the Fluffyweight pets. And, yep, there's science behind it. According to the company, these plush pals "are super-soothing, safe and effective therapeutically weighted stuffed animal designed under the guidance of occupational therapists to effectively ease anxiety and shorten sensory meltdowns." But even though they've been designed and tested with an eye towards therapeutic benefits, anyone can appreciate the snuggly comfort of these animals. There are two sizes, and for little ones, it's the effect of a full-body hug. And who doesn't need that?
Keep Learning All Summer…
Beyond play, summer is a great time to discover reading, relaxing and immersing yourself in stories. Yes, we can talk about learning, but a love of reading, as has been said many times, can last a lifetime. Well, it's true, and here are two ways to get kids started that adds great levels of paly.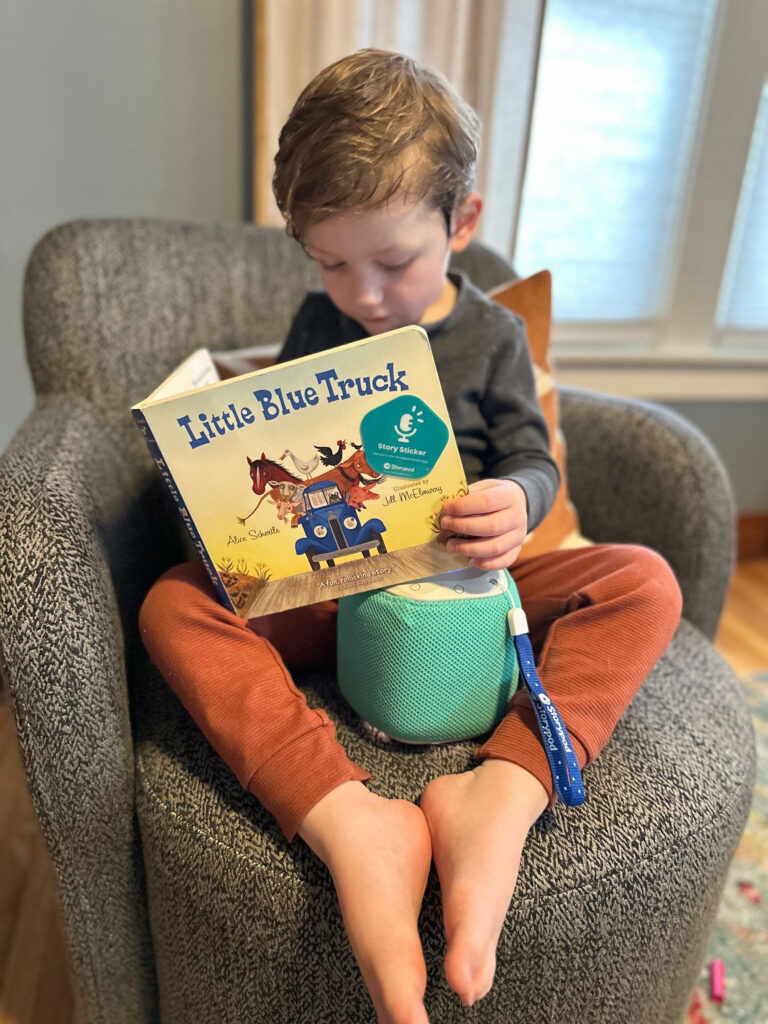 Storypod from Storypod
For ages birth-6
$99.99
Where to Buy
For storytime, we love this interactive audio system that brings stories to life and lets parents, caregivers, or anyone record a story in their own voice (through an app), as well as interact with books and engage kids with narratives…something we absolutely love. The unit is controlled by the wonderfully tactile yarn figures. It's easy to use and absolutely magical for kids as stories come alive in voices from their loved ones.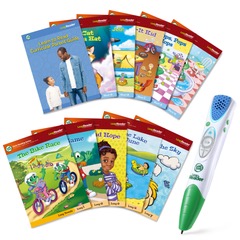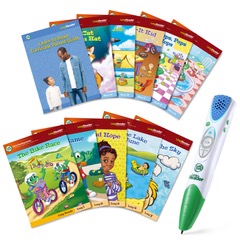 Leap Reader Learn-to-Read 10-Book Mega Pack from LeapFrog
Ages 4-8
$49.99
Where to Buy
Kids love stories, and they love the feeling of being "big" that really being able to read encourage. The LeapReader comes to life as kids touch the pages. They can use it as a tool to help sound out words and figure them out as they build confidence in their growing skills. Or, they can just relax as the stories are read to them. There are many different reading levels and lots of topics, so there will always be something fun to read. There's an entire library of great books to encompass all kinds of interest levels and subject areas.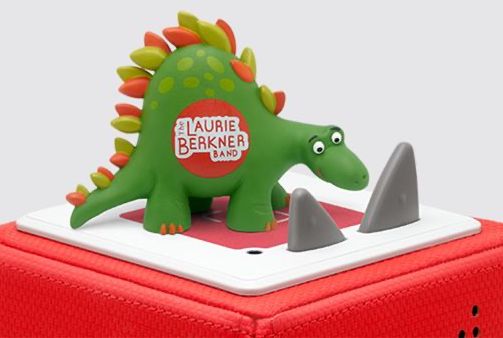 Tonies from Tonies
Ages 3 and up
Toniebox $99.99, Figures $17.99
Where to Buy
Visitors to The Toy Guy know how much we love this whole line of products. It's screen free storytelling in a huggable box. Sounds simplistic we know, and it is to an extent. When you place a Tonies figure on the box, you unlock all kinds of great content including stories, interactive reading, and much more. The latest introductions include figures from Disney's Encanto and music from the Laurie Berkner band, one of the most popular children's musicians. They join an impressive line-up that includes kids' favorites from Disney, Sesame Workshop, and many more. As always, high quality production and age-appropriate content make this a great choice for learning and entertainment.
And For Another Family Member…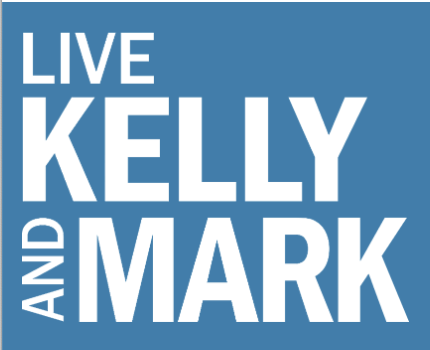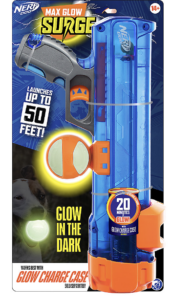 Nerf Max Glow Surge Glow-in-the-Dark Launcher from Nerf Dog
$39.99
Why shouldn't the pooch play, too? This dramatic launcher fires glow-in-the-dark balls up to 50 feet, so the family fur baby can play all summer, too…even at dusk. Available accessories include an LED charging case that lets you get the balls glowing in 30 seconds for non-stop action.
Summer Is Time for Classics, Too!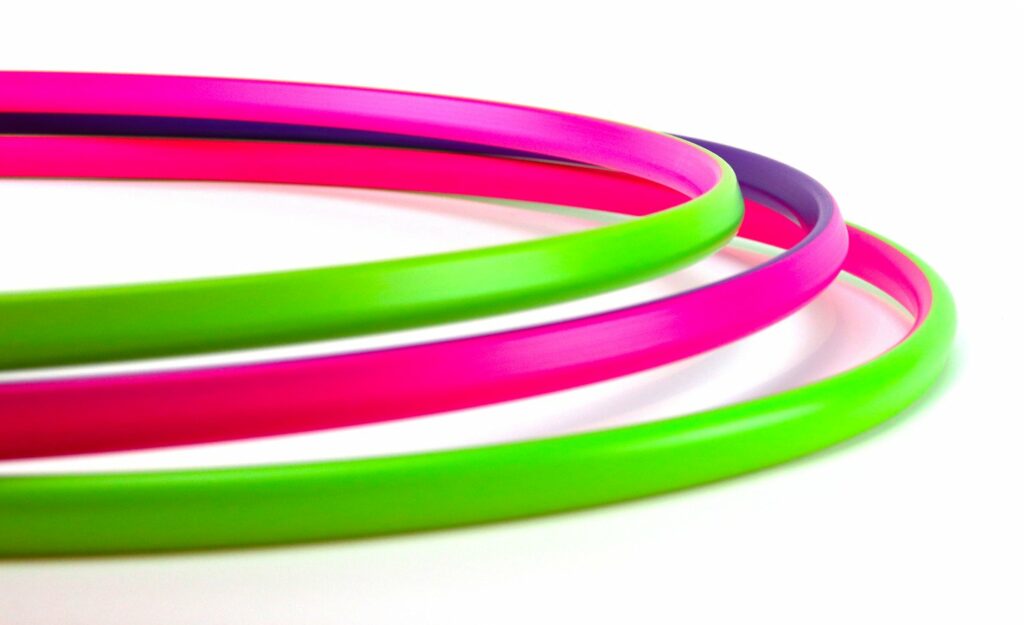 One of the great things about summer play is that in many respects, it's timeless. Our friends at Wholesale Sock Deals have created a great list of classic toys that are classics that your kids will never get tired of…and they'll never outgrow! Check them out.
DISCLOSURE: PURCHASE LINKS ARE TO PLACES THAT HAD IN-STOCK AVAILABILITY AT THE TIME OF PUBLICATION. THE TOY GUY DOES NOT RECEIVE ANY COMMISSION OR FEES IF YOU PURCHASE THROUGH THOSE LINKS. WE DEFINITELY RECOMMEND SHOPPING AROUND. PRICES LISTED HERE ARE MANUFACTURER'S SUGGESTED RETAIL PRICES. IN SOME CASES, PRICES MAY VARY.