The Playground Podcast
COMING APRIL 2019
Join The Toy Guy and toy expert Richard Gottlieb from Global Toy Experts as we talk about all things play.
Whether you're a consumer, toy industry professional, inventor, or just a kid at heart, you'll want to listen in as we cover a wide range of topics related to toys, society, play, the toy and children's entertainment business and, of course, a look at some of the classic toys and toy history that shaped us and our culture.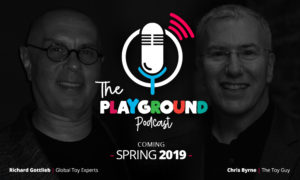 Drawing on their own expertise and in-the-trenches experience of the toy industry, child development and products, Chris and Richard will be joined by experts in various fields to have.
Here are some of the topics we'll be covering:
Hot trends and toys.
Conversations with inventors—and tips for getting your great toy idea produced.
What's new in tech…and why play doesn't evolve as fast as chips.
Toy guns, blasters and the ongoing argument about power and conflict play.
Free play versus homework and structured activities…what the latest data suggests
A look back at some of the crazy toys that would never get made today.
Chris's One-Minute Toy Stories—the history of iconic toys in a minute.
And much more!
Check back here for launch date, download information and much more content related to the shows. If it touches toys, play and kids, will be kicking it around in The Playground.