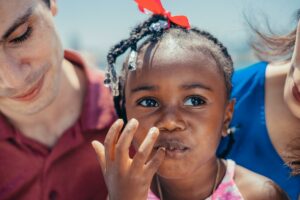 Well, it's spring, and soon it will be summer. For many kids it will be the end of the first full school year since the pandemic. And there have been a lot of changes in so many areas of our lives. As difficult as change can be for adults, it can be even more challenging for kids. Here are some tips for managing changes large and small in your world. Best of all they help you keep an open dialogue with your kids, which is always a good thing. Some of these may be obvious; some not so. The point is that we always support nurturing the whole child—and that can mean considering things like exercise and nutrition. We all know that we make better choices when we're not tired, or how being active really does make us feel better. And, of course, you always want to avoid being "hangry." Here are some things to consider:
1. Explain the Why
When you begin making changes to your home and lifestyle, your kids will ask questions. Let them know you're trying to create a healthy environment for the family, and let them participate in the process. Explain that the reason for cleaning and organizing their rooms is so they can feel better in their space. Have them help you prepare fresh meals, and let them choose which houseplants to buy for shared spaces. When you include your kids, they will be excited to learn more about healthy living.
2. Set an Example
You can (sometimes) order your children to be health-conscious for their own good, but if you aren't doing the same things for yourself, they may not see the point. Instead of "do as I say" parenting, try a "do as I do" approach by:
Keeping your own room clean and decluttered
Making and adhering to a family budget
Following a routine sleep schedule
Practicing self-care, exercising and eating clean
Wearing your seatbelt, life jacket and bicycle helmet
Purchasing green hygiene and cleaning products
When your kids see you making safe and healthy life choices for yourself, they will recognize the impact on your health and mood, and they will appreciate the importance of mindful decision-making for themselves.
3. Prioritize Nutrition
As a busy parent, it can be easy to hit the drive-thru for fast food after a long day. While your kids may enjoy chicken nuggets and fries for dinner, it's important to understand that the nutritional value is negligible. Instead, you can spend quality time as a family preparing healthy homemade meals. Additionally, you can stock your fridge and pantry with nourishing snacks such as fruit juices and nuts in place of chips and soda.
Be sure to talk to your kids about how food makes them feel. As they learn and grow, they will recognize how wholesome, balanced meals give them energy and reduce their hunger, while empty calories do not sustain them throughout the day.
4. Make Exercise a Priority
Exercise is an essential part of life, and teaching your kids the importance of staying active can have numerous beneficial effects. Walking specifically is a great way to become more physically fit, as well as lower stress levels and improve mental health. Furthermore, taking regular walks can also help children recognize their environment, learn about nature, and gain independence with age. Find ways to make this a family activity, and take time to explore your neighborhood as well as nearby neighborhoods to combine physical activity with an awareness of the area where you live.
5. Let Them Eat Cake
While you want to encourage kids to make healthy choices every day, it's important to remember the social impact of food on relationships. Typically, when friends and families gather, it's around a table full of rich, cultural dishes that may or may not be particularly healthy. Instead of forcing your kids to be overly restrictive, talk about special occasions, and allow them the freedom to indulge. (This is not different from serious athletes who allow themselves a "cheat meal" every week.)
6. Encourage Play Time
You know we're going to talk toys. Toys are great. Whether for individual or social play, quiet time, or raucous roughhousing (a favorite of my brothers and me), toys are essential, and  come in all shapes and sizes, from puzzles to board games to trucks and dolls, there is something for everyone!
7. Be a Good Listener
In addition to your children's physical health and wellbeing, you are also responsible for helping them build mental and emotional fortitude. Your kids have feelings about everything going on in their lives, and they may have difficulty communicating their desires and experiences to you. Build trust with your kids by practicing active listening and letting them know that their thoughts and feelings are safe with you. Whenever they face difficult decisions, they will come to you for your wisdom and guidance.
8. Pay Attention to Social Media
We continue to be concerned about the outsized influence social media can have on kids' lives. Whether to fit in, feel cool, or impress peers, things kids see on social media can encourage them to make poor choices. They're kids. Take time to talk to your kids about their social media use, what's important to you—and set family values. Remember, what you teach kids in the home will have lifelong impact, creating good habits, an ability to handle challenges and much better self-esteem.
My parents lived by the advice in Proverbs: Train up a child in the way he should go, And when he is old he will not depart from it.
Perhaps it sounds corny, but I can tell you, with my brothers and me…it worked.