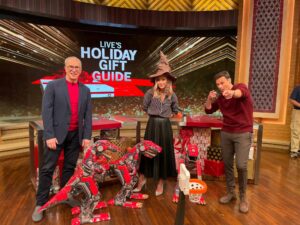 Really, it is the most wonderful time of the year. We get to play with Kelly and Ryan and the incredible crew that's been with them for years. Seriously, I don't know who has more fun, the kids who ultimately get the toys or the Live team that helps make these segments come off.
Here are the toys that we featured: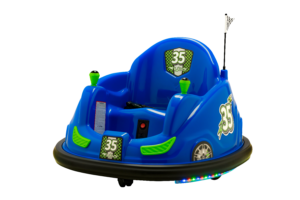 Flybar Bumper Cars
From Flybar
18 months – 4 years
$99.00
Where to Buy
Kelly and Ryan rode the adult-sized cars that aren't available yet, but they might be if you get in touch with the company. However, we've played with the kid-sized versions with real kids, and they loved it. It's all the fun of an arcade attraction, but done for little ones (who might be too little to go on these at the amusement park).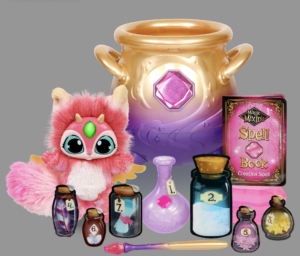 Magic Mixies Cauldron
From Moose Toys
5 years and up
$69.99
Where to Buy
This is easily one of our favorite toys of the year. Why? Because it feels like real magic. Kids can put all kinds of different things in the cauldron, sparkles, accessories, etc. (Really, only limited by the imagination.) Tap on the edge of the cauldron three times, and your potion begins to bubble and a mystical mist rises. In a little bit, the magic transformation happens, and you remove your own Magical Mixie character from the cauldron, completely dry and ready to play on its own. Now, an adult can figure out how this happens, but to kids, the "wow" factor is enormous. And there are spell books and other ways to bring the toy alive. Best of all, you can repeat the process and make more and different kinds of magic. Kids will love sharing this with one another and being creative as they play. Younger kids may need a little help from parents, but for the most part, the operation is very easy and creative. The cauldron uses a rechargeable lithium ion battery and it comes with a USB charging cable. This is also very popular and it may be a bit hard to find, so if you want it and you see it, buy it as soon as you can find it. The manufacturer and retailers tell us more are on the way, and they should be on shelf very soon, if you don't find it immediately.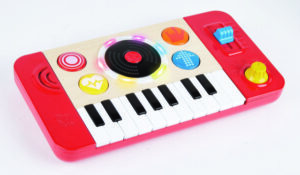 DJ Mix and Spin Studio
From Hape
2 years and up
$29.99
Where to Buy
This is a classic that allows kids to explore, develop and have a blast with music. The unit combines a keyboard, various different sound effects triggers, music, and scratching. Kids can experiment and explore tempo, rhythm and sounds, playing along to music or creating their own. Of course, this a great toy for this age because it's ideal for cognitive development. Random actions become intentional, and intentional actions turn into creative play. The music provides instant feedback for actions taken by the child, which reinforces exploration and developing an understanding of responses to action, helping create the building blocks of agency in play.
Oh, and don't forget that it's a lot of fun, too. The music is tuneful, and while kids can certainly make a racket, that's hilarious for them, and like all Hape products, it's made of high quality materials and very durable. It takes 3 AA batteries.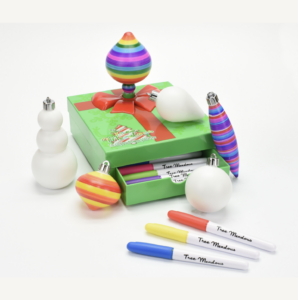 Gift Box Ornament Decorator
From Hey Buddy Hey Pal
3 years and up
$29.99
Where to Buy
Put a new spin on your holiday crafting. The battery-operated unit spins ornaments that you can decorate with non-toxic markers. It's fun for kids of all ages, and makes a great addition to your tree, or crafty gifts to give to others. The set comes with three ornaments in classic shapes, plus 8 markers. We love doing this, and you might paint them with clear acrylic to give them a shine. Best part of it: they're unbreakable. It's a nice way to start a new holiday decorating tradition.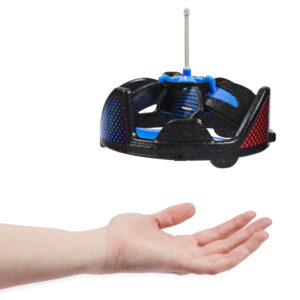 Air Hogs Gravitor
From Spin Master
4 years and up
$19.99
Where to Buy
You've got the power and control right in your hands, and what kid doesn't want that? The Air Hogs Gravitor senses what's below and hovers above it! Use your hands or body to control Gravitor and master countless tricks, including the shoulder slide, kick flip, boomerang and more. Use the trick stick for tossing and catching and more ways to play with friends! There are a lot of reasons to love this. First, flying toys are just plain cool. However, we also found that this one is pretty amazing and easy to operate. Even the younger kids who want a turn will be able to fly it without losing control. Plus, we love the great value and comparatively low price for the amount of play it delivers.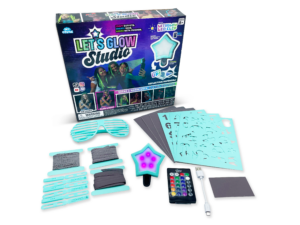 Let's Glow Studio
From Sky Castle
8 years and up
$34.99
Where to Buy
LetsGlow Studio is a creator kit of reflective fashion accessories to light up your glow parties, sleepovers or group dances – no app required! Design your own custom looks using LetsGlow, non-toxic reflective stickers and materials, attach the 16 color LED Clip to your tablet or phone, & light up your custom outfit in super-bright glowing colors! For best results, use it in lower light, and point the camera and light directly at the reflective material. What we love about this is that you can really create some great effects, and it's all about being creative and seeing how you can light it all up.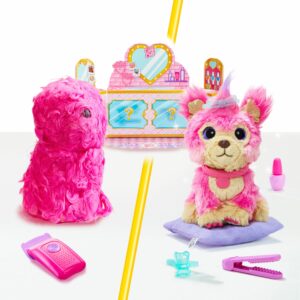 Little Live Pets Scruff-A-Luvs Cutie Cuts
From Moose Toys
4 years and up
$29.99
Where to Buy
Oh, no! That pup is a matted mess! Well, no worries, you can make puppy look amazing! Use the included "shaver" to remove all the matted and overlong hair from your pup and reveal a surprise cutie you'll love to cuddle and play with. Of course, the "shaver" is make-believe, but it really does remove the excess fur from the toy. Then you can use what you've shaved off to stuff a special pillow for your pet. We love this as a play activity, but also it's a great new take on nurturing play that kids will really love.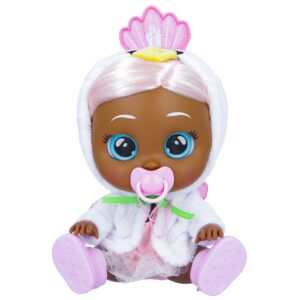 Cry Babies Kiss Me Collection
From IMC
18 months and up
$29.99
Where to Buy
Nurturing play is a part of classic doll play, and these gorgeous dolls have lots of features that young parents will appreciate. When your baby gets fussy, a rub or a kiss on the cheek will activate a glowing blush, so you know that baby is happy again. The baby has removable outfits and shoes, a baby bottle and realistic sparkly eyes. Plus, she'll cry real tears when she's upset. There are two versions in this line, Stella, who's wearing a narwhal costume and Daphne who's dressed up as a swan.
We were really impressed by the quality and all the features of this doll. The play is timeless, but the look is very contemporary. This is a premium doll at a very affordable price and one that will deliver lots of great play for imaginative kids. It takes 2 AAA batteries, and you fill the reservoir under her hair to create tears.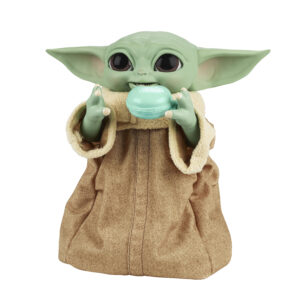 Star Wars Glactic Snackin' Grogu
From Hasbro
4 years and up
$84.99
Where to Buy
From the mega hit show The Mandalorian, comes the latest Grogu toy. Players can become the protector of The Child (Grogu) with this animatronic marvel from Star Wars, standing over 9 inches tall and has a lot of features that bring Grogu to life and create all kinds of imaginative play opportunities. Touch the top of the Galactic Snackin' Grogu toy's head to activate over 40 sound and motion combinations. Place any of the included entertainment-inspired accessories in his hand and he'll react! You can feed him, and with three taps on the head, you'll be amazed as Grogu channels the force, quite impressive for one so young!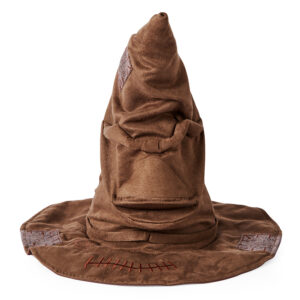 Harry Potter Sorting Hat
From Spin Master
5 years and up
$39.99
Where to Buy
This is totally cool. Just like in the books and movies, the replica Sorting Hat has 15 phrases, full facial expressions, and lets you recreate the sorting ceremony in your celebrations. The Wizarding World is one of the hottest properties out there, and it's as popular with adults as it is with kids. The hat is adjustable so it will fit heads of nearly all sizes. This is part of a whole new line of role play toys and accessories based on the world of Harry Potter.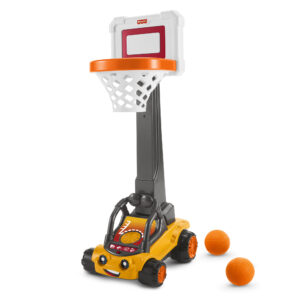 Fisher-Price B.B. Hoopster
From Fisher-Price
3 years and up
$54.99
Where to Buy
This basketball buddy seems to come to life to entertain and challenge kids! Turn it on, and choose the mode. B.B. will talk to you, challenge you, and encourage you. They can play Free Shot mode, as their buddy encourages them to practice free-throws again and again. Then turn up the heat with Long Shot mode, as kids try to score baskets from farther away. In Hot Shot mode, kids are challenged to sink as many baskets as they can before time runs out. Finally, Trick Shot mode let's kids show their stuff. We think this is pretty funny, and kids love the no-pressure encouragement and interaction, even as they feel "big" taking their best shot.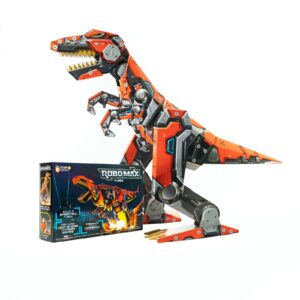 Robomax T-Rex
From Luki Labs
7 years and up
$59.99
Where to Buy
This is a complete building set with more than 170 pieces, a custom screwdriver and plastic and laminate parts. Standing more than 3-feet tall, the T-Rex is a big, big playmate. Build and play, and go on all sorts of imaginative adventures. This is a true STEM toy authenticated by STEM.org for its ability to inspire creativity and combine problem-solving skills, sequencing, and narrative abilities that are important foundations for future learning.
And here's the segment, if you missed it:
DISCLOSURE: PURCHASE LINKS ARE TO PLACES THAT HAD IN-STOCK AVAILABILITY AT THE TIME OF PUBLICATION. THE TOY GUY DOES NOT RECEIVE ANY COMMISSION OR FEES IF YOU PURCHASE THROUGH THOSE LINKS. PRICES LISTED HERE ARE MANUFACTURER'S SUGGESTED RETAIL PRICES. IN SOME CASES, PRICES MAY VARY.
NOTE: Items that are in short supply may be available through re-sellers. They are sometimes listed for many times the suggested retail price. We don't recommend buying toys in that way.