The holiday shopping season is already in full swing, and it's just the beginning of November. Mainstream news media are telling people to get out and buy before supplies are gone. Is this real? Or is it something that just makes a good story?
The answer is a little of both. Yes, shipping problems continue to plague retail, and there are products that are selling out, but we have been doing store checks all over the country, talking to manufacturers and retailers, and we've started to get a clearer, and more realistic, idea of what you're going to be able to find this year.
Early shipments of toys were on shelves early, but while Walmart had all their holiday toys out on shelf by the end of October, Target waited till Halloween. Amazon has toys in their warehouses, but from all reports, sales are moving briskly.
So will toys be sold out before Thanksgiving? The reality, as far as we can tell, is that there may be some spot shortages, but this won't be consistent with every toy and every retailer, which, when you come to think of it, is like any year where popular toys are in high demand. What we're predicting in the early days of November is that overall we may see a "doughnut hole" in availability. What that means is that because of shipping delays out-of-stock situations earlier in the season are likely to be temporary as retailers rush to be in stock in the last weeks before the Christmas holiday. Shopping may be a little more challenging for Hanukkah this year, as it falls on November 28, which is as early as it can be. You'll have to plan your shopping strategy accordingly for the holidays you celebrate.
Update: As of December 3, retailers and manufacturers are telling us that the toys listed here are in-stock. You may have to shop around, and certain things do sell out as soon as they come in, but the good news is that you have a better chance of finding toys than they were thinking just a few weeks ago.
Read on to find some of the toys we're particularly excited about this year, and at the end we'll add some tips for the most strategic shopping.
Toys We're Loving for 2021
The second year of Covid has had some unique challenges for toy reviewers. We've seen a lot on zoom throughout the year, but it's really only been later in the season as toys made it to market that we've been able to really get down on the floor and play. Okay, it's not so bad. What that means is that a lot of the real play time has been concentrated in the past couple of months. And what a great time we've had.
There are toys for all kinds of kids of different ages. We're not seeing one toy that everyone is buzzing about, and we always think that's a good thing. After all, our mantra here at The Toy Guy has for a long time been: the hot toy is only hot if it's hot for your kid. So, jump in and play with us, and we're pretty sure you'll find something on this list to delight the kids in your life!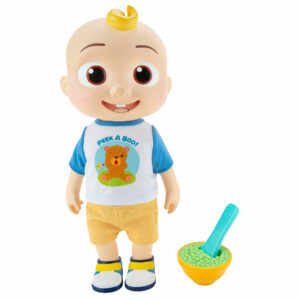 CoCoMelon Deluxe Interactive JJ Doll from Jazwares
Ages 2 and up
$29.99
Where to Buy
He's the star of the #1 Kids Educational YouTube channel and a top-1o show on Netflix. If you have a preschooler, you've probably heard the infectious, adorable music featuring the character JJ. Press his tummy to activate sounds and songs like JJ's trademark "Yes, Yes Vegetables" song, and "feed" him his peas from the magical spoon that makes the peas disappear when he pretends to eat.
The character is so relatable to young kids because he's like them in many ways. The colorful animation and appealing music put this at a perfect cognitive level for little ones, and there are a lot of pro-social messages in the music. This is one of the best-selling products for this year and this brand, so don't wait if you want to buy it. It takes 2 AAA batteries.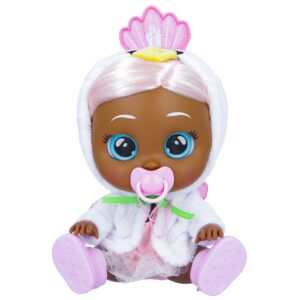 Cry Babies Kiss Me Collection from IMC Toys
Ages 18 months and up
$29.99
Where to Buy
Nurturing play is a part of classic doll play, and these gorgeous dolls have lots of features that young parents will appreciate. When your baby gets fussy, a rub or a kiss on the cheek will activate a glowing blush, so you know that baby is happy again. The baby has removable outfits and shoes, a baby bottle and realistic sparkly eyes. Plus, she'll cry real tears when she's upset. There are two versions in this line, Stella, who's wearing a narwhal costume and Daphne who's dressed up as a swan.
We were really impressed by the quality and all the features of this doll. The play is timeless, but the look is very contemporary. This is a premium doll at a very affordable price and one that will deliver lots of great play for imaginative kids. It takes 2 AAA batteries, and you fill the reservoir under her hair to create tears.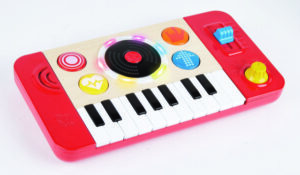 DJ Mix and Spin Studio from Hape
Ages 12 months and up
$39.99
Where to Buy
This is a classic that allows kids to explore, develop and have a blast with music. The unit combines a keyboard, various different sound effects triggers, music, and scratching. Kids can experiment and explore tempo, rhythm and sounds, playing along to music or creating their own. Of course, this a great toy for this age because it's ideal for cognitive development. Random actions become intentional, and intentional actions turn into creative play. The music provides instant feedback for actions taken by the child, which reinforces exploration and developing an understanding of responses to action, helping create the building blocks of agency in play.
Oh, and don't forget that it's a lot of fun, too. The music is tuneful, and while kids can certainly make a racket, that's hilarious for them, and like all Hape products, it's made of high quality materials and very durable. It takes 3 AA batteries.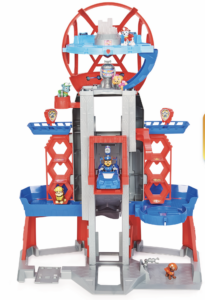 PAW Patrol Ultimate City Tower from Spin Master
Ages 3 years and up
$169.99
Where to Buy
This three-foot-tall playlet is the tallest PAW Patrol tower yet, and it comes to your playroom right out of the hit PAW Patrol movie. There are a ton of features to inspire imaginative play. There's a real cool, transform-and-reveal light-up rescue ramp, command center, elevator, lights, sounds, and a lot more. The set comes with all six of the PAW Patrol characters. We love the size of this; it's probably as tall as some if the PAW Patrol fans. Plus, you can play all around it, and it's great for solo or co-play and for kids developing their own adventure and storylines. It's fairly large, so you'll want a bit of space around. And sure to give yourself plenty of time to put it together. It took us about 45 minutes, and while the directions are clear, you'll want to pay attention. It takes 5AA batteries.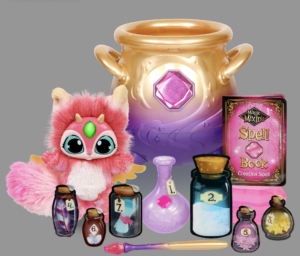 Magic Mixies Magic Cauldron from Moose Toys
Ages 5 years and up.
$69.99
Where to Buy
This is easily one of our favorite toys of the year. Why? Because it feels like real magic. Kids can put all kinds of different things in the cauldron, sparkles, accessories, etc. (Really, only limited by the imagination.) Tap on the edge of the cauldron three times, and your potion begins to bubble and a mystical mist rises. In a little bit, the magic transformation happens, and you remove your own Magical Mixie character from the cauldron, completely dry and ready to play on its own. Now, an adult can figure out how this happens, but to kids, the "wow" factor is enormous. And there are spell books and other ways to bring the toy alive. Best of all, you can repeat the process and make more and different kinds of magic. Kids will love sharing this with one another and being creative as they play. Younger kids may need a little help from parents, but for the most part, the operation is very easy and creative. The cauldron uses a rechargeable lithium ion battery and it comes with a USB charging cable. This is also very popular and it may be a bit hard to find, so if you want it and you see it, buy it as soon as you can find it. The manufacturer and retailers tell us more are on the way, and they should be on shelf very soon, if you don't find it immediately.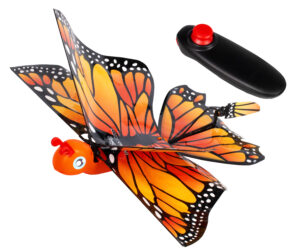 Go Go Bird Butterfly from Zing 
Ages 8 years and up
$29.99
Where to Buy 
Take to the skies with this beautiful butterfly. Styled like a Monarch butterfly, this remote control flyer is a follow up to last year's Go Go Bird. It will fly 200 feet, and you operate it with a highly intuitive remote control. Yes, there's a bit of a learning curve, but once you get the hang of it, which happens pretty quickly, you'll be amazed at the flying and the ease of controlling it. We've also never seen such an easy-to-use, high performance flying toy at such a reasonable price. The company says that it works indoors or outdoors, but we had more luck flying it outside, largely because of the space. (And maybe we weren't as good at it at first.) Still, we found it easier to fly and control than many drones that are out there, and it looks really great as you fly it. The remote control takes 2 AAA batteries, and the butterfly itself has a lithium ion battery and USB charging cable.
James Bond Aston Martin DB5 Goldfinger Edition from Playmobil
Ages 10 years and up
$89.99
Where to Buy
James Bond's iconic Aston Martin that first appeared in Goldfinger in 1964 has been reproduced as a toy/collectible from Playmobil. There's a lot of exceptional detail including a passenger ejector seat, rotating license plate, bullet shield for the rear window, and extendable, ramming bumpers. the model also come with four figures: James Bond 007, Goldfinger, Oddjob, and a henchman.
(Fans of James Bond will notice that the car makes an appearance in the latest movie in the franchise, along with a lot of other throwbacks to Bond films of the past.)
This is a really cool car, but we also think that it makes a great adult gift for James Bond fans and collectors. Playmobil has been doing some very cool stuff in that vein, including the DeLorean from Back to the Future and the Mystery Machine from Scooby Doo. The unique Playmobil design style has proven very popular with collectors and fans in recent years, too.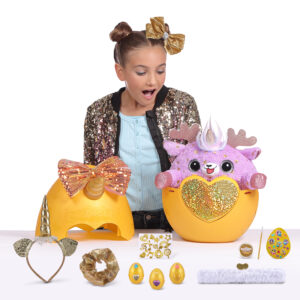 Rainbocorns Epic Gold Egg from Zuru
Ages 3 and up
$49.99
Where to Buy
OMG, this is ginormous. Okay, we'll stop with the faux-kid talk with that. Seriously, though, this is the next entry in what has proven to be a hot, hot, collectible property for Zuru. There are more than 25 layers of surprises, including new characters, hair accessories kids can wear, and the small, collectible figures they call Boo-Boocorns. (We don't make this up.) The gold is a great touch, and for kids who have fallen in love with the Rainbocorns YouTube Channel, this toy continues the fun in great ways. WE love the kid-focused creativity that Zuru has put into everything in this line, and this is no different. Note: We've alternately seen this one on sale, and in sold out, so if you've got a fan on your gift list, don't wait.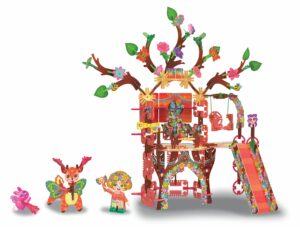 Pinxies Fairy Treehouse from Luki Lab
Ages 6 and up
$27.99
Where to Buy
We love these creative building sets that are all about imagination, narrative-based play, and much more. The Fairy Treehouse is beautifully designed, complete with a functional tree swing and slide. This set has more than 180 pieces, including the Pinxies character Flora, three magical creatures, and much more. The set is beautifully designed and easy for small hands to assemble. Plus, the Treehouse can integrate with all the other sets in the line to create a magical, make-believe play adventure. To us, this is the best kind of learning play because it activates problem solving activities and imaginative storytelling. No surprise that the learning value has been certified by STEM.org.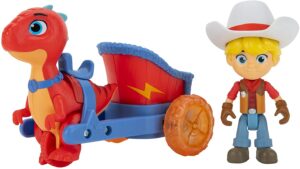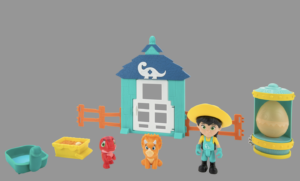 Dino Ranch Vehicle Assortment and Hatchery Adventure Set from Jazwares
Ages 3 and up
$12.99
Where to Buy 
Kids can bring all the fun of this imaginative, animated series to life in their play. Dino Ranch airs on Disney Junior and streams on DisneyNOW and Disney+. The stories follow the adventures of Jon, Min, and Miguel who live with their family and their dino pals on a working farm and dinosaur sanctuary. The main Dinos are Blitz, a raptor; Clover, a brontosaurus; and Tango the triceratops. There are three different sets in the line: Jon & Blitz's Chariot, Min and Clover's Care Cart, and Miguel and Tango's Tow Rig. All the toys work together, as well. We love the whimsy and great values of cooperation and family in the show, and it's a new way to engage in classic dinosaur play that directly relates to kids' lives.
For kids who want to build out their own Dino Ranch, there are other toys to add to their collections, including the Hatchery Adventure Set that lets kids pretend to hath their own dinos down on the farm.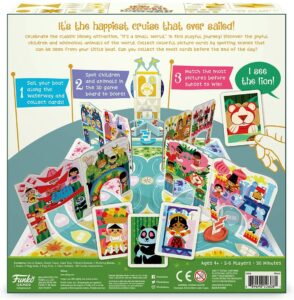 Disney It's a Small World Game from Funko Games
Ages 4 and up
$24.99
Where to Buy
The happiest cruise on the planet is now a gorgeous preschool matching game. Set up is easy, and as you go through the ride, kids work in teams or work together to match picture cards to the rotating panels that replicate the style of the favorite attraction. Kids love feeling like they're on the ride, which changes, and the gameplay helps develop observational skills, cooperation, and, of course, that wonderful sense of magic that has been associated with "It's A Small World" since the ride first debuted nearly 50 years ago at the New York World's Fair.
Funko Games also has other titles designed for the youngest Disney Fans: the Mad Tea Party Game based on Alice in Wonderland and the Pixar Toy Story Talent Show. All three games are great for preschoolers with ideal timing for attention spans and just the right amount of challenge so that kids will want to play again and again.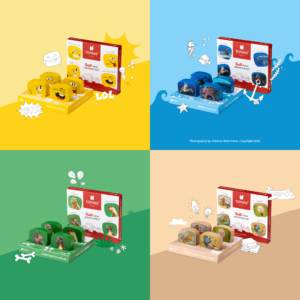 Tonies Block Sets from Tonies
Ages 3 and up
$19.99 per set
Where to Buy
Visitors to The Toy Guy know how excited we've been about Tonies for the past year. As children's audio has emerged as a growing trend for learning and entertainment, the Tonies Box and figures have been a huge hit. The line expands this fall with the introduction of Tonies Blocks. They work just like the characters, but they have fascinating, age-appropriate learning content. Place the block on the tones Box and you'll unlock great content like Inventions and Innovation, narrated by Neil DeGrasse Tyson and Gentle Giant Dinosaurs, narrated by paleontologist Jack Horner. Blocks come in sets of four, each with 7-10 minutes of content, and they're designed for preschool and kindergarten kids.
For the holiday season, you can find special tonies packages at Target with either the blue or the red tones box.
You can see all the Tonies here.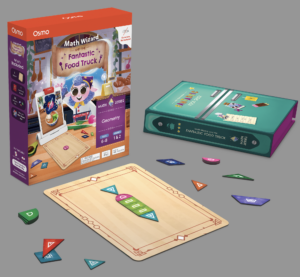 Math Wizard and the Fantastic Food Truck from Osmo
Ages 6-8
$59.99
Where to Buy
The Fantastic Food Truck is the newest curriculum-based title in Osmo's MathWizard series that combines digital gameplay with active, hands-on learning and encourages children to build math confidence through imagination, reason and exploration. Using the Osmo system that combines on screen responses with physical pieces, kids are immersed in hands-on learning.  For example, kids are exposed to geometric concepts as they work with various shapes and get instant feedback on screen. The Osmo unit interacts with a tablet, hooking onto the camera and "reading" the shapes children play with on the table. It's a rich and fun-filled play-and-learning experience for kids. Note: The basic Osmo unit and tablets are sold separately and are compatible with iPads and Kindle Fire.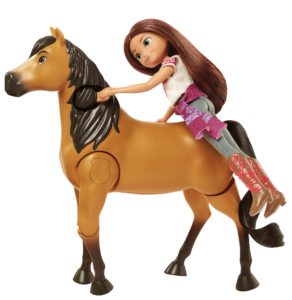 Spirit Untamed Ride Together Lucky & Spirit from Mattel
Ages 3 and up
$49.99
Where to Buy
The Ride Together Lucky doll and Spirit set is inspired by the Spirit Untamed movie and includes the doll and her horse. The horse features an (almost) magical mechanism that allows the Lucky doll to mount Spirit and ride away. Spirit has a realistic walking feature and moving joints so it really feels like Lucky and Spirit are off on an adventure. The Lucky doll is dressed in a signature outfit featuring an embroidery inspired fabric top, molded riding pants, a sash at the waist and her mother's iconic boots. (If you know the movie, you know what that means.) Spirit features a long tail for hair play fun and other accessories to add to the play. We have really been enchanted by this property and the great stories, and this is a way that Spirit fans can bring the narratives alive in their play.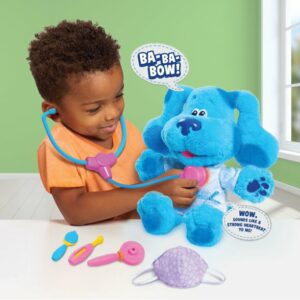 Blue's Clues & You! Interactive Check-Up Time Blue from Just Play
Ages 3 and up
$34.99
Where to Buy
For 25 years, Blue's Clues has been engaging, educating and enchanting preschoolers. Nickelodeon's new version of the show Blue's Clues & You! features a new live-action host, Josh, new animation but lots of the features that kids have always loved about the show. Just Play's line of toys is outstanding and highly popular. The Check-Up Time Blue is especially appropriate for kids as we come out of Covid. It encourages kids to care for others while reinforcing healthy habits through play. It comes with a stethoscope that lets kids listen to Blue's heart and make her chest light up. She even has a face mask. Blue's Clues has always been about encouraging learning through play, and role play around doctor visits and getting better are important lessons for kids…and a lot of fun with Blue!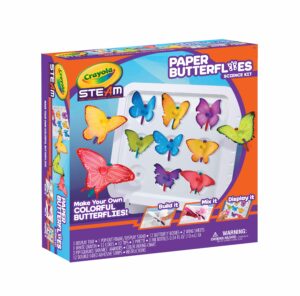 Crayola Paper Butterflies Science Kit from Crayola
Ages 7 and up
$19.99
Where to Buy
It's the perfect combination of science and art. Or art and science. Kids create a dozen paper butterflies, and in doing so learn about such concepts as capillary action. Now that we've got the science, let's get to the fun. The kit comes with all you need to create the butterflies. Assemble the butterflies, and insert the wick in the tray. Then, place colored water in the trays and put the wick into the water. You'll watch as the color goes up the wick and is distributed through the paper wings of the butterflies. You can experiment with color mixing and design. It's kind of magical to watch this happen…even when you understand the principles behind it.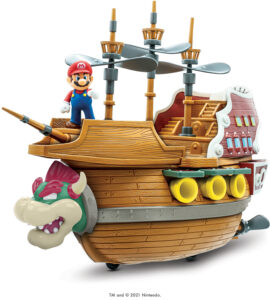 Super Mario Deluxe Bowser Ship Playset from JAKKS Pacific
Ages 3 and up
$39.99
Where to Buy
Ahoy, matey. Time for some great action play with Bowser in his propellor driven ship that has tons of play, great sounds, and is a great way to let imaginations set sail as kids create their own Super Mario-inspired play. Equipped with cannons, rotating propeller masts, wheels, and authentic in-game sounds, the Airship includes a two and a half inch Mario figure poised for victory. Roll the airship to activate spinning propellers and open the ship to store all your figures! Press the button to activate Bowser's menacing laugh and other sound effects taken directly from the game. For those of you who may not know the story, it's up to Mario to conquer the Airship to stop the invasion of the Mushroom Kingdom. The toy takes 2 AAA batteries, not included.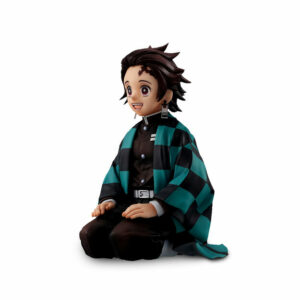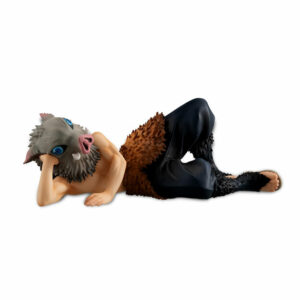 Demon Slayer Figures: Tanjiro & Insosuke from MegaHouse/Funimation
Ages 15 and up
Tanjoiro $65.99, Inosuke $79.99
Where to Buy
The manga and TV series Demon Slayer is all about the adventures of Tanjiro Kamado who seeks to avenge an attack on his family. When his sister Nezuko has been turned into a demon Tanjiro begins a quest to reverse the curse. The show currently streams on top anime platform Funimation, and it's the most popular show there.
The MegaHouse figures are beautiful and great for anime fans, fans of the show, and the characters. In addition to the figure of Tanjiro, the line includes his fellow Demon Slayer Inosuke.
The link takes you to the Demon Slayer: Kimetsu no Yaiba page on Funimation where you can find a variety of different figures based on the property.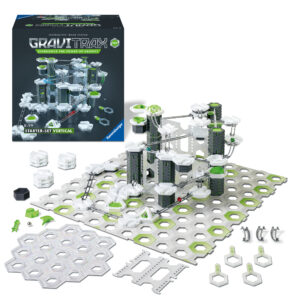 GraviTrax Pro Starter Set Vertical from Ravensburger
Ages 8 and up
$79.99
Where to Buy
Experience the power of gravity to create amazing, creative fun. We are endlessly fascinated by this set and the entire GraviTrax line. The new pro sets allow kids to go vertical with their building as they construct their own designs with the modular track system. There's lots of cool learning stuff, too, as players experiment with gravity, magnetism and kinetics. There's a lot of problem-solving, experimentation, and critical thinking involved, but that's seamlessly integrated into the play. Kids love being able to see what they can build, how they can challenge themselves, and their friends, and they love to see their ideas played out in real, physical results. We've been impressed by the play and the outstanding quality of these sets as well as all the possibilities for expansion.
And, hey, don't limit it to just the kids. We've had a hard time pulling adults away from this as well!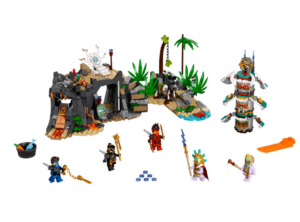 LEGO NINJAGO The Keepers' Village from The LEGO Group
Ages 8 and up
$49.99
Where to Buy
LEGO NINJAGO has proven to be one of the most popular LEGO storylines becoming a hit TV series and engaging fans around the world. The story follows the adventures of six teenage ninjas as they battle the forces of evil set in the fictional, fantasy world of Ninjago, inspired by Asian culture. The classic battles of good and evil and the empowering narrative play has kept kids engaged, building, and imagining.
The Keepers' Village is a set taken directly from the TV show, and it's an interactive jungle lair with a ton of detail, and lots to do. There's a prison in the dragon's mouth, hidden shooters, and a trap that will leave the unsuspecting dangling from a tree. The set includes five minifigs and weapons from the TV show.
The set is gorgeous, too, embodying the best elements of construction toys: build, play, display.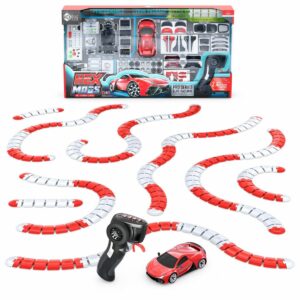 HEXMODS Pro Series Elite Raceway from HEXBUG
Ages 14 and up
$89.99
Where to Buy
These are sweet rides! It's a premier bundle of RC tuner cards with thousands of possible combinations. What's most impressive about these (Well, it's actually hard to say what's most impressive.) is that even though these are designed to be played with they are hobby-grade cars that have really gorgeous details and the kind of outstanding technology that characterizes everything HEXBUG does.
And these cars are fast! They're much faster than other race cars out there, hitting speeds of 26 feet-per-second. Pretty zippy. Customize them with decals, street legal light kits, and much more. The 2.4 GHz remote puts all the power right in your hands. There's also 20 feet of connectible barrier that allows you to make your own track configurations. It takes 3 AAA batteries.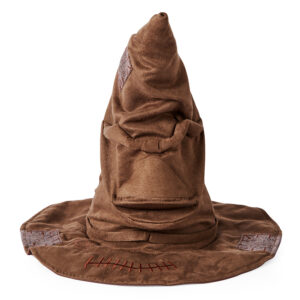 Wizarding World Sorting Hat from Spin Master
For Ages 6 and up.
$39.99
Where to Buy
This is totally cool. Just like in the books and movies, the replica Sorting Hat has 15 phrases, full facial expressions, and lets you recreate the sorting ceremony in your celebrations. The Wizarding World is one of the hottest properties out there, and it's as popular with adults as it is with kids. The hat is adjustable so it will fit heads of nearly all sizes. This is part of a whole new line of role play toys and accessories based on the world of Harry Potter.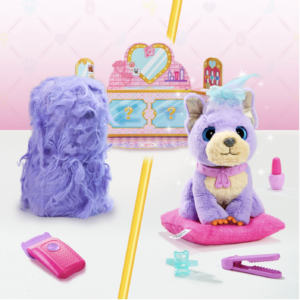 Scruff A Loves Cutie Cuts from Moose Toys
For ages 5 and up.
$29.99
Where to Buy
Who's under all that fur? Become a make-believe dog groomer and find out! From a ball of fur, kids use the clippers to trim away all that fur and reveal whether they are adopting a Frenchie or a Yorkie. Use all the fur you've clipped away to stuff a sweet pillow for your pet. Now, don't worry, parents, this is all make-believe. The "clippers" make a realistic sound, but they simply lift the extra fur that's lightly woven into the toy's surface. However, the play is outstanding as kids bond with their new BFF through nurturing play and the magic of the reveal.
Tips for Your Holiday Shopping Peace of Mind
We know that this time of year can be stressful as you're looking for toys. And, as noted above, this year may be a little more stressful than others because of worries about finding things online and in stores. Here are our best tips for making this as easy and stress-free as you can:
Encourage kids to write to Santa early. We know that those lists can change as the season progresses, but knowing what you're looking for is always a help.
If you see something, buy it. Most places are generous with returns at this time of year, so if you find a toy and then realize you don't need it, retailers will give you a refund…and they'll probably be grateful to have the stock this year.
If you're shopping in store, try going later on a Thursday night, if you can. That's when shelves are refreshed for the weekend shopping. Also, if you don't see something, look around the toy department. Sometimes people pick things up and put them back in different places. You might be surprised.
Make sure you buy from reputable sellers, particularly if you're ordering toys from a third-party seller.
We don't recommend paying a premium for a toy just to get it for the holiday. Nobody's holiday was ever ruined because you couldn't get a toy. Santa leaves promissory notes. Be creative, if you go that route.
If you're buying online, play close attention to delivery dates. These can vary from toy to toy, so be watchful.
If you can, pay with a credit card when buying online because that gives you an extra level of protection. That said, plan to pay off your purchases during the next pay period so you don't incur interest charges.
Manage expectations. And keep the holiday in perspective. Remember, the lesson The Grinch learned: "Perhaps Christmas doesn't come from a story. Perhaps Christmas means a little bit more."
Give yourself time to rest during all of this. Particularly this year, it's about being together and celebrating. It's more about the people than the stuff.
We'll updating this page every week during the season, so be sure to bookmark this page and check back often.
DISCLOSURE: PURCHASE LINKS ARE TO PLACES THAT HAD IN-STOCK AVAILABILITY AT THE TIME OF PUBLICATION. THE TOY GUY DOES NOT RECEIVE ANY COMMISSION OR FEES IF YOU PURCHASE THROUGH THOSE LINKS. PRICES LISTED HERE ARE MANUFACTURER'S SUGGESTED RETAIL PRICES. IN SOME CASES, PRICES MAY VARY.