If you read my previous post, you know how valuable play is for kids right now. Here's a link, in case you didn't.
Chances are you've got tons of toys around your house, and many will work to provide this kind of variety. And they're all types of play that kids already love. Often, when we ask kids to show us their favorite toys, they'll show us toys in many of these categories. I often think that it's like what doctors say about kids' diets: don't force stuff on them, and they'll get the nutrition they need. I think play is the same. There are different activities for different days and moods and situations.
As noted, you can probably achieve a lot of this with toys you already have, but kids always love to get new toys. So, if you're shopping, here are some ideas of some current toys we've had a blast with and that you may want to add to your toy box. We've looked into where you can buy these still, so links are included. (FYI, we don't get any $ from retailers when you buy through them; we just wanted to find where you could get them.)
Play Pattern 1: Creativity and Community
One of the most important elements of creative play is the ability to share what you've made. Well, that's not happening right now in real life, but we've been excited to see the number of virtual communities that have grown up around some toys. It's a great way to increase interactions and allow kids to play together and share activities while practicing safe social distancing.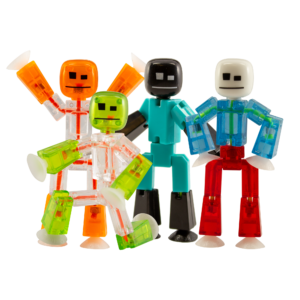 Stikbot from Zing
Ages 4 and up
$4.99 and up
Buy on Amazon
Zing's Stikbot is all about creating stop action movies with an app (It's really easy and fun.) and sharing them. There's also a dedicated YouTube channel, Stikbot Central, that has amazing, professional videos.
This is really about being creative and story-centered. We expect that a lot of kids will be using this type of play to process stress and concerns about what's going on. Or, they could just have a great time making up stories and bringing them to life.
Thinking Putty from Crazy Aaron's Putty
Ages 3+
Mini $3; Regular Size $14; Mega (1 lb.)  $50
Where to Buy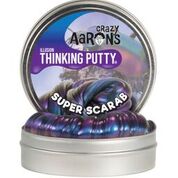 Who would have thought there could be an entire toy company built around putty? Crazy Aaron has made the most innovative, most diverse and super fun collection of putty that is almost impossible to put down. We love all the different colors, textures and features. This is really basic, tactile play, but it has a classic appeal. Even adults have a hard time putting this down. (And, whenever we get to travel with this, this is the toy that people most want to take home with them.) And why not? It's cool, calming and almost meditative.
We're also impressed that Crazy Aaron's employs many differently abled people and is a huge contributor to their communities.
DinoMazing Egg Decorator from Hey Buddy Hey Pal
Ages 3 and up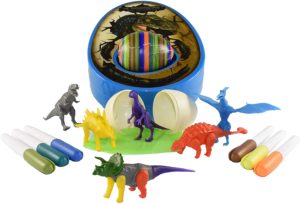 $27.99
Buy at Amazon
Who says egg decorating is just for one time of the year? Get creative with this super fun set that lets you decorate dinosaur eggs. Place the egg in the unit turn it on, and then use the included markers to create great patterns. Once you're done, crack your egg open and dig through the slime to reveal a collectible dino buddy. The set comes with two eggs, and you can buy additional ones. Or…you can always use a regular chicken egg. After all, we know that birds are descended from dinosaurs.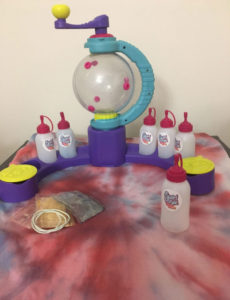 Swirl & Style Tie-Dye Studio from Yulu
Ages 6 and up
$19.99
Buy at Target
This is already one of the hottest selling toys of the year. Cast your mind back to the Age of Aquarius with all those groovy tie-dye fashions. And now, make them yourself in this all-in-one, complete craft kit. The secret to success is in the tying and the dyeing. Much as kids love all that, parents and caregivers will love that this is completely self-contained and has virtually no mess. The set comes with plenty of dyes, and you can fit a large t-shirt into the chamber. Seal, squirt, spin, and style!
Play Pattern 2: Favorite Characters/Narrative Play
Since the early days of the 20th Century when the comic strip character The Yellow Kid became a doll, kids have loved playing with characters from their favorite books, movies, and, later, TV shows. From Mickey Mouse to Shrek to the Minions, these characters become so much a part of kids' imaginative lives that they want to take them off the screen and play with them.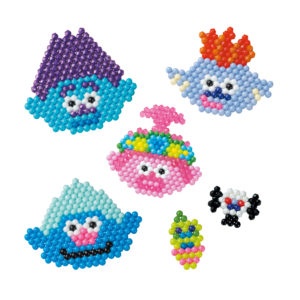 AquaBeads Trolls World Tour from Epoch
Ages 4 and up
$9.99
Buy at Target
Unviversal's Trolls World Tour set records for a streaming movie, generating more than $50 million in downloads in its opening weekend. Even though movie theaters are closed, kids can't get enough of these crazy characters.  So why not marry these popular characters with classic arts and crafts play?
The AquaBeads set lets kids create versions of their favorite characters using this unique place-and-stick play pattern. It's easy and mostly neat. Then share or decorate with them, and let your troll-rific imagination shine!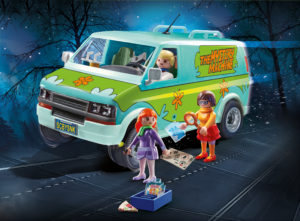 Scooby Doo Mystery Machine from Playmobil
Ages 5 and up
$44.99
Buy at Walmart
Scooby Doo and friends have been favorites for more than 50 years. Kids love the goofy mysteries and the incredible characters. And this is a faithful reproduction of the iconic vehicle, packed with play features and ready for imaginative fun. The van comes with Fred, Velma, and Daphne figures in classic Playmobil style. Shaggy and Scooby are sold separately. And, this is likely to be a huge hit with collectors, too!
Play Pattern 3: Getting Physical
One of the hardest parts of being stuck indoors for days is that there is a lot of pent up energy in kids that needs to be released. It's necessary and healthy to do that, but if you can't go out, or can't go beyond the yard, what do you do? Well, fortunately, there are tons of toys out there that allow you to be active inside, from foam balls to stretchy bands. The point is, we all need a bit of release, so play on. (Just watch out for that coffee table!)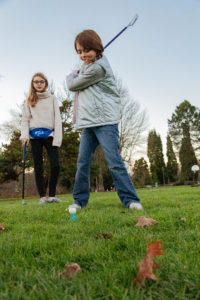 Birdie Golf from Hog Wild
Ages 4 and up
$39.99
Buy at Dick's Sporting Goods
This is a unique golf-inspired game. Well, golf meets badminton. You can set up the course anyway you want. (Get creative indoors or out!) The balls have a tail on them like a badminton bird, and you hit them with a club. The result is very satisfying, but the soft birdies sail pretty well. This is great for making up your own games. One of the things we really like about this is that it doesn't require a lot of skill to make it work well, and that's great for younger kids who can get frustrated with other types of kids' golf games.

Pop and Pass from Hog Wild
Ages 6 and up
$24.99
Buy it at Amazon
We love this award-winning catch game. (2019 Astra Award for Outdoors) Insert the ball, pull down, and let it pop up. You may be reminded of a lacrosse stick, but the design makes it easy for little kids to catch and play. This is the ultimate catch game for social distancing. But it's also fun to run around and challenge yourself and other players as you make up your own games.
Remember to make time to play in your new and unusual daily routines. Remember, recess helps kids focus. You also want to provide opportunities for exploration and expression even as the world is changing. Play as a constant may help ease that for a lot of kids.
Keep safe and healthy.
And by all means, keep playing!