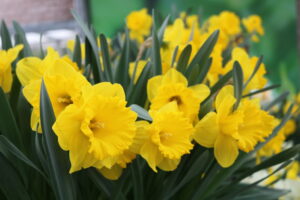 Spring is−and has been across cultures and millennia−a time of rebirth. One of my favorite myths of the season is the story of Persephone who in working out a challenging relationship between her husband and her mother ended up spending half the year in Hades and half the year on Mount Olympus. When she was in the underworld, it was winter, but when she surfaced again, mom Demeter shone on the world and crops grew again. This demonstrates two things. First, cultures always try to explain phenomena through myths consistent with their understanding of the world and second, no matter the era, family dynamics have always been (ahem) a challenge.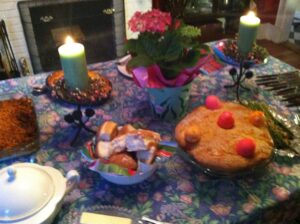 However you celebrate the arrival of spring, however, it is a wonderful time for play. Longer days mean more outdoor time, and the novelty of the Christmas toys may have worn off, to say nothing of the fact that kids are older and with new interests. In recent years, Easter has become the unofficial start of the spring season, at least for toys. And, of course, the Easter basket is a tradition in many homes. We've seen increasing numbers of toys showing up in the Easter basket−some even beside it.
(Scroll down to see the toys, or read on for some thoughts about the Easter holiday.)
Where Did Easter Baskets Come From?
The Easter Basket has a rich history that dates back to the Middle Ages. If you're raised in the Christian tradition, you've probably heard of "giving up something for Lent." Lent is the four-week season immediately before Easter in the church calendar, and it's typical to give up things like chocolate, or sweets, It's intended to represent the fasting of Jesus who spent 40 days and nights in the wilderness before He was arrested and crucified. It's a spiritual practice for many people. In the Middle Ages, at the end of the fasting, when, as the Gospels say, Jesus was resurrected, it was a time of celebration, and people would bring baskets of the foods they had denied themselves during Lent to the church to be blessed. Hence, the Easter Basket. Essentially, it's a symbol for the return to life and its pleasures.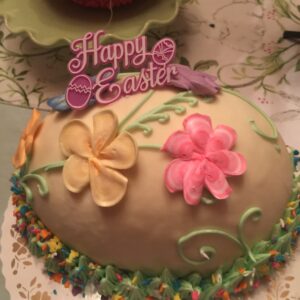 Easter, of course, has never become as widely commercialized as Christmas. There may be many reasons for this, but I blame Charles Dickens. He, more than any other popular author, helped secularize Christmas and establish it as a family holiday. (Though if you read A Christmas Carol closely, it has a healthy dose of Christian sentiment.) At the same time, R.H. Macy (Yes, the store guy.) began popularizing the idea of giving gifts at Christmas rather than just cards, which were popular during the latter half of the 19th century. Why? It was a slow time in his stores, and he wanted to make sales. A century and a half later, secular celebrations of Christmas appeal to people across all faith traditions.
In any event, Easter has been seen as a more "serious" holiday, and it's never been secularized in the same way. (Those judgy spoilsports the Puritans didn't have much use for Christmas or Easter.) Perhaps the story of trial, execution, and resurrection is not as easy to secularize as a birth, but that's just one notion.  Still, the Easter Bunny is very much a secular symbol with a pagan heritage (much like the Christmas tree), and like Christmas, the sacred and the secular can co-exist…and they do.
What's Best for Springtime Toys?
Of course there are no hard-and-fast rules about what's best. Every family is different; every kid is different, and you get to choose what to bring into your home. Since kids aren't writing letters to the Easter Bunny (At least as far as we know. If we're wrong, tell us.) it's a great time to complement the so-called "hot toys" that dominate the conversations around Christmas with other types of play. Arts and crafts, toys that inspire narrative play, games, and collectibles are all appropriate. It's a great time to offer new and expanded play options to kids. In our house, my brothers and I always got a book for Easter, which now that I think of it later in life was a good way to get four rambunctious boys to be quiet while the adults visited. (Not that that was intentional…)
What We're Playing with this Spring.
If you're still with me, let's jump in. There are a lot of great toys out there. (When is that not true?) We've listed some of our favorites below to give you some ideas. Let us know what you think!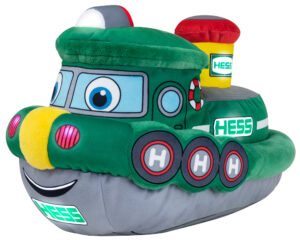 My Plush Hess Truck 2023 TugboatFrom Hess
Ages Birth and Up
$34.99
Where to Buy
We love the Hess trucks. And this one has been designed just for kids from their earliest days. It's a cute, cheerful tugboat, but it's also one of the few stuffed toys we've seen for the littlest ones that's so packed with features. For example, it's got flashing LED lights, that can be activated with a squeeze (great for co-play with infants, too).  It plays music, which, naturally, is all about water−"Row, Row, Row Your Boat" and "Six Little Ducks." Grown ups can also set the to "Silent Mode" setting for lights-only activation, and the night light mode has a cheerful glow and shuts off after 15 minutes. We think this would be a great uncle or aunt gift. It's got all the cuteness of traditional plush toys; it's not a typical bear or bunny, but at the same time is huggable. We have to acknowledge our bias here, we've always loved the idea of cuddling up to something that's not inherently cuddly…like a tugboat.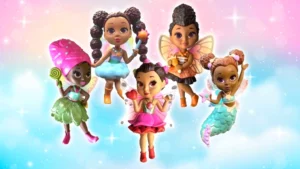 The Fresh Fairies from World of EPI
Ages 4 and up.
$6.99 each or 5-pack for $34.99
Where to Buy
Here's a new take on the classic fairy dolls. World of EPI, known for their groundbreaking and gorgeous Fresh Dolls has launched a cute and collectible line that's every bit as beautiful, full of whimsy and sparkle. The five dolls in the collection represent ethnicities from around the world with features like authentic Bantu Knots, Puff Balls, Head Wraps, Afros and Afro Puffs. These three-inch tall charmers come with a keychain clip so kids never have to be without their magical friends. We love the celebration of diversity and inclusion, and at the same time, these small dolls inspire great narrative play and social interaction. The individual dolls are available at major retailers, and the five-fairy collectible set (linked here) is available only from The Fresh Dolls.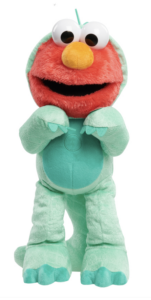 Sesame Street Dino Stomp Elmo from Just Play
Ages 2 and up.
$29.99
Where to Buy
We have to admit it's been a while since an Elmo doll made us laugh so much.  Sesame Street Dino Stomp Elmo is truly engaging and adorable, and so funny. Preschoolers love stomping around like dinosaurs, and Elmo, dressed in his green dino-suit, encourages that kind of play. Seriously, it's delightfully ridiculous. Turn Elmo on, push the button on his chest, and Elmo sings, moves his arms, and stomps along to the "If you're happy and you know it" song. Squeeze his hand to start the music and dancing. And don't be surprised if older sibs (or adults) want to get in on the action. Elmo's cheerfulness is contagious…in the best way.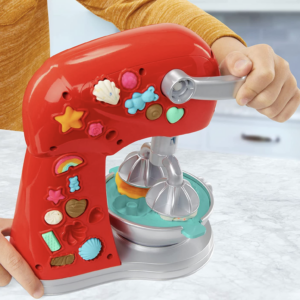 Play-Doh Kitchen Creations Magical Mixer Playset from Hasbro
Ages 3 and up.
$16.99
Where to Buy
Play-Doh make believe food sets have always been among the most popular…at least in the last few decades. Of course, it's classic role play and the creative whizzes at Play-Doh have introduced all kinds of molds and colors and styles of the compound to foster imagination. This update of their classic mixer is all new with lots of molds and more. Place the Play-Doh in the treat tray push down, and voila! The set  includes Mixer, two treat trays, extruder, spatula, and five cans of  Play-Doh in assorted colors, including the popular confetti. (And if you think it looks a bit like that fancy Kitchen Aid mixer in mom and dad's kitchen, well who are we to say it doesn't?) This is a lot of play and a really great value as well.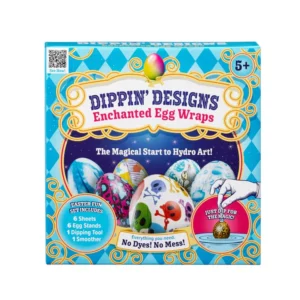 Dippin' Designs Enchanted Egg Wrap Kit from Little Kids
Ages 5 and up
$9.99
Where to Buy
Here's another craft set we can't get enough of. We know that "hydro design"  is a thing right now in grown up crafts, but the folks at Little Kids have adapted this for kids. (What that means is that they've developed a way to do it without any harsh chemicals but getting pretty near the same results professionals do.) This set is designed to decorate eggs initially,  but when the holiday is over, you dip pretty much anything. Believe us, we've tried. (Well, it has to be small with a hard surface, so things like small bottles or seashells are perfect.) With three simple steps – stick it, dip it and twirl it – you basically cover the egg (or whatever) with a great design.  Kit includes 14 sheets of artisan patterns from abstract prints to llamas to kid-friendly skulls and crossbones! One  of the things we really like is that kids really can't mess this up if you follow the super clear directions. Just dip, twirl, smooth the edges with the included smoothing tool and place on the beautiful stands for 20 to 30 minutes for eggs to dry.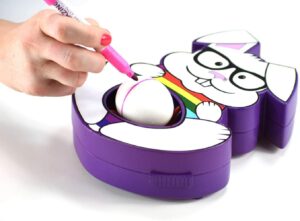 The Eggmazing Bunny Egg Spinner From Hey Buddy, Hey Pal
For ages 3 and up.
$27.99
Where to Buy
Yes, it is possible to have a fan favorite here at The Toy Guy.  Since it was first introduced, this kit has been a sensation−and besides candy one of the best-selling products of the season.  Place the egg, either hardboiled or plastic, into the spinner, turn it on, and touch the pen to the shell. That's it, and you can spin out all kinds of different designs. Best of all, it's active play because you're not waiting around for dyes to work…and there's no mess. Our family loves this, and they have really gotten creative with it. The pens that come with the set are great, but try other things as well, and we found that acrylic paints work well, too, though you don't want anything too liquid, since after all this is battery operated.
DinoMazing Egg Decorator from Hey Buddy Hey Pal
Ages 3 and up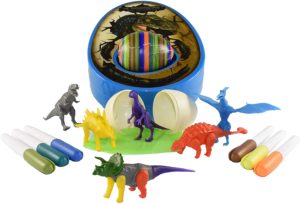 $27.99
Where to Buy
If you don't celebrate Easter and you want some creative egg-citement, this is for you! Yes, you can decorate dinosaur eggs. (Pretend dinosaur eggs.) Decorate the egg in the spinner, then   crack your egg open and dig through the slime to reveal a collectible dino buddy. The set comes with two eggs, and you can buy additional ones. Or…you can always use a regular chicken egg. After all, we know that birds are descended from dinosaurs.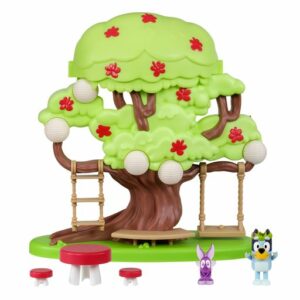 Bluey Treehouse Playset from Moose Toys
Ages 3 and up.
$29.99
Where to Buy
The sensation that is Bluey just keeps getting better and better. This popular TV series has age-appropriate humor and models all kinds of great social and emotional lessons for kids. Well, we know that as grownups, but what kids see is a story-rich world and a family they can relate to. Bluey has been a huge hit with toys as kids bring their own narratives to life through play with their favorite Blue Heeler dog family. The latest introduction is the Treehouse Playset. It has all kinds of features like a rope ladder, slide, swing, and of course a hammock for just hanging out. Plus there are secrets to discover as kids play. This set inspires the incredible power of imagination as the world of fairies (from an episode of the show of the same name) comes into Bluey's backyard. The playset is about 11 inches tall, and it's packed with possibilities that make it a great value.

Crayola Doodle 'n Draw Markers from Crayola
Ages 6 and up.
$9.99 per set
Where to Buy
If you've know an older kid who loves drawing, you'll want to check these out. Crayola has created the new Doodle & Draw line will help tweens level up their art projects and doodles. A variety of sets are available including the Fine Point Doodle Markers for colorfully creating the bold statements, Ultra-Fine Doodle Markers for the most intricate of details, Dual-Ended Doodle Markers to create both thick and thin lines with the dual-sided brush & chisel tip, Color Change Doodle Markers to create beautiful layers of colors, and Sketch & Shade Doodle Pencils, inclusive of two Graphite Pencils, ideal for standing out against light and dark paper. These are high quality markers, great for school projects , posters and even sophisticated works of art. When we first saw these, we were reminded of how much fun it was to go to a stationery story and browse all the cool markers. We think a lot of adults will love these as well. They feel great in the hand, and the color is, well, exactly as great as you'd expect from Crayola.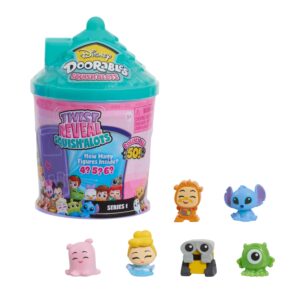 Disney Doorables Squish'alots from Just Play
For ages 5 and up.
$9.99
Where to Buy
Yes, these are perfect for an Easter Basket−or really any Disney fan. This major hit line featuring uniquely stylized characters has been shrunky and squished. That's a good thing, by the way. They're truly adorable. There are more than 50 different mini, squishy characters to collect, and they come in tower-shaped capsules that include four to six, 1-inch figures. Plus, there's a unique unboxing as you twist the top of the tower to reveal your additional figures. They're super cute and have a look all their own. As you might guess, the figures are based on the stars of beloved Disney and Pixar movies.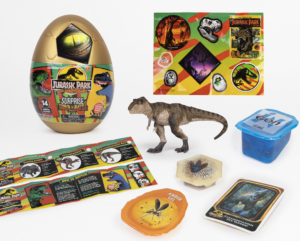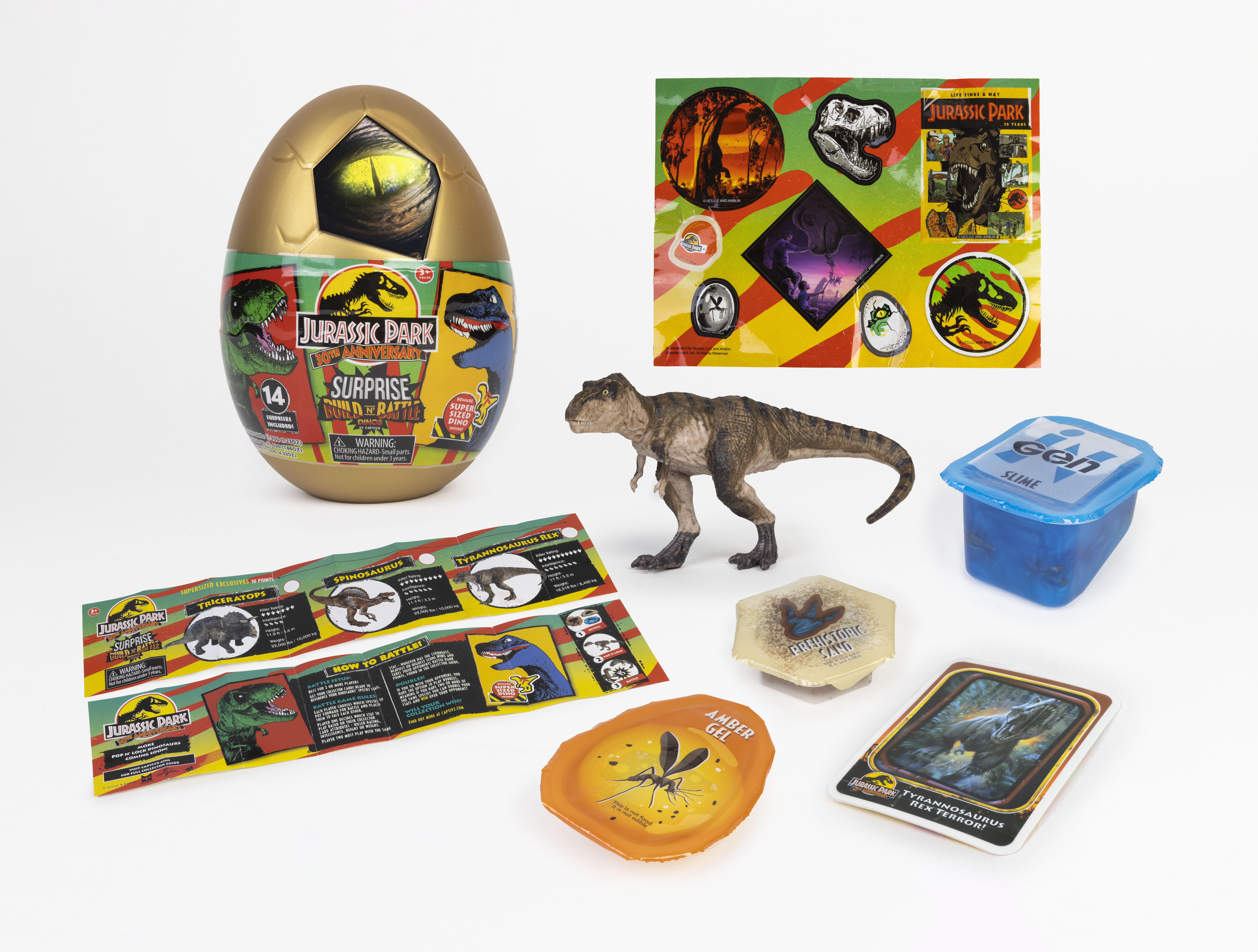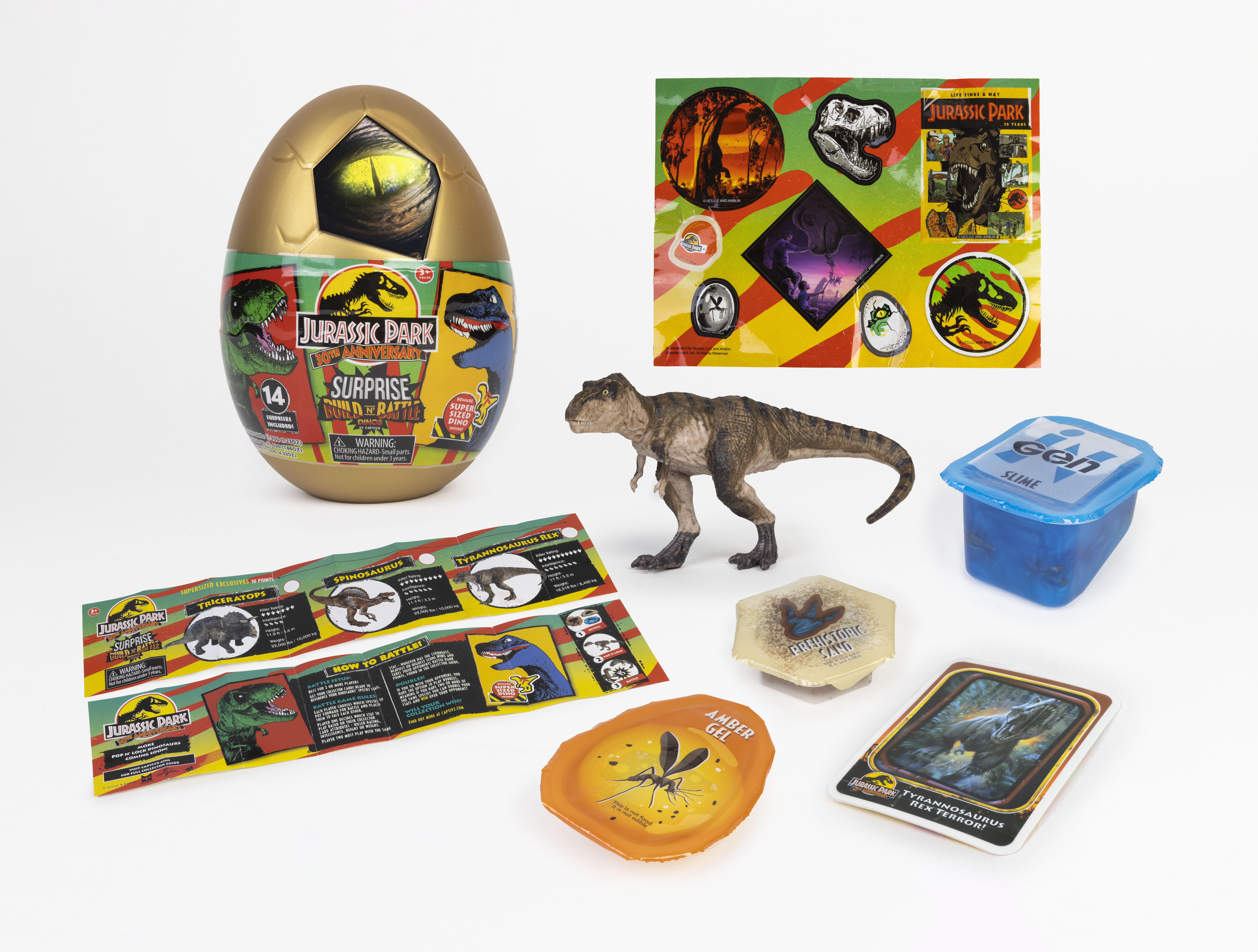 Jurassic Park Captivz Build N Battle 30th Anniversary Slime Egg from Toymonster
For ages 3 and up.
$4.99
Where to Buy 
Yes, it's been 3o years since the first Jurassic Park movie. These collectible eggs feature dinos from the original movie, plus a bunch of other ones. Inside each egg, you'll find (you guessed it) slime! It's amber slime, like the dinos have been preserved in amber. Pretty cool, right? The dinos themselves have lots of great details and cool paint jobs so they're terrifyingly real. Or, at least as real the movie folks imagined. There are also some rare ones to chase. We're going to keep lookin for the gold and amber baby velociraptor!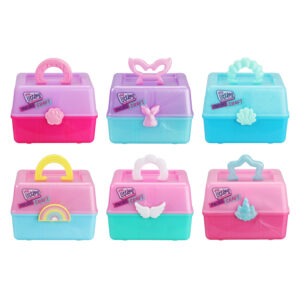 Real Littles Micro Crafts from Moose Toys
For ages 6 and up.
$9.99
Where to Buy
Mini madness is raging with kids right now, and they are going to love these tiny, real craft sets. (Really, when you think about it, there hasn't been a time when kids haven't been fascinated by miniatures, but these are the latest, and they're super creative.) The line includes six themed DIY craft kits with a colorful caboodles for storing, carrying and stacking. The sets include a terrarium, lightbox crafts, bath bombs, glitter globes, painting set, and a mini backpack. The sets are really well-designed, and you'll be surprised at how much fun it is to make these crafts.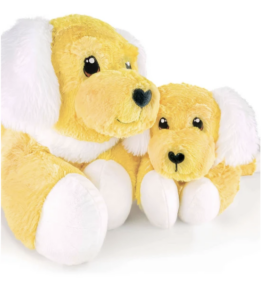 Fluffyweight Stuffed Toys from Fluffyweight
For ages 2 and up.
$48 & $78
Where to Buy
You've heard of weighted blankets. You may even use one. A few years ago, these weren't a thing, but in anxious times, people have found a lot of comfort being snuggled by them. Now that same calming effect has a cute interpretation for kids in the Fluffyweight pets. And, yep, there's science behind it. According to the company, these plush pals "are super-soothing, safe and effective therapeutically weighted stuffed animal designed under the guidance of occupational therapists to effectively ease anxiety and shorten sensory meltdowns." But even though they've been designed and tested with an eye towards therapeutic benefits, anyone can appreciate the snuggly comfort of these animals. There are two sizes, and for little ones, it's the effect of a full-body hug. And who doesn't need that?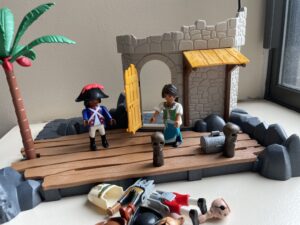 Playmobil My Figures from Playmobil
For ages 5 and up.
$34.99
Where to Buy
We're having a blast with these sets that include play scenes and customizable figures. Mix and match body parts (We like doing that.), outfits, and accessories to create your own scenes. These sets are all about encouraging open-ended, narrative-based play, and they some in four mix-and-matchable themes.: Horse Ranch, Pirates Island, Rescue Mission, and Magical Dance. The figures really are the catalyst for great play as kids imagine adventures. Initial assembly probably requires an adult, and there are a lot of small pieces, which add to the fun, but we suggest having a plastic bag or other storage device for between escapades. Note: The link above goes to the Pirates' Island, and you can find all the other sets from there.
DISCLOSURE: PURCHASE LINKS ARE TO PLACES THAT HAD IN-STOCK AVAILABILITY AT THE TIME OF PUBLICATION. THE TOY GUY DOES NOT RECEIVE ANY COMMISSION OR FEES IF YOU PURCHASE THROUGH THOSE LINKS. WE DEFINITELY RECOMMEND SHOPPING AROUND. PRICES LISTED HERE ARE MANUFACTURER'S SUGGESTED RETAIL PRICES. IN SOME CASES, PRICES MAY VARY.