With the Coronavirus lockdown continuing, schools largely closed for the year, and families spending a lot more time together than usual, it's no surprise that games are more popular than ever. I mean, how many TV shows can you watch? How many Tik Tok videos can you make or consume before you're just plain done?
We love all kinds of games. For right now, though, we're going to talk about table games, or board games. Nothing digital, just paper, ink and maybe some cool plastic pieces. Brian Hersch, who was the mastermind behind some great games like Taboo, Outburst and many others, always maintained that there is no play experience quite like playing games. He often called them "social lubrication," for many of the adult party games that he created. In other words, people who really didn't know one another could star interacting around playing a game.
We've always thought he was right on the money (Monopoly money counts, too.) about this. And over the years, I've been involved in a ton of games, including marketing the original Pictionary and Othello. All good games have a few things in common:
They're relatively easy to learn. (Some games get more complex the more you know about them and the more sophisticated you get with strategy.)
They're different every time you play them.
They're experiences you want to have again…and that you want to share with others.
In the cases of games like Chess, Checkers and others that require skill and strategy as much as luck, the process of going from neophyte to mastery is important as well.
There are games for all kinds of players and all kinds of occasions. Feeling rowdy? Check. How about something for quiet time? Got those, too. No one wants to play with you? Check out these games that double as solo puzzles.
Take a look at some of the new ones we've been having a blast playing:
My First Rush Hour Game from Thinkfun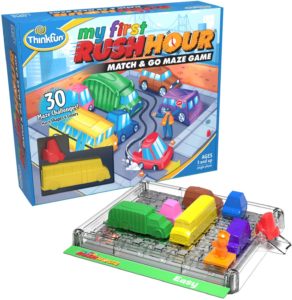 Ages 3 and up.
$23.99
Where to Buy
Solo or co-play puzzle where kids match colors and shapes to create a variety of mazes. You have to drive the toy car through the maze to win. Three levels of difficulty, and the game includes 30 different challenges.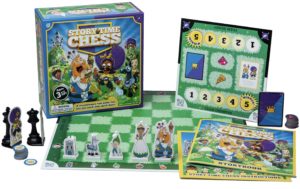 Storytime Chess from Story Time Chess
Ages 3 and up.
$49.99
Where to Buy
Wait a minute, we hear you saying. Chess for 3-year-olds? Real Chess? Yup. This amazing system has been designed to help kids learn. The pieces become characters in entertaining stories, as kids engage in the game, the strategy, and all the cognitive benefits of this classic game. Add the characters to the classic pieces and bring the stories to life. I love Chess, and I love this story-based system!
Popcorn Poppin' from Yulu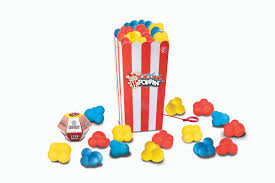 Ages 4 and up.
$14.99
Where to Buy
Wind up the timer, and then follow the challenges and pass the popcorn bucket before it pops! This is a classic suspense game where quick action meets silly stunts.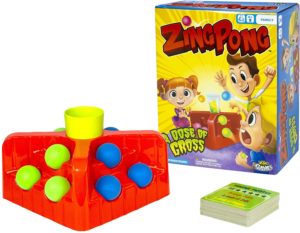 Zing Pong from Zing from Zing
Ages 6 and up.
$16.99
Where to Buy
Each player has to bounce three balls into his or her side of the pyramid. Then, bounce the last ball into the cup on top. You're safe! The last player to bounce their ball into the cup has to drink the gross concoction the players create. (Don't worry, they're pretty benign, but include things like pickle juice, etc.)
Dog Crimes & Cat Crimes from Thinkfun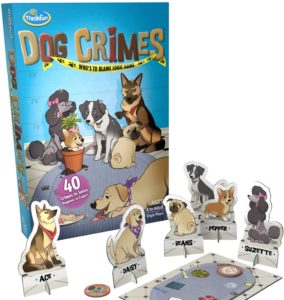 Ages 8 and up.
$14.99
Where to Buy Dog Crimes
Where to Buy Cat Crimes
These are deductive reasoning games where you follow the clues to figure out which pet did the dirty deed, like rip the pillow or tip over the vase. Players follow the clues to catch the culprit. Great for solo play, too.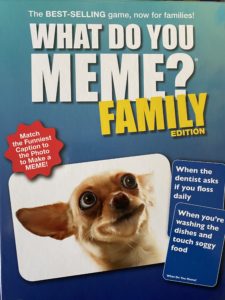 What Do You Meme? Family Edition from What Do You Meme
Ages 8 and up.
$19.99
Where to Buy 
The very popular adult party game now has an edition that's appropriate for the entire family. Pick a meme card, then each player draws from his or her hand to give the meme a caption. Best one wins, according to the judge. Get ready to laugh as you play this creative game. Don't look for too much meaning; it's just meme-ing!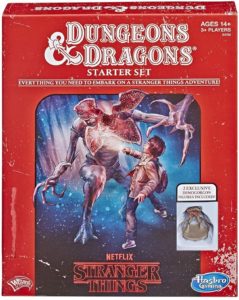 Dungeons & Dragons Stranger Things Starter Set from Hasbro
Ages 8 and up.
$25.99
Where to Buy
Journey into the Upside Down with this new Dungeons & Dragons game inspired by the hit Netflix series. Fans remember the game is included in the series, and this is the story that Mike Wheeler might have created. (Note: The price above is from the manufacturer. We've found great sales for as low as $14.99 on Amazon.)
Pictionary Air from Mattel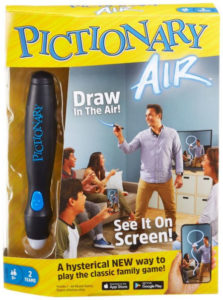 Ages 8 and up.
$19.99
Where to Buy
The classic game goes high tech. Use the Bluetooth pen to draw in the air and your teammates watch what you draw on a tablet. The most challenging and fun innovation we've seen in this now-classic game, and one that everyone will enjoy!
Moms Truths Game from Cat and Nat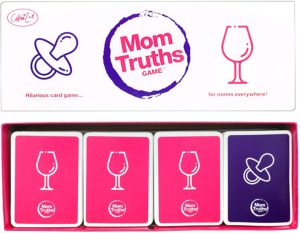 Ages 21 and up.
$24.99
Where to Buy
This is a hilarious card game for grown up moms only. Created by Cat and Nat and based on their hilarious #MOMSTRUTHS YouTube channel, it's a great way to laugh at being a mom, connect with others and relieve some stress. We can see this as a hit on Zoom!
And What About That Deck of Cards..?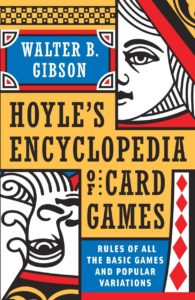 You may have heard the phrase, "according to Hoyle." It's used to talk about a lot more than games. In fact, it's come to mean "strictly according to the rules." The phrase comes from Edmond Hoyle (1672-1796) who over his long life codified and formalized the rules for many card games, in addition to writing about stuff like probability theory. For any family that loves games, a copy of his encyclopedia belongs on your bookshelf. My brothers and I often would pull our copy down and learn a new game.
It's $11.99 on Amazon.
Whatever you choose to play, you'll probably learn a lot more about the people you're playing with, and it's a great way to be together, reduce stress and make a lot of fun!