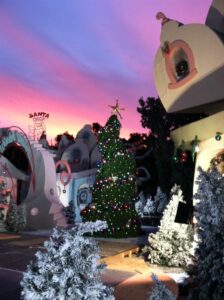 Here at The Toy Guy, like Santa, this is the time of year we prepare for the other nine months of the year. We look at literally hundreds and hundreds of toys every year, play with a bunch of them, and talk to kids and parents about what they want. After a couple of years of pandemic, we wondered if things would be different.
Happily, the answer is no. In fact, there's more creativity, more value (both financial and play value), and the only changes we see are for the better…at least where play is concerned. The one that excites us the most is that as a result of children and families spending a ton more time together, more people are playing, and playing together, more often. And that's good news.
This is probably a good place to talk about how important play is for kids and families. It's recreation, an escape from daily cares. It's communication, a chance to encounter one another in a shared activity. It's imagination, and we could write a whole thesis on how important that is for so many aspects of life. And, most importantly, it's fun. And, when you consider how much you get from great toys in terms of those benefits, they really are very economical. That's because the most sophisticated technology driving all aspects of play is the human brain. And every player comes with one pre-installed. How that technology works in play is nothing short of amazing…all the time.
So, before we get in to talking about some of the coolest toys we've found this year, let's take a look at a couple of new and continuing trends:
What About Inflation?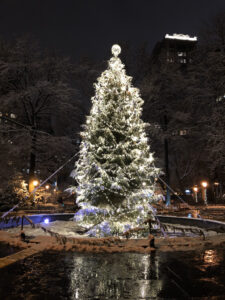 Yes, lots of news media is talking about inflation, but don't let that scare you. Will toys be more expensive this year? Some will. That's because of increased prices of materials, shipping, marketing, and so forth. From what we've seen, though, that doesn't appear to be more than 10 percent. Compared to some staple goods that have gone up as much as 30 percent or more in the past year, that's not bad. Moreover, regular price increases are pretty much part of the game every year. (Recent reports at the beginning of November from tracking company NPD, puts overall inflation in toys at 7 percent, only slightly ahead of a regular year.)
Does overall inflation mean that gift givers may have less to spend? It may, and that's an important issue. Here again, though, the toy biz can help. While there will always be some expensive toys (And this year, we think they're really worth the money.), many hot toys are very reasonably priced and deliver lot of fun. Particularly for younger kids, too, the level of fun and entertainment is not always directly related to price. Ask any kid who's had a sword fight with a stick, or created a fort out of a cardboard box, or some such, about that.
How About Shipping This Year?
The challenges of 2022 in terms of shipping were enormous. Many of those issues, however, have worked through the various systems, and there is good stock on the shelves. Of course, we always advise that if you know what you want and you can get it, go ahead and buy early. You'll save yourself a lot of stress.
The advantage of online shopping is that, you can almost always find what you want, but you may also pay a premium for something. That's your decision, of course, but we always advise against paying many multiples of a product's price. We think that sends a bad message to kids, and can blow your budget in ways that aren't great.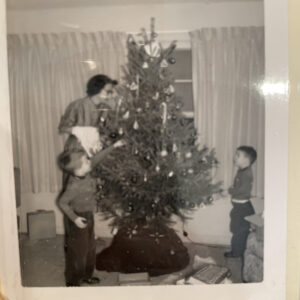 What About "Hot" Toys?
This is something we talk about every year. As we have said for decades now: "The hot toy is only hot if it's hot for your kid." A toy that a child will play with, that will inspire imagination, and create memories is the best toy you can give a kid.
As we also say, every kid has their own play style. Giving kids toys that let them express and explore their own unique personalities is the best gift you can give.
Great Toys For 2023
Now, before we get into these, we do want to preface this with saying that what we write about here are toys that are new for this year. These are the cool ones you may not have heard about…or you may. There are more than 160,000 toys on the market in the U.S. at any given time, so the choices can be a bit overwhelming. Still, looking and shopping is a kind of play experience in itself. If you have a local toy store, they have been doing more and more since the pandemic, and more people are discovering them in their communities. Plan a trip and prepare to be delighted.
Here's What We're Playing With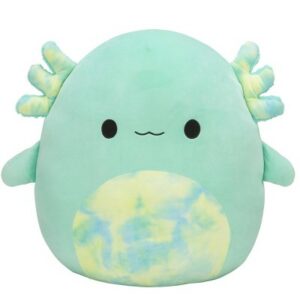 Squishmallows from Jazwares
$5.99-$34.99
Birth and up
Where to Buy
They're the hottest toys of the season. These adorable, squishable creatures were first introduced in 2017, and they've become synonymous with cuteness, collectability, and charm. Whenever you need a hug, grab one of these colorful characters, and you'll find you feel better almost instantly. There are more than, 1000 to collect each with a unique look and style. They're for people of all ages, and avid collectors have dozens of them…or more. A Great Gift For: Fans, collectors and anyone who could use an adorable cuddle buddy.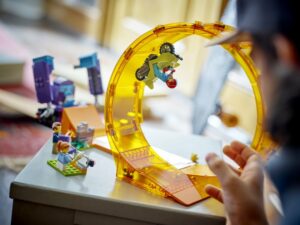 LEGO City Smashing Chimpanzee Stunt Loop from The LEGO Group
Ages 7 and up.
$69.99
Where to Buy
Marvelous mayhem! So, this is the kind of great, active play that will keep kids laughing and playing for hours. Add to that LEGO quality and design, and you've got a can't miss hit. Well, actually, you can miss…when you chase the loop that is. It may take a few tries to get the car around the loop and smash the rampaging chimpanzee, but that's the whole point. This is classic play elegantly interpreted, which is exactly what we'd expect from The LEGO Group. Plus, it interacts with, and connects to,  other LEGO City sets, so you can keep expanding the play. A Great Gift For: Kids who love construction, vehicle play, competition, and challenge.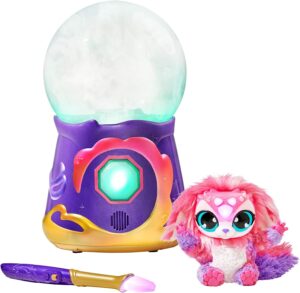 Magic Mixies Crystal Ball from Moose Toys


Ages 5 and up.
$79.99
Where to Buy
Last year, the Magic Mixies Cauldron was one of the most popular toys of the year. We wondered how they could even improve on it. But they did. You won't believe the "magic" of this toy. The crystal ball looks clear, but wave your spell casting wand, and it fills with magic mist. When the mist clears, you've revealed a Magic Mixie, a cool friend who can tell fortunes and interact in different ways. Plus, you can make your Mixie appear and disappear over and over again. (It also doubles as night light with an automatic shut off.) The Crystal Ball takes sis AA batteries, and the wand takes two AAA batteries. Pro Tip: Although the toy is designed for repeat use, this mist can cloud the ball on repeated use. A quick wipe with a cloth or paper towel will make it clear again! A Great Gift For: Kids with big imaginations who love magic, performing (Who doesn't want to watch this?), and playing plush friends.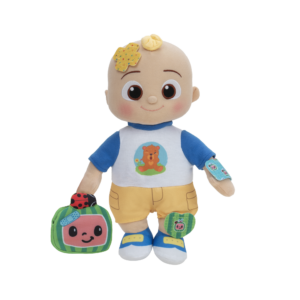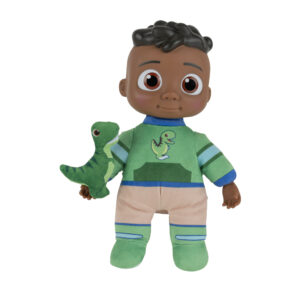 CoCoMelon My Boo Boo JJ and CoCoMelon My Friend Cody from Jazwares
Ages 2 and up.
Boo Boo JJ $34.99; My Friend Cody $21.99
Where to Buy
If there is a toddler in your world, chances are you know all about CoCoMelon, the adorable kids' property that's one of the biggest hits we've seen in a while. Sweet, fun, and with totally great music that appeals to the youngest kids. The toys have been hot sellers, and new this year is My Boo Boo JJ, a stuffed toy that lets kids play doctor and take care of their buddy's boo boos. The "injured" areas light up so kids know just what to treat. My Friend Cody is JJ's best friend, and he plays "Cody's Special Dinosaur Day" when his tummy is pressed. These are great make-believe pals for kids. A Great Gift For: Little CoCoMelon fans with big imaginations.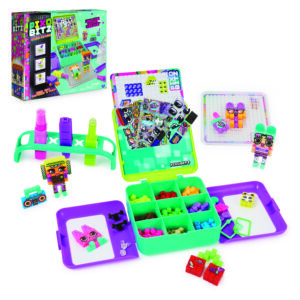 Pixobitz Studio from Spin Master
Ages 6 and up.
$29.99
Where to Buy
We have to admit we had a really great time playing with this. It's a patented, 3-D crafting system that let's kids design, make, and share pixelated creations. (It's a style kids know and love from games like Roblox and Minecraft, among others.) Now that blocky design sensibility is right in kids' hands. The bitz are like pixels, and you design and stack, using templates or whatever you come up with. Then, place your creation under the dome, spray it with water, and your bitz magically stick together. There's no mess, not even water. Plus, you can decorate your finished creations with water-activated decals. We found it very relaxing to play with, and it's fun to stack up the blocks. Here's our pro-tip: Since you'll have multiple layers of bitz, spraying each layer as you finish it and letting it dry gives you the best results. A Great Gift For: Kids who love arts and crafts. Don't be surprised if the adults in the house want a turn.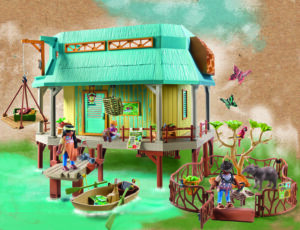 PLAYMOBIL Wildtopia Animal Care Station from PLAYMOBIL
Ages 4-10.
$109.99
Where to Buy
Playmobil continues its line of amazing themed sets with Wildtopia. It's an adventure set in the colorful Amazon rainforest where kids can pretend to care for local animals. There is a ton of fun and imagination, as you'd expect, from these gorgeous sets, but there's also some engaging information about the diversity of the planet, animals, nature, geography , and sustainability. There are online apps and QR codes that unlock lots of things to engage kids' curiosity and imaginations. This is the biggest of seven sets in the entire line. Because sustainability is important to many toy buyers today, they'll be happy to know that these sets are made of 80 percent recycled plastic, and all packages and instructions are made from 100 percent recycled materials. A Great Gift For: Playmobil fans, and kids with big imaginations who love animals and are curious about the world.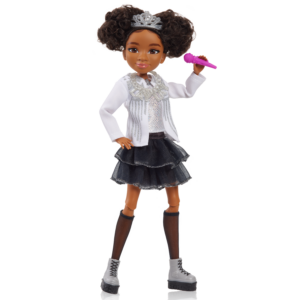 That Girl Lay Lay Singing Doll from Just Play
Ages 3 and up.
$20.99
Where to Buy
This really gorgeous doll is based on the hit Nick show of the same name. Lay Lay is a phone avatar who comes to life as a human. It's a super creative show with lots of music and fashion, and we just love the concept. It's a real springboard for imagination. The 11-inch tall doll comes wearing a tiara, sparkly silver shirt, black skirt, socks, shoes, and carries a purple microphone. Press Lay Lay's necklace charm to hear her sing the show's theme song. Her hair comes in two curly poofs but can be restyled in fancy updos or left in long curls. Her outfits – including her mix-and-match kicks – are interchangeable with doll clothing from the That Girl Lay Lay Fresh Fashions Wardrobe (sold separately). A Great Gift For: Fans of the show and terrific, colorful dolls.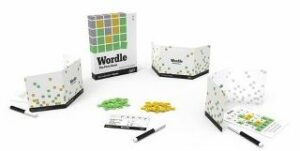 Wordle The Party Game from New York Times Games and Hasbro
Ages 14 and up.
$19.99
Where to Buy
The solo digital game sensation is now an in-person party game. The play is the same: You have six chances to guess the secret word. In this case however, you play in rounds against other people. On each round the Host picks a 5-letter word. Players guess words, writing them in the five spaces on their wipe-off boards. After each round of guessing, the Host indicates which letters are in the word but not in the right place, or in the right place, using yellow or green transparent squares. The player who guesses the word in the fewest tries wins and gets fewer points. Play as many rounds as you like, but at the end, the player with the lowest score is the winner. It's a pretty ingenious way to play this hit game, IRL, as they say. A Great Gift For: Board game fans, word game fans, and, of course, Wordle fans.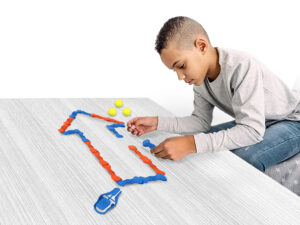 ZipLinx Hi Fly Set and Triple Tower Blast from Blip Toys


Ages 6 and up.
Hi Fly Set $19.99
Triple Tower Blast $44.99
Where to Buy
OMG, where has this toy been? Well, no matter. We're so glad it's here now. Imagine cascading dominoes meets designed chaos, and all in a colorful, explosive experience where the pieces fly up to three feet in the air. Pandemonium! And it's so much fun. The basics of the system are X-shaped pieces that can be closed up (They're powered by rubber bands.) and linked together. Lay them out in whatever configuration you like. Then, when you're ready, hit the plunger, and your whole design flies into the air. It's hilarious. What's cool about this, too, is that your pieces won't pop early, so you have plenty of time to be creative before you put in the Launcher Key. Lock. Load. Launch. We think this is one of the best adaptations of classic fun we've seen in a long time, and it's so easy to do.
The two different sets let kids build all kinds of imaginative creations. The difference is the number of pieces, and the triple tower enhancement. A Great Gift For: Kids who love creative play and big dramatic reactions, construction fans, and everyone at TheToyGuy.com.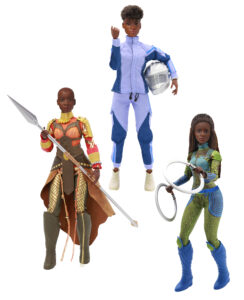 Black Panther: Wakanda Forever Fresh Fierce Collection from World of EPI
Ages 6 and up.
$49.99
Where to Buy
Marvel's Black Panther: Wakanda Forever is one of the most anticipated movies of the holiday season. Dr. Lisa Williams, who was one of the pioneers in creating authentic ethnic diversity in contemporary dolls partnered with Marvel to create three dramatic and beautiful collectible dolls based on the movie. The three powerful female warriors in the line feature the lead characters Shuri, Okoye and Nakia in 11.5″ dolls with skin tones blended to match the on-screen representations, costume reproductions, and playable battle accessories. Designed primarily as collectibles, these dolls can also be played with, but they make a dramatic statement that fans of the movie will relate to and want to display proudly. A Great Gift For: Fans of the movie, Marvel fans, and doll collectors.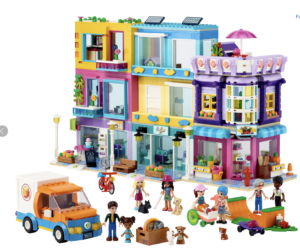 LEGO Friends Main Street Building from The LEGO Group
Ages 8 and up.
$159.99
Where to Buy
Okay, this is the WOW present of the year…at least if you've got a LEGO Friends fan on your list. This absolutely stunning Main Street set has 1,682 brilliantly colored pieces. It comes with 8 characters, 4 animal figures..and a moving truck. When assembled, there are three buildings on the block including apartments, hair salon, food market, and bookstore/café. This is make-believe urban living at it's very best. Kids who love building and playing and who love creating realistic life narratives with all the characters will find this endlessly inspiring. Plus, the buildings can be completely customized so kids can really have a design for living. A Great Gift For: LEGO fans, imaginative kids, and kids who love creating their own imaginary adventures.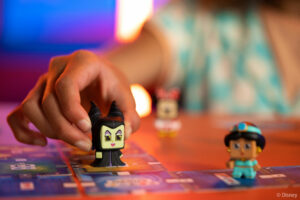 Disney Kingdomania Expandable Game, Series 1 from Funko Games
Ages 6 and up.
$9.99 and $22.99
Where to Buy
We are really excited about this game. The great game designers at Funko Games and the design geniuses at Funko proper have created a great playing expandable game that combines strategy and characters. There are 40 playable figures in Series 1, including ultra rare "glitch" figures and new interpretations of classic characters from all your favorite Disney stories. Start with the larger starter set or purchase the blind ball sets. Each comes with cards, clear instructions and characters. It's great for solo play or competitive play with multiple opponents. And, great for family play, games take only about 15 minutes. Disney fans and collectors will also want these cool characters. Best of all, it's a great value, and you can expand your collection as interest and budget allow. A Great Gift For: Gamers, Disney fans, collectors.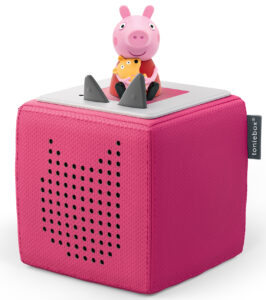 Peppa Pig Toniebox Starter Set from Tonies
Ages 3 and up.
$99.99
Where to Buy
Visitors to The Toy Guy know how much we love this whole line of products. It's screen free storytelling in a huggable box. Sounds simplistic we know, and it is to an extent. When you place a Tonies figure on the box, you unlock all kinds of great content including stories, interactive reading, and much more. The line includes all kinds of favorite characters from CoComelon to Disney to Paw Patrol, and many more. The newest introduction is the adorable Peppa Pig set on a pink Toniebox. (Other Tonies figures will work with it, too.) Given how incredibly popular Peppa and family are, this is a great idea for the fans. As always, high quality production and age-appropriate content make this a great choice. NOTE: The Peppa Pig Toniebox is exclusively at Target, at least for now. A Great Gift For: Peppa Pig fans, of course, but any kid who loves listening to stories.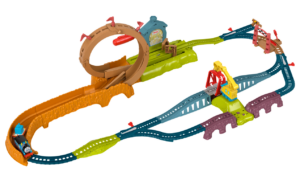 Fisher-Price Thomas & Friends Launch & Loop Maintenance Yard from Mattel, Inc./Fisher-Price
Ages 3 and up.
$49.99
Where to Buy
Thomas and Friends are still a preschool favorite. The gentle stories and imaginative world of Sodor has a timeless appeal that's perfect for kids. This set delivers a lot of play and a lot of value. t has more than 16 feet of track that recreate the loop de loop kids see in the show Thomas & Friends All Engines Go! We're not sure why, but there's something about loops that completely fascinates kids. Once their on their mission, they can use Carly the Crane to complete the track and help Thomas make his delivery. This works with all the other Fisher-Price sets, except the wooden railway. We love this for the great, immersive, narrative-based play. A Great Gift For: Thomas fans, and kids who love building and playing and lots of imaginative opportunities.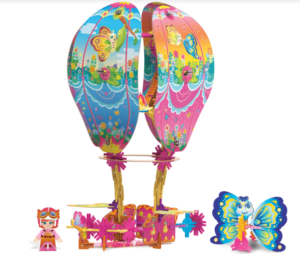 Pinxies Butterfly Hot air Balloon from Luki Lab
Ages 6 and up.
$29.99
Where to Buy
We really love this line of toys. It's gorgeous, open-ended, creative play that fires up kids' imaginations. Take flight with the character Koral in this large, buildable hot air ballon that has detailed graphic panels, lots of colors, stickers, and more. The pieces work with all the Pinxies sets, and the whole line has been STEM authenticated. And, as a bit of an Easter Egg, can you figure you the story hidden in the panels? We think kids will get a kick out of looking for it. A Great Gift For: Imaginative kids who love building and have active imaginations.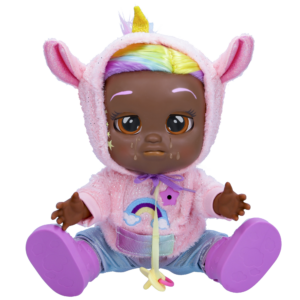 Cry Babies First Emotions from IMC Toys 
Ages 18 months and up.
$59.99
Where to Buy
We love the Cry Babies line of dolls. They're beautiful, whimsical, and packed with features…all at a very reasonable price for the play they deliver. The First Emotions doll is the most lifelike yet. There are two dolls in the collection: Dramy and Jassy. The dolls make more than 65 realistic expressions and baby sounds. They have interactive accessories like a pacifier, rattle, and bottle that encourage classic nurturing play. She laughs, cries, sucks, and even cries real tears. (Well, real water.) One of the things we really like about this doll is the way in which the emotions are really recognizable, and while kids who will play with it are too young to fully comprehend these emotions, they do become familiar, and the timeless nurturing play is very realistic and responsive, which helps kids develop their understanding at the earliest age. This is one of the best classic baby dolls we've found. A Great Gift For: Kids who like classic, nurturing doll play and role-play as parents or caregivers.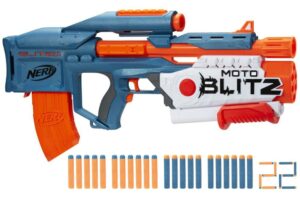 Nerf Elite 2.0 Motoblitz CS-10 Blaster from Hasbro, Inc.

Ages 8 and up.
$44.99
Where to Buy
There are lots of blaster fans out there who love the active adventure play that is the hallmark of Nerf blasters. Great design, high performance and lots of competitive and active play are what these are all about. This new blaster combines what the company calls "airblitz action"  with "motorized mayhem." It's the ultimate performance flexibility however you want to play. Use pump action to release a swarm of six darts at once. Then if you want to power up the play, use the motorized blasting to fire 10 darts super fast. The blaster takes the high-performance Nerf Elite darts, and you can customize the blaster, using the tactical rail, with other Nerf accessories. As always, Nerf darts deliver soft, safe fun, and be sure to use care when blasting in a competitive situation. A Great Gift For: Nerf fans. Kids who like active, competitive play…and more than a few adults. After all, the Nerf fan base number in the millions. (We'll take one of these at The Toy Guy, as well, Santa.)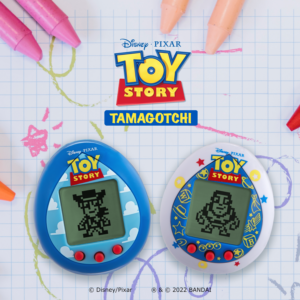 Tamogatchi Nano from Bandai Namco
For ages 8 and up.
$19.99
Where to Buy
Twenty-five years ago, Tamogatchi, the original virtual pet took the world by storm. In the past quarter century, it's become a classic brand—and play pattern. For 2022, Bandai Namco has introduced new collectible versions—Tamogatchi Nano. They're tiny but pack a lot of play. What's different about these is that you're not raising a pet so much as you're playing games with favorite characters. You can find versions based on Disney/Pixar's Toy Story and the animated characters based on the Korean Pop group BTS called Tiny Tan. (You actually do raise these characters, and they transform based on how you play with them. Just like the originals, the Nano units are on a keychain, which makes them great for play virtually anywhere. (Get it?) A Great Gift For: Toy Story Fans, BTS fans, kids who like handheld games.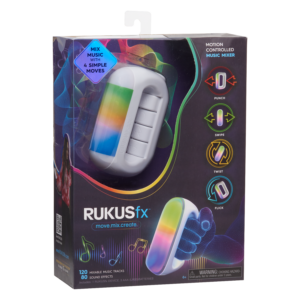 RUKUSfx from Just Play


Ages 6 and up.
$49.99
Where to Buy
You won't believe how much fun this is until you get your hands on it. It's an incredible music and sound maker that creates masterpieces with your movement. With 4 simple moves : Punch, Swipe, Twist, and Flick as you hold it in your hand,  creators can mix customized DJ-style music tracks. The unit comes pre loaded with 120 music tracks,  80 built-in sound effects, built-in microphone, and LED lights. Upload and mix hit songs from favorite artists and record performances for social media. This is great for solo play, co-play, and, of course, sharing on social media. A Great Gift For: Music fans, creative kids, and kids who like to make and share videos.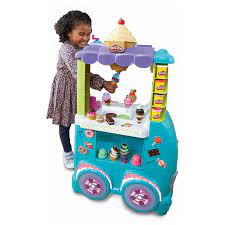 Play-Doh Kitchen Creations Ultimate Ice Cream Truck Playset from Hasbro
Ages 3 and up.
Where to Buy
It's the coolest (make believe) ice cream truck we've ever seen! We love how it inspires imaginative play as kids create Play-Doh versions of their favorite treats. There's a soft serve machine and scooping station, a place to top off your creations with the  sprinkle maker, tools, and molds, and check out customers at the register. It's a lot of play packed into a three-foot tall truck. This is a great, new take on the classic play kitchen, one that will have kids yelling, "sweet!" Plus, parents will like that it has working doors and a locking bin to keep everything organized. Clean up is easy, too, as you can sweep up extra Play-Doh back into the can. A Great Gift For: Kids with big imaginations who love compounds…and ice cream. It's creativity and role-play all in one super cool toy.

The Fresh Dolls Fresh-Finity & The Fresh Squad Platinum Collections from World of EPI
Ages 6 and up.
$17.99 (Girls) $34.99 (Boys)
Where to Buy
We've been so impressed with this line since we first encountered it. Created by Dr. Lisa Williams, these authentic dolls reflect Dr. Lisa's commitment to creating dolls for black and brown children (and collectors, too) that allow them to see themselves reflected beautifully in playthings. The diversity and inclusion these dolls represent go beyond fun into an important statement of representation. We've repeatedly seen in our culture how fashion dolls do create and reinforce standards of beauty in young minds. Dr. Lisa, with her impeccable style, and her passion for empowering children has created this line that is both relatable and aspirational. The newest collection has the  one-of-a-kind artistic face sculpts, custom blended skin tones, gorgeous facial features, natural hairstyles and textures, body types, and fashion-forward attire. Whether you choose this line, any of the other Fresh Dolls collections, or the stunning Wakanda Forever dolls mentioned above, demonstrate the need, and power, for strong messages of identity and representation from children's earliest years. Some of these are currently available for pre-order. A Great Gift For: Kids who love dolls and will be excited to see themselves reflected in these beautiful dolls.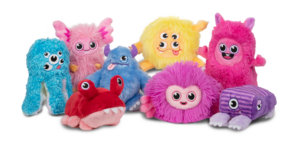 House Monsters (Whirly and Blushy) from Luki Lab
Ages 3 and up.
$18.99
Where to Buy
We've been enchanted by the whimsy of these characters since we first saw them, and they've become a big hit. These characters are the friendly monsters who live in the unlikeliest of places in the home. Whirly (who lives in the washing machine) and Blushy (who lives in the bathroom) bring the collection to eight monstrously amusing plush playmates. Each has a personality. For instance, Whirly loves colorful socks and is afraid of white shirts. Blushy loves soap and is afraid of mirrors. Over and above cuteness and cuddle-ability, these characters help kids poke fun of their fears of unknown things and makes the discovery process fun. A Great Gift For: Young kids with a sense of humor who will be amused by the silly characters and eager to create imaginative narratives around them.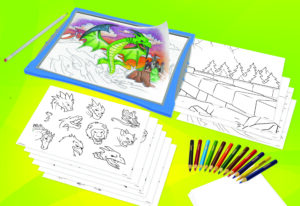 Crayola Light-Up Tracing Pad from Crayola
Ages 6 and up.
$24.99
Where to Buy
Tracing is so much fun for budding artists and a great way for kids to feel successful and creative as they learn to draw. Kids can create cool artwork by simply placing one of the included pieces of paper with designs on the bottom of the tablet and then placing a blank sheet of paper over the top. The bright lights from the pad clearly show the tracing image so kids can follow along. Trace photos, magazines, and so much more. (Great for school projects, too.) The set includes 1 graphite pencil, 12 short colored pencils, 10 tracing sheets, 10 blank sheets, and 1 graphite pencil. 3 AA batteries required, not included.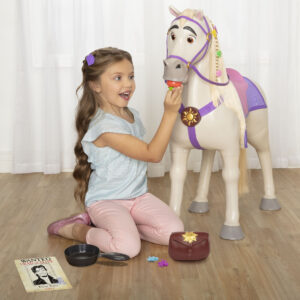 Disney Princess Playdate Maximus from JAKKS Pacific
For ages 3 and up.
$124.99
Where to Buy
He's the pony with personality, Rapunzel's loyal steed,  from the beloved Disney movie Tangled. For 2022, Playdate Maximus has been redesigned with  sound, movement and changing facial expressions! Pull on the reins, feed him one of three accessories, or pet his nose, and Maximus will make chomping and neighing sounds as his expressions change as well!  And what's a horse with a messy mane? Use the hairbrush and other accessories to make Maximums magnificent. Standing more than 2 feet tall, and able to support up to 70 pounds, Maximus is ready for imaginary adventures as this hilarious horse comes to life! A Great Gift For: Fans of Tangled, horses, and imaginative, narrative-based play.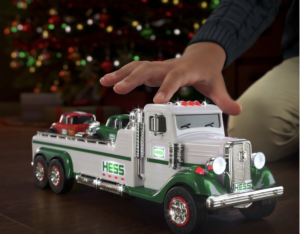 Flatbed Truck with Hot Rods Hess Toy Truck from Hess


Ages 3 and up.
$41.99
Where to Buy
It's a holiday classic, and it's back this year for it's 48th consecutive year of adding fun to the holidays. This years's Hess Toy Truck is a 3-in-1 set featuring 42 lights, 4 realistic sounds, a pull-out ramp for easy loading and unloading the two Hot Rods, each with a pull-back motor for flat or wheelie racing! This holiday tradition packs a lot of play, but it's also been a great collectible since 1964. Once it's sold out, it's gone. It takes 9 Energizer batteries, which are included, and shipping is free. Start or continue a tradition with this dynamic and action-packed toy.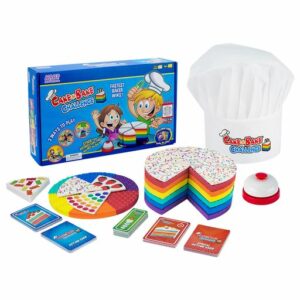 Cake-N-Bake Challenge from Hey Buddy Hey Pal
Ages 4 and up
$29.99
Where to Buy
This is one of the most original, new preschool games we've seen this year. And kids can have cake any time they want! the game consists of a cake cut into six different wedges with several layers made of colorful, high-density foam. Players draw cards and race to stack their cake slices based on the order on a game card. The first to correctly stack their cake wins a candle, and whoever collects six candles wins and gets to wear the included chef's hat for the next round. A Great Gift For: This is a fast-paced race game that challenges kids to think fast and act fast. It's definitely for younger players, but older players will have to think quick, too. Plus, there are different cards, like "Burnt Cake" that change up the action. At this writing, it's pre-order only, but it's definitely worth snapping this one up.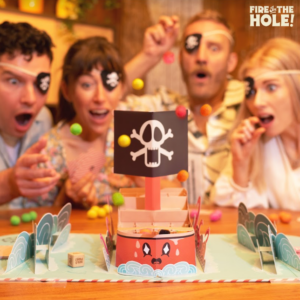 Fire in the Hole! from McMiller Entertainment


Ages 6 and up
$34.99
Where to Buy
Yes, pirates are a thing this year. And in games, too. This game challenges players to get four cannonballs in a row on the pop-up pirate ship. On each player's turn, they pick a card, and it could be All Fire or Solo. Then take your best shot. The idea is that you have to bounce the ball into one of the compartments on the ship's deck. Get four in a row, and you win. However, because these are pirates, it's not always that easy. There are all kinds of tricks and sabotages you can play because, well, there's no honor among pirates. But you knew that. Oh, and you get to wear an eyepatch, which can make it eve more difficult to score. A Great Gift For: We've played this game with people of many ages from kids to adults, and they all have had a great time with this. Worth Noting: The game is 100% plastic-free, biodegradable, and carbon neutral, making it one of the most sustainable games available. You wouldn't expect pirates to be so responsible, would you?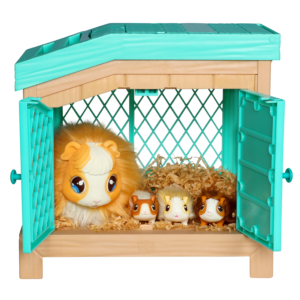 Mama Surprise from Moose Toys
Ages 4 and up
$64.99
Where to Buy
We're loving this. It's classic nurturing play taken to the next level…or back a level if you prefer. Like to birth. Mama Surprise starts out as a soft, realistic, interactive guinea pig that kids can nurture. When her heart lights up, that's when you know some magic is about to happen. Place her in her hutch and get ready for a surprise – the delivery of three baby guinea pigs over the course of multiple days, each with their own themed accessories: rock n' roll, preppy and princess. A Great Gift For: Kids who love guinea pigs, nurturing play and will be enchanted by the magically growing family. NOTE: It's a good idea to set these up so the magic happens overnight, as it takes a while for the baby to be "born."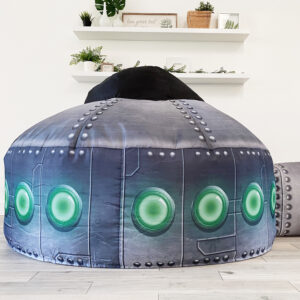 AirFort from Airfort


3 and up
$59.99
Where to Buy
Kids love forts, and we've never seen one this easy or fun to set up and play with. Really, think of it as playing under a parachute that stays up just by the flow of air. Open up the AirFort, connect the regular box fan, and start to play. It inflates almost instantly, and it's big and roomy underneath for kids to play. There are a lot of different models to choose from, but we tend to like the UFO version a lot. A Great Gift For: Imaginative kids who like to play in a structure. And, because it's so easy to set up and take down, it's great for smaller spaces as well.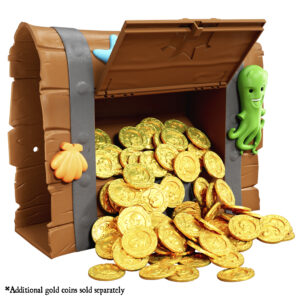 Blackbeard's Treasure from Vango Toys


Ages 4 and up
$19.99
Where to Buy
The key is speed! Use your clear plastic key to collect the colored blocks in the order shown on a card. First to complete it gets to unlock the chest—and be treated to a cascade of dubloons. However, pirates being what they are, you only get to keep one coin per winning turn. The rest go back in the chest for the next round. This is a hilarious game of speed, perception and, of course, a dramatic pay off! A Great Gift For: Kids who love action games. It's also one the whole family can enjoy…because it's actually a bit more challenging—and a lot funnier—than it seems.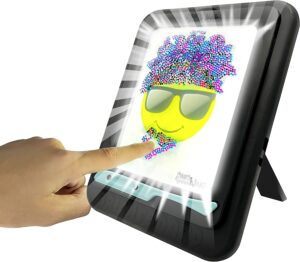 DoodleJamz BrightBoard from Sky Castle Toys
Ages 6 and up
$24.99
Where to Buy
DoodleJamz have been a big hit as kids create with these squish 'n' shape drawing pads Draw, blend and separate colors with the squishy gel colored beads in the DoodleJamz JellyPics and JellyBoards. The BrightBoard lets kids light up their creations with bright LED lights. A Great Gift For: Creative play on the go, or after lights out. It's also good for kids who benefit from ASMR play, such as those on the autism spectrum.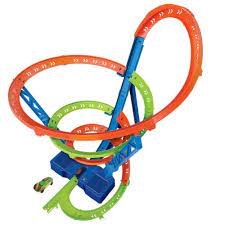 Hot Wheels Action Spiral Speed Crash from Mattel


Ages 5 and up
$58.99
Where to Buy
High speed crashing action is the sine qua non of Hot Wheels play, and this dramatic tower delivers in a big, big way. It's all about the manic mayhem! Standing 29 inches tall, use the boosters to send the cars through the spiral. The more you add, the more inevitable the crashes will be. Hence, the more fun. A Great Gift For: Hot Wheels fans, toy car fans, kids who like bashing crashing action. (And who doesn't?) Pro Tip: Use a ton of cars for best results!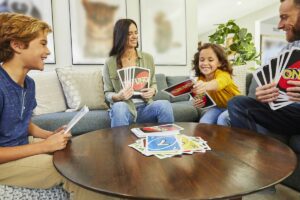 Giant Uno from Mattel
Ages 7 and up
$19.99
Where to Buy
Uno has always been big fun, but now we mean that literally. Yes, it's the Uno you love playing, but now in a giant size. The cards are three times the size of regular Uno cards. The game plays exactly the same: try to be the first to play all your cards. And don't forget to shout "Uno" when you're down to your last card. A Great Gift For: Game fans, of course, but we think this would make a great gag or novelty gift as well.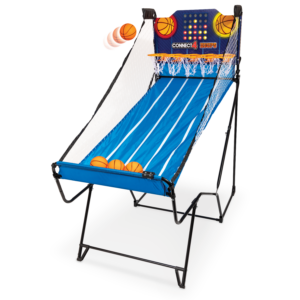 Connect4 Hoops Arcade Game from Eastpoint Sports


Ages 6 and up
$149.99
Where to Buy
This is a great arcade game that you can set up in your family room and entertain everyone through the holidays…and beyond! Take aim at one of the five baskets, and watch as your score ramps up…in Connect 4 style. Your hoop lights up the backboard above it, and each basket turns on a light…or your opponent's light. First to connect four lights up, down or diagonally wins. Plus, make up your own games and challenges. Sturdy construction also folds away for easy storage after playtime. A Great Gift For: Game fans who want an arcade-style, gaming experience in their homes. Lots of great co-play as well for the entire family!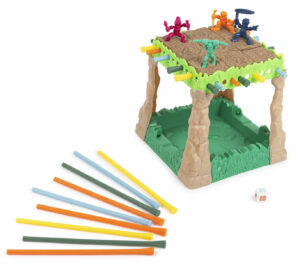 Sink 'n Sand from Spin Master Games
Ages 4 and up
$21.99
Where to Buy
You probably know about Kinetic Sand, the crazy compound that's sand and not sand. It's moldable and then it drips and drifts in cool ways. It's been huge for sensory play, and now it's a great game. Insert the rods and pack the sand into the form on the top. Place your figures in the sand. Then on each turn you'll pull a rod, and suddenly your character starts to sink. Be the last one standing, and you win the round. We love the way the inventors have turned the compound into a game that compounds the fun. A Great Gift For: Kids who love skill-and-action or suspense games.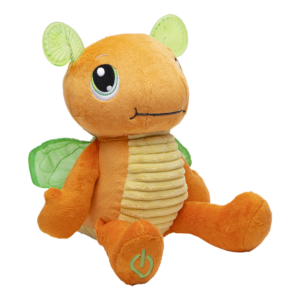 Wiggle Bugs from Play Monster
Ages 2 and up
$44.99
Where to Buy
Get ready to dance and play with this adorable playmate that will drive you buggy…in a good way! Glo Friends Wigglebug features four different, interactive, play modes, and playful glow provide hours of fun for children. Do the Freeze Dance play, open, play, or chill out with the Calm Mode. The motion-sensing technology of the plush provides interactive play where Wigglebug can respond to how your child plays with the plush! A Great Gift For: Active toddlers and kids who will respond to the Wiggle Bugs fun personality and various, engaging  modes of play.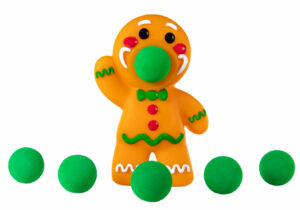 Holiday Poppers from Hog Wild
Ages 4 and up
$14.99
Where to Buy
They're the hugely POPular (Get it?) novelty toys from Hog Wild, and now they're all dressed up for the holidays. New this year are the Gingerbread Man and the Nutcracker. Place the ball in the mouth, give a squeeze, and send the ball popping across the room. (Beats throwing rolls at the table at holiday meals, which The Toy Guy and his brothers did, but same idea.) Colorful, funny, and great laughs. A Great Gift For: Perfect, silly stocking stuffer.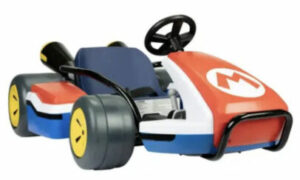 Mario Kart from Jakks Pacific


Ages 3 to 8
$369.00
Where to Buy
Put it in drive and get ready for rockin' Mario action. Now kids can get behind the wheel of their own Mario Kart racer. This ride-on can accommodate a kid up to 81 pounds, and lets them rev it up to 8 miles per hour through 3 forward speeds and reverse. Just like in the online world, the car has oversized rear wheels, and daring drives can drift just like in-game. Authentic in-game sounds complete the experience with engine sounds and the main theme song from Mario Kart 8 Deluxe, and so much more! A Great Gift For: Mario fans who want to imagine they're driving with their bud, Mario in his world.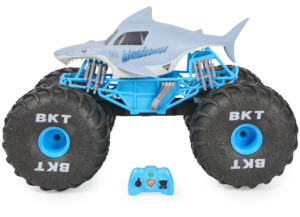 Monster Jam MEGA Megalodon RC from Spin Master
Ages 4 and up
$86.97
Where to Buy
You want big? We got big? This romping, stomping R/C vehicle could be the hit of the holiday for some lucky kids. The monster-sized Megalodon remote control truck is a powerful, all-terrain vehicle that's more two feet long and features oversized tires that lets kids perform outrageous  stunts with a fully functional remote controller, detailed body, authentic BKT Tires and look-alike chassis. A Great Gift For: Kids who love R/C vehicles and crazy stunts.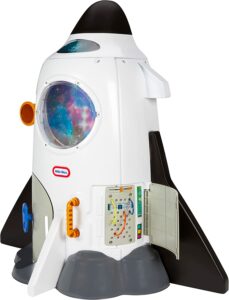 Little Tikes Adventure Rocket from Little Tikes/MGA
Ages 3 and up
$179
Where to Buy
Blast off for imaginative fun in this super cool spaceship! Kids can pretend to pilot the spacecraft, look through the telescope, and manage it all from the cool swivel chair. Sure it's make-believe, but kids love pretending to have out of this world adventures, and Little Tikes has created a super cool launch pad for creativity and fun. A Great Gift For: Kids interested in space and role-play activity.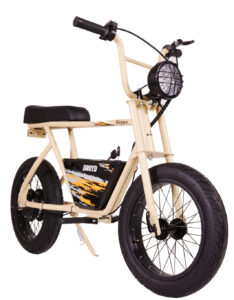 Droyd Blipper from Droyd


Ages 13 and up
$529.00
Where to Buy
E-bikes are huge right now, and this one is a great investment. This retro-style electric rideable can go up to 12.5mph. There is a bit of a learning curve involved, as kids learn to use the accelerator level to control speed. However, this fledgling company is making an outstanding  bike that we think will give many years of use…and it can grow with the kid. (They also make a Weeler version for younger kids as well.)  Of course, you'll always want to make sure that kids wear all appropriate protection and ride in places parents designate. A Great Gift For: Kids who want to be mobile! Our bikes were our freedom when we were growing up, and the electric bike is a game-changer for today's kids. Note: We really had to search around to find this at the MSRP and in stock for holiday delivery.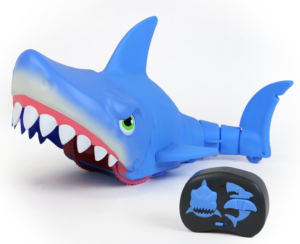 Mega Chomp RC Shark from Skyrocket Toys


Ages 4 and up
$39.99
Where to Buy
You're going to need a bigger floor! Sorry for the Jaws joke. We think this is absolutely hilarious. The Mega Chomp is a great white R/C shark measuring almost 20 inches long from teeth to tail. Its swishing tail, half submerged body and relentlessly chomping jaws turn any floor into shark-infested waters. It really is a cool optical illusion as the shark comes chomping across the floor. It really puts the (wait for it) teeth in playtime. A Great Gift For: Kids who love R/C cars and have a great sense of humor. Plus, it's super easy for kids to control and a great value price for how cool it is.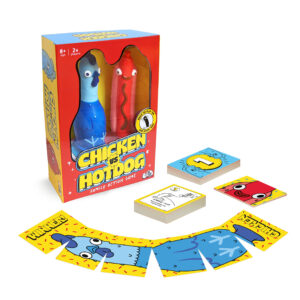 Chicken vs. Hot Dog from Big Potato Games
Ages 8 and up
$30
Where to Buy
Just the name is enough to make you laugh, but wait till you start playing. Chicken vs. Hotdog is a family-friendly action party game where you race to flip or stack the pieces, which they call Sling 'Ems. One looks like a chicken, and one like a hot dog. Hence the name.  If you've ever played bottle flipping, you get the idea. Split into teams (or go head-to-head), turn over a random Challenge Card (i.e. "single flip" "eyes closed flip" or "under the arm flip") and attempt to nail that challenge using your Chicken or Hotdog figure. It's a silly skill, to be sure, but it's one that will keep you laughing through the holidays. A Great Gift For: Kids—and families—who like silly challenge games. (And who aren't going to insist on playing serious touch football like those Kennedys in Hyannis Port.)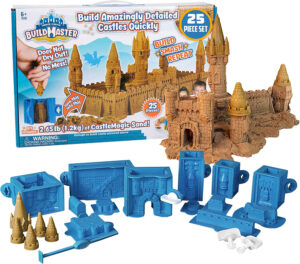 Create A Castle BuildMaster from Create A Castle


6 and up
$34.99
Where to Buy
Wait! We're building sand (or snow) castles indoors??? Yep. The company that created the large sand/snow castle molding set has brought the fun indoors using a special compound that lets you build your own castle creations without all that going outdoors nonsense. (Kidding!) Seriously, though this is all that big fun on a smaller scale. Fill the springform molds with the compound. Stack them up, and release the molds to create highly detailed castles. Add action figures and imagination, and you've got an entire play experience. Then smash it all and start again. This is so much fun on so many levels…figuratively and literally.
DISCLOSURE: PURCHASE LINKS ARE TO PLACES THAT HAD IN-STOCK AVAILABILITY AT THE TIME OF PUBLICATION. THE TOY GUY DOES NOT RECEIVE ANY COMMISSION OR FEES IF YOU PURCHASE THROUGH THOSE LINKS. WE DEFINITELY RECOMMEND SHOPPING AROUND. PRICES LISTED HERE ARE MANUFACTURER'S SUGGESTED RETAIL PRICES. IN SOME CASES, PRICES MAY VARY.