Here it is summer of 2022. COVID-19 isn't done with us yet, but people are a little more courageous about travel, thanks to vaccines and continued attention to being careful. However, prices for airfares, gas, and hotels are way up, so we're predicting that vacations are going to be a bit shorter and perhaps a bit closer to home. That means that the backyard continues to be a hot destination for summer fun.
In 2021, spending on toys and particularly outdoor items skyrocketed. And this year looks like it's going to be about the same. You'll be able to find bikes, swing sets, and pools more easily, but those are infrequent purchases. So, if you're looking to restock the toy box for this summer, you'll want to check out our list of the cool stuff we've been playing with.
OUTDOOR PLAY
Bubbles, Blasters, and…Foam!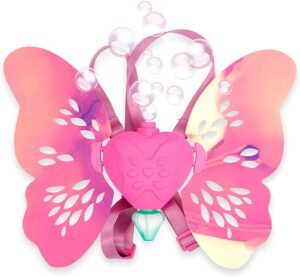 Bubbly Wings Fairy from IMC Toys
For ages 3 and up
$14.99
Where to Buy
These wearable fairy wings let kids dress up as a fairy and create a trail of magical bubbles. Just fill the crystal shaped container with bubble solution and turn it on. Once kids get moving and start running around Bubbly Wings will create a magical trail of bubbles, up to 1500 per minute! Certainly one way to end up with a tired little fairy at the end of a long play day!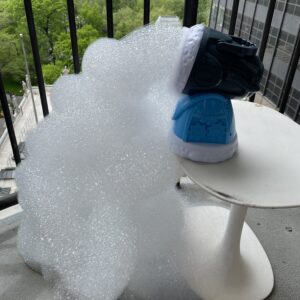 Föm Mania Fömalanche from Little Kids


For ages 5 and up
$39.99 -$49.99
Where to Buy
This is easily one of our favorite toys of this summer. Fill it with the foam solution, turn it on, and you'll create tons and tons of lightweight foam. And it lasts a long time, too. You can cover your backyard. Pick up the foam and toss it, create games, and so much more. Or just be amazed at how much foam this creates! It's easy to set up and get ready to foment (ha ha) fluffy, foamy fun! We think you'll love it so much that you'll want to stock up on foam concentrate refills, too. You can find them here. Requires 6 "D" batteries, not included.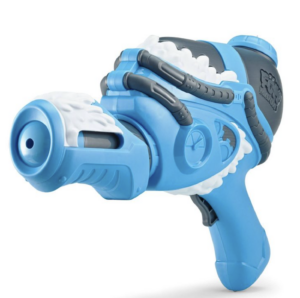 Föm Mania Fömilator from Little Kids


For ages 5 and up
$14.99
Where to Buy
So, when we were kids, we got in trouble for stealing dad's shaving cream and shooting it at each other. The wizards at Little Kids have found a way to deliver that level of fun in a super cool foam blaster. Fill it with the foam concentrate (Be sure to follow the instructions carefully for the amounts.), then push the barrel forward. You'll see it fill with foam. Pull back quickly for a splat-tacular blast of foam. You have to reset between blasts, but it's really fun. The foam is non-staining, but this is probably better as an outdoor toy. Though dad could probably shave with the foam in a pinch. Requires 4 "AA" batteries, not included.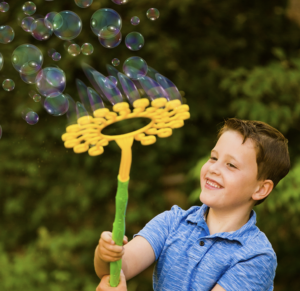 Gazillion Bubbles Mega Zillion Wand from Funrise


For ages 3 and up
$9.99
Where to Buy 
Leave it to Funrise to make simple bubble play super magical. We just love filling the air with lots and lots of bubbles just with a wave of the wand. The toy has 33 mini wands in one plus the flexible 3ft. handle it is easy to make more and more bubbles. Simply fill the tray with Gazillion Bubbles solution, dip the wand into the tray, and wave around to make more bubbles than ever before! The tray is designed with a spout so once the bubble fun is over, pour any unused solution back into the bottle to be used next time! Mega-Zillion Wand includes two 8oz. bottles of Gazillion Bubbles Solution. (We are always impressed with the quality of the Gazillion Bubbles solution. It's worth it.)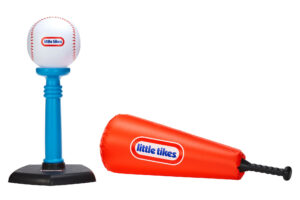 Little Tikes Totally Huge Sports T-Ball from Little Tikes
For ages 2 and up
$29.99
Where to Buy
Toddlers can knock it out of the park, or at least across the backyard, with this inflatable oversized T-Ball and bat set. This is part of a whole line of gigantic sports equipment designed for toddlers. We have to admit, we love how this looks. More importantly, however, it's designed for kids with development gross motor capabilities so they can be successful at hitting the ball and having a rewarding play experience. Nicely designed, great price and very satisfying for kids.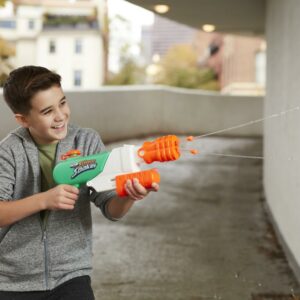 NERF Super Soaker Frenzy from Hasbro
For ages 6 and up
$16.99
Where to Buy
This is easily our favorite new water blaster for the summer. It's built with Super Soaker quality, and it's a very reasonable price. But that's just the beginning. There are three different settings. Unleash two parallel streams from the blaster, pull back the nozzle halfway to spray two wide-blasting streams, or pull the nozzle all the way back for wild water action as the tubes twist wildly in all directions, sending streams of water everywhere. Anyone in range can get soaked as the tubes flip and fly! It holds 24 ounce of water, and it's easy to fill.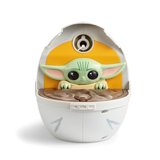 Star Wars Grogu Bubble Machine from Little Kids
For ages 3 and up
$14.99
Where to Buy
Blow tons of bubbles with Grogu from Star Wars' The Mandalorian!  The Star Wars Grogu Bubble Machine features Grogu in his pram and blows continuous streams of bubbles.  The No-Spill design helps prevent accidental bubble spills that occur during normal bubble play – for less mess and more smiles!  Includes four ounces if premium bubble solution.  Requires 3 "AA" batteries, not included.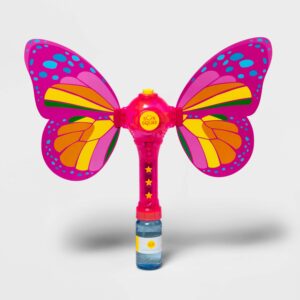 Sun Squad Light Up Butterfly Bubble Wand
For ages 3 and up
$8.00
Where to Buy
This is one of the cutest bubble toys we've seen this summer. It works great, and includes a four-ounce bottle of solution. The butterfly is super cute, and the light adds a touch of magic to the classic play.
Water & Pool Play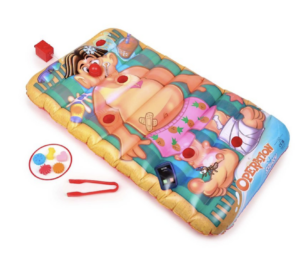 Operation Splash from WowWee
For ages 6 and up
$19.99
Where to Buy
For a steady handed doctor, these are challenging circumstances. You have to cure Cavity Same of his ailments while getting sprayed with water. The longer you take, the wetter you get. Classic Operation gameplay on an oversized mat that you connect to the hose to make the game wilder and wetter than ever before.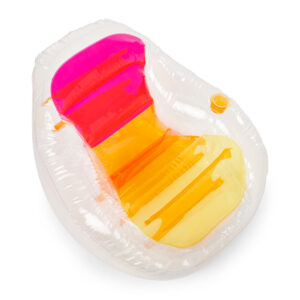 Swimways Dry Float Collection from Spin Master
For ages 15 and up
$44.99. $55.99, $74.99
Where to Buy
We're always learning fun stuff here at The Toy Guy. For instance, did you know that 35 percent of people who like to float in the water don't want to get wet? Yeah, neither did we. So, if you've got a pool, or you're headed to a lake, this new line of floats may be just the thing. The new line includes three above water floats. They're made of translucent PVC with bright eye-catching color-blocking, and, of course, an  integrated cupholder. Three different seating styles let you sit upright, lie back, or lounge. And they've made it easer to inflate and deflate with a new valve technology.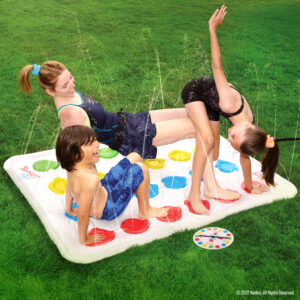 Twister Splash from WowWee


For ages 6 and up
$19.99
Where to Buy
The classic game of Twister just got a summer make-over. Twister Splash is played on the classic mat except it's hooked up to the hose, and every time you cover a spot, you're going to get sprayed. So, take the crazy tangled up balancing game of the original, just add water, and you've got a silly slippery surprise that's great for the whole family.
Active Play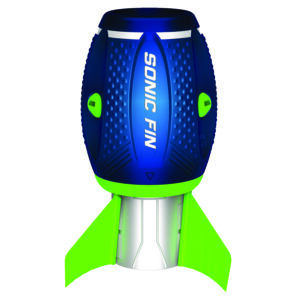 Aerobie Sonic Fin Football from Spin Master
For ages 8 and up
$14.99
Where to Buy
We love sports toys that make kids feel more confident and enjoy a realistic (if not regulation) sports experience.  The Aerobie Sonic Fin Football has been officially endorsed by  NFL quarterback, Russell Wilson. The hollow gyroscopic design creates ultimate lift and max distance in the air so you can go long with throws up to 100 yards. With its customizable calibration ring, this kids football is great for both right and left handed throwers (something we lefties really appreciate), letting every player challenge themselves while playing their favorite sport and outdoor game.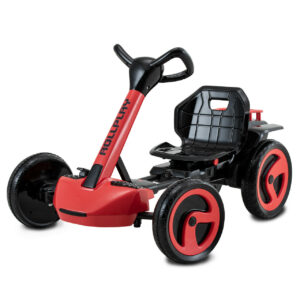 Flex Kart XL from Rollplay


For ages 5 and up, up to 110 lbs.
$239
Where to Buy
This is really the coolest go-kart we've seen. Rollplay does a great job with good quality and performance, especially in this foldable, electric ride-on. Pop it open and race around at forward speeds of up to 5 MPH, or pop it in reverse at up to 2.5 MPH. When done, this high-performance ride-on folds down to a compact size for easy portability and storage. The sturdy metal frame is designed with room to grow between the adjustable, 2-position seat and foot pedals, which makes it ideal for growing children.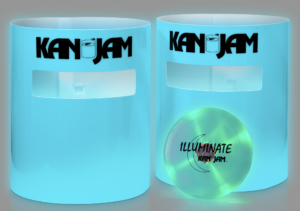 Kan Jam from Kan Jam


For ages 9 and up
$49.99 (regular) & $59.99 (illuminate)
Where to Buy
Flying disc toys are hot this summer. (Another great distance play.) We love these simple but challenging games. Set it up, and throw and deflect the flying  disc at the goal. The large cans can be set up almost anywhere you want to start playing. Oh, and if you get the disc in the slot on the can, you win instantly. There's the basic version, but we're kind of enamored of the illuminate version that lights up for play at dusk…or even after sundown.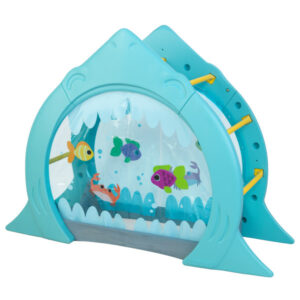 KidKraft Shark Escape Climber from KidKraft
For ages 3 and up
$104.99 (currently on sale)
Where to Buy
This is a great outdoor climber for active kids that inspires a lot of imagination and open-ended play. There's lots of gross motor developmental play, and encouraging kids to be confident as they climb. They can imaginatively "dive" into the blue translucent "water" among the fishes to the bottom of the ocean. Inside you can pretend you're digging for treasure or seashells (just fill the box with sand for added realism). Or, climb on top of the shark to tame the beast and ride the waves.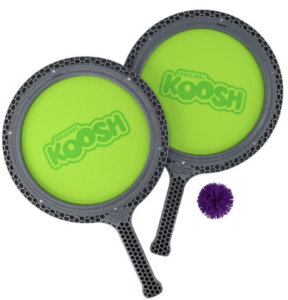 Koosh Double Paddle Set from PlayMonster


For ages 6 and up
$16.99
Where to Buy
It's like Badminton, but with Koosh balls.  The set includes 2 10-inchpaddles and a Koosh ball, and it's great for solo or head-to-head play. The paddles have a trampoline-like bounce that make them responsive, and depending on the player, fairly powerful.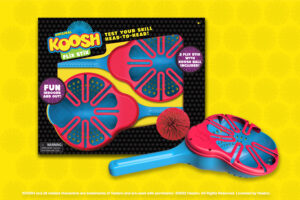 Koosh Flix Stix from PlayMonster
For ages 6 and up
$24.99
Where to Buy
That classic toy the Koosh Ball is back in a big way from PlayMonster with a ton of new ways to play. We've loved the badminton style sets, and now the Flix Stix mimics lacrosse. The handle feels like a lacrosse stick (or cross, if you're going to get technical on us). The set comes with two and a Koosh ball, and you can really toss and catch them. For a COVID-19 summer, the additional benefit is that players have to be distant from one another to get the most out of this toy. Check this out as well as the rest of the cool Koosh line up. Available mid-July at Target stores everywhere.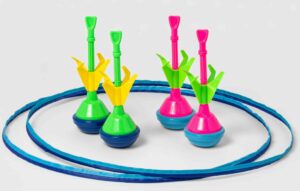 Sun Squad Lawn Darts with Caddy
For ages 4 and up
$15
Where to Buy
Well, these aren't your grandparents' lawn darts. But guess what? They're just as much fun because of the great design. They're weighted so they're easy to toss. The set includes four darts, two scoring rings, and a carrying case, which makes it easy to toss this in the car or take along to the park or beach.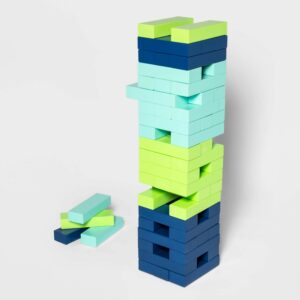 Sun Squad Tumbling Towers Giant Game


For ages 6 and up
$80.99
Where to Buy
This jumbo tipping tower game has 56 blocks in green blue, and light blue. The classic gameplay challenges players to remove one piece from the stack and place it on top. Keep going until the tower falls down. Pick it all up, and pack it away in the carrying case.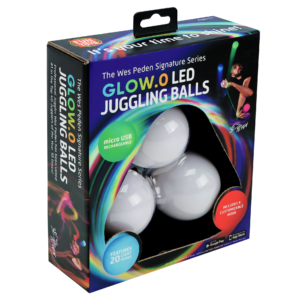 Wes Peden Glow .o LED Juggling Balls from Fun in Motion
For ages 6 and up
$39.99
Where to Buy
If you want to learn a terrific new skill this summer, how about juggling. Internationally renowned juggler Wes Peden has created these super cool juggling balls. They're designed to be the perfect size, shape, and weight for jugglers at all levels of ability and they amazing LEDs can give you all kinds of different effects. And if you just want to toss these around after dark, well, they're amazing for that, too!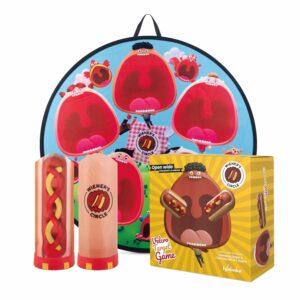 Wiener's Circle from Waboba
For ages 8 and up
$29.99
Where to Buy
If monkey tails don't make you laugh, how about flying hot dogs? Wiener's Circle (We got it.) is a target game that hangs on any flat, upright surface and challenges players to throw Velcro hot dogs at the open mouths on the target. Super silly, and super fun. And it all folds down to slip into a bag for travel fun. NOTE: This will be available and ship June 1.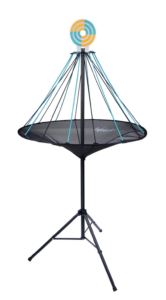 Wingman Hitman from Waboba


For ages 8 and up
$99.99
Where to Buy
We love this flying disc target. Set it up is easy, and you can practice your skills solo, or create all kinds of games. Aim to get your disc into the target, or if you're working on accuracy, see if you can knock over the target at the top. It comes with ground stakes and a carrying gab, and it's great for beach, backyard, park, or even indoors (with enough space). Nice design and stable construction will stand up to lots of active play.
Games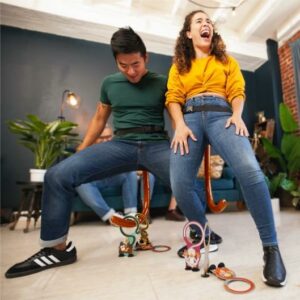 It's Bananas Game from McMiller Entertainment


For ages 6 and up
$24.99
Where to Buy
This is easily the silliest game of the summer. Strap on an inflatable monkey tail (Yes, you read that correctly.) and try to pick up the different pieces. The trick is in your thighs as you squat down and pivot your hips to maneuver the tail into perfect pick-up position. We're not even sure what else to say about this, other than it's classic, silly fun for kids…and adults.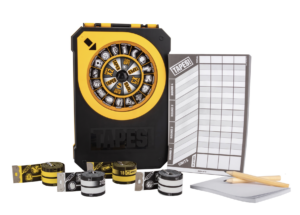 T.A.P.E.S. Game from Hog Wild
For ages 6 and up
$24.99
Where to Buy
In T.A.P.E.S., players use 16 non-traditional units of measurement, Honeybees, Apples, Playing Cards, to Squirrels to measure everyday items. For each of these unconventional units, the game has a correlating measuring tape for "guesstimating." How many gummy bears high is the TV? You get the idea. Everyone guesses, and after four rounds, the player who measures up the best wins.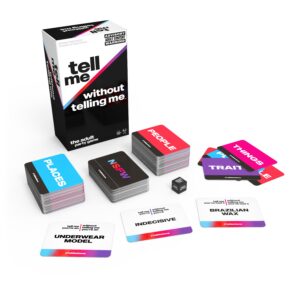 Tell Me Without Telling Me From Spin Master
For ages 18 and up
$21.99
Where to Buy
We've been having a blast with this new game, based on the TikTok video sensation. To play the game, players split into 2 teams. Alternating teams roll the die then flip the timer to start your team's turn. Give hints to your team to guess as many cards as possible before time runs out, without breaking the die's rule! There are 3 categories on the die. Show Don't Tell, One Syllable and Freestyle. It's a new take on charades, and it's pretty much guaranteed to keep you laughing. 
Hot New Toys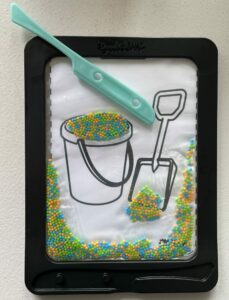 DoodleJamz from Sky Castle
For ages 4 and up
$8.99
Where to Buy
It's simple. It's fun. It's kinda squishy. Doodle and create with these drawing boards that let you make, or enhance, pictures. Use the stylus or your finger to move the beads around in the jelly. the beads are securely sealed inside, so there's no mess, and the stylus clips to the frame for easy, on-the-go, play. The boards come with an emoji backer, but you can swap out your own pictures for even more creative play.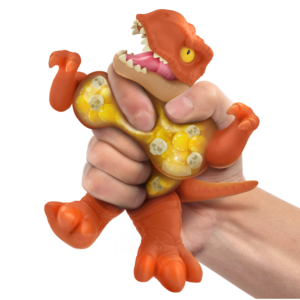 Heroes of Goo Jitsu from Moose Toys
For ages 4 and up
$13.99-$29.99
Where to Buy
These gooey, stretchy, sturdy action figures are hilarious. No wonder they've been such a big hit. of course kids are going to try to see how far they can stretch them. Don't worry, they won't break. Plus, they've got all kins of funny things inside you can see when you give them a squeeze. New for summer 2022, two different sizes base on the new Lightyear movie and dynamic dinos from Jurassic World. We kind of think they're cool stress relievers for adults, too. There are lots of different ones at the link, too. It's big fun that won't stretch your fun budget.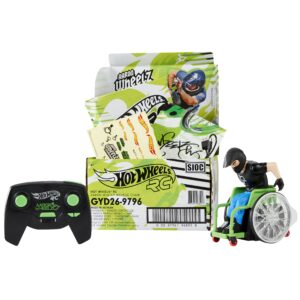 Hot Wheels RC Aaron Wheelz Wheelie Chair from Mattel
For ages 6 and up
$42.99
Where to Buy
We are as impressed by this outstanding R/C as we are by the guy who inspired it. Aaron "Wheelz" Fotheringham is a  five-time Wheelchair Motocross World Champion and Paralympic Athlete, known for performing the most epic spins and jumps from his wheelchair. The toy features a built-in action figure, made in the likeness of Aaron Wheelz, a remote control and a ramp so that kids can perform epic jumps. A "wheelie boost" feature with stunt bar provides an extra kick to this remote-controlled wheelchair, with its top speed reaching more than 10 kph!  But here's what inspired us: Mattel is continuing in its effort to inspire kids to break barriers and pursue their dreams, as well as appreciate those who do that.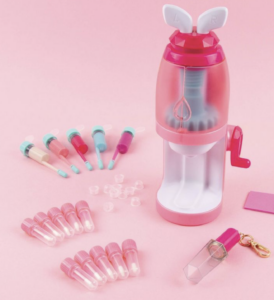 Swirling Lip Gloss Maker from Color Fusion
For ages 8 and up
$24.99
Where to Buy
It's the perfect rainy day craft activity. The set makes it easy to customize and create a swirled lip gloss in three easy steps. To make the lip gloss, select scented colors from five trendy gloss cartridges. Then, load the cartridges into the maker, turn the handle and watch them swirl together. You can put them in larger "crystal" carrying cases.
And Just Because We Love It…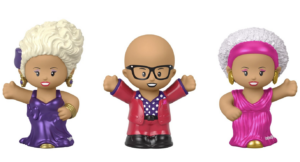 Fisher-Price Little People Collector Ru Paul
For adult collectors
$14.99
Where to Buy 
Okay, we absolutely had to include this, before we sashay away… even though it's for grown ups. We went nuts over the hilarity and creativity of this. What does Drag Queen Story hour one better? This three-piece collectible set of RuPaul figures…as Little People! This fun figure set celebrates the iconic American actor, singer, model and television personality with three figures inspired by dazzling looks from a truly amazing career. It comes in a specially designed package featuring a runway theme and reflective details. Girl, you know someone who needs this set.
We'll be updating this page every week during the season, so be sure to bookmark this page and check back often.
DISCLOSURE: PURCHASE LINKS ARE TO PLACES THAT HAD IN-STOCK AVAILABILITY AT THE TIME OF PUBLICATION. THE TOY GUY DOES NOT RECEIVE ANY COMMISSION OR FEES IF YOU PURCHASE THROUGH THOSE LINKS. WE DEFINITELY RECOMMEND SHOPPING AROUND. PRICES LISTED HERE ARE MANUFACTURER'S SUGGESTED RETAIL PRICES. IN SOME CASES, PRICES MAY VARY.