As we prepare for another school year, the first full year in the waning days of the pandemic, presumably, anticipation is high that this is going to be a "normal" year…whatever that is going to mean. Honestly, we don't know. After all who had Monkeypox or the resurgence of polio on their 2022 bingo cards?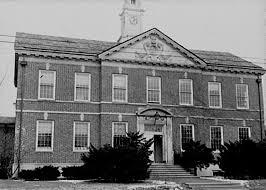 Whatever the year brings, however, it's always to make time for play. While there will be a lot of pressure on teachers and parents—and students—to make up for lost time, that's not always something that can be accomplished easily. Kids develop at the speed at which they do, and there's not much we can do about that. Trying to cram more information into small heads or apply a lot of pressure tends not to work out so well. Everyone gets frustrated, and it becomes difficult to achieve goals. As we look at it, the last thing people need right now is more pressure. And the first thing they need is, you guessed it, more play.
The Back-to-School season is generally a time when people tend to think about "learning" or "educational" toys. All very well and good, but our perspective is that ALL play is learning, and that a balanced collection of play experiences helps to develop the whole child in a healthy way, with as little stress as possible.
Back-to-School, though is also a time of novelty and excitement. It's all about a new beginning. All the possibilities of the new year are ahead. No wonder, then, that a lot of adults who may have left formal education years or decades ago, still find that thrill of new beginning as summer ends. It's something that has been trained into us since our earliest days…not probable it will go away.
We've been spending our summer break (like we ever take one) talking to parents and teachers about what will be some of the important components of the 2022-2023 school year that might be different from previous years and how play can enhance it. Here's what we find out.
Social Play is Key
Many kids, particularly younger kids who mostly had Kindergarten online may not be prepared to be in the in-person, social setting of a classroom. We've talked to some first and second grade teachers who have said that they're seeing kids are not as prepared to be in a room for the school day with other kids.
Finding play experiences that promote social interaction can be helpful. That means games, whether active play or board games, puzzles, problem-solving activities and opportunities for co-play can help kids acclimate to working with others.
Get Physical
Kids won't be used to sitting all day—nor are they designed to. We've been impressed visiting elementary school classrooms that are designed to get kids up on their feet and moving about as part of their lessons. Playground time and working those gross muscles will help kids concentrate better when it's time to buckle down and do some work.
Engage Interests
For kids, knowledge is a kind of currency. Activities that support their natural curiosity and allows them to master something (or at least get pretty good at it) is a way of building knowledge—and self-esteem. This can take the form of hobbies, building toys, science toys, storytelling. You name it.
Free Time
We can't state enough how important it is for kids to have unstructured, free time—and as much of it as possible. This is the time when kids develop self-confidence, self-reliance, have to figure out how to entertain themselves and follow their interests. Whether solo or in a group with friends or siblings, the question: "Whaddaya wanna do?" is the springboard to all kinds of creative adventures.
Don't Forget Reading
Language and communications skills are some of the most important skills a kid can develop. Take time to curl up with a favorite book and lose yourself in an imaginative world. The ability to imagine scenes from the written word opens the door to all kinds of cognitive functions, from problem solving to effective writing. Plus, it's fun.There's probably much more to talk about in this, but we know you come here some toy ideas.
Here they are: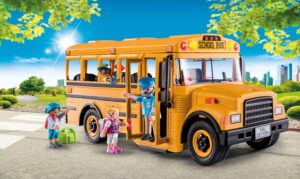 Playmobil School Bus from Playmobil
For ages 4 and up
$39.99
Where to Buy
This is a classic! And it's been updated this year. One of Playmobil's most popular playsets, this is great for younger kids who want to play school, or to help prepare little ones for their first bus rides. It's got flashing lights a classic look, and room for seven figures.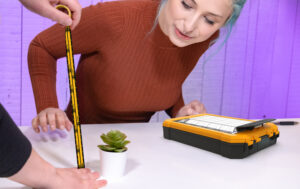 T.A.P.E.S. from Hog Wild
For ages 6 and up
$29.99
Where to Buy
Here's a game that totally measures up for silly fun. This is a measuring game that challenges your visual skills, points of reference, and estimating. And it's a lot of laughs. What you're trying to do is guess how big something is. But you're not using traditional inches or feet; you're using outrageous things like Gummy Bears, Quarters or Weiner Dogs—and much more. Pick an object, make a guess, and then measure it with the included tapes. Closest estimator wins. Of course it's ridiculous, but one of the things we loved about it was that it challenges you to think in non-traditional ways. For example, you have to visualize a quarter and then visualize the object, and then try to calculate how the two dimensions go together. Sounds like a lot, but what we really love is that it pulls together a bunch of automatic brain functions and it's hilarious.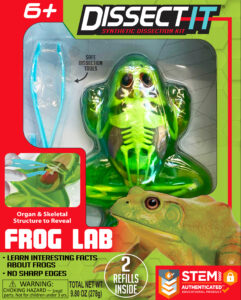 Dissect It Frog Lab from To Secret Toys
For ages 6 and up
$14.99
Where to Buy
We thought this was really ingenious, and kids like it to. Experience frog dissection without the use of a real frog! Dissect-It Frog Lab is a synthetic frog dissection kit made out of gelatin-like material that is safe for children and gives the realistic experience of frog dissection. The scientific set includes one frog complete with a skeletal structure and full set of organs ready for dissection and exploration. Use the surgical-like tools to uncover each layer as you learn about the biology of a frog in each step of the provided booklet. A perfect, odorless alternative to dissecting a real frog, the refillable biodegradable gelatin provides repeat practice/play. Available in Frog, Salamander, Piranha and Bat Dissection Kits!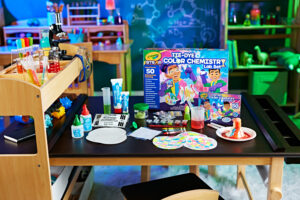 Tie-Dye Color Chemistry Set from Crayola
For Ages 7 and up
$26.99
Where to Buy
We have loved every one of the Crayola STEAM sets. They combine color with science with creative play, and the new Tie-Dye Color Chemistry Set continues the fun. It has 50 fun and playful tie-dye experiments, kids can set up their own laboratories and learn how colors travels and transforms. From color kaleidoscope to tie-dye shockwaves and volcanoes, this set defines STEAM toys with lots of fun and built-in experiential learning.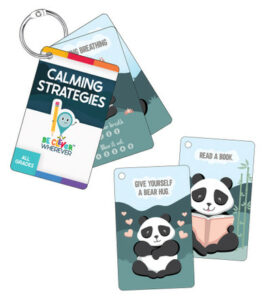 Be Clever Wherever Kits from Carson Dellosa Education
For Ages PK-5 (Varies by Set)
$3.00-$5.00
Where to Buy
It's learning fun on the go. (Or on the stay put, too) These sets that include ring-bound cards of easily portable plastic cases reinforces learning and developing reading, math, writing, and social-emotional learning skills on-the-go with Things On Rings cards and versatile dry-erase activity books that boast topics such as Calming Strategies, Ready for School, Addition and Subtraction, and Reading & Writing- to name a few. We like that they're fun, bite-size and encourage kids to learn and share what they learn. We particularly like the social-emotional sets because, as we noted above, this type of learning may not fall into formal curricula this year, but it will be really important. It's an easy and affordable way for parents to support that.
We'll continue updating this post as we complete school year reviews, so check back often!
DISCLOSURE: PURCHASE LINKS ARE TO PLACES THAT HAD IN-STOCK AVAILABILITY AT THE TIME OF PUBLICATION. THE TOY GUY DOES NOT RECEIVE ANY COMMISSION OR FEES IF YOU PURCHASE THROUGH THOSE LINKS. WE DEFINITELY RECOMMEND SHOPPING AROUND. PRICES LISTED HERE ARE MANUFACTURER'S SUGGESTED RETAIL PRICES. IN SOME CASES, PRICES MAY VARY.