I've been playing with Gayle Anderson at KTLA for the better part of two decades! When it comes to just plain having fun, she's simply the best. No wonder she's beloved throughout LA! Over the years, Gayle's dressed me in silly hats, and we've ridden roller coasters together and gotten to all sorts of fun places around Los Angeles. One time, we even did segments from a new toll booth on the road between Los Angeles and San Diego. Seriously. We ran out on the highway, did our segments and then ran back to safety on the side of the road. We even celebrated Barbie's 50th Birthday together. Suffice it to say, we've had many, many good times, and a chance to play with Gayle and her crew is the highlight of any season.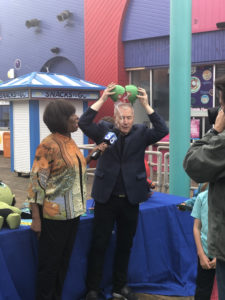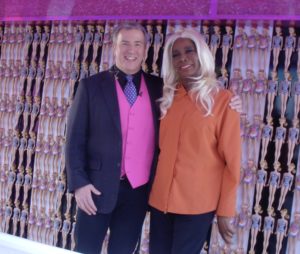 So, when summer comes, I always have to find my way out to Los Angeles for a visit, a playdate and the chance to be part of the awesome KTLA Morning Show. They are one playful gang. I don't think it would be summer without a chance to see Gayle!
This year, we got a chance to hang out at Kip's Toyland, the oldest, continually operating toy store in Los Angeles that's been delighting kids since 1945! Don Kipper and his daughter Lily are continuing the legacy begun Don's father "Kip" Kipper. These guys are all about classic play. There, you won't find any toys that plug in or use technology; it's all about a kid, a toy and boundless imagination. Seems like the ideal summer combination to us.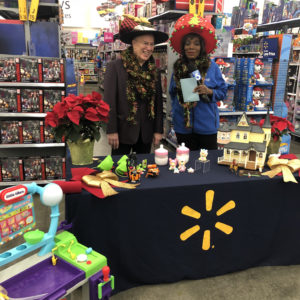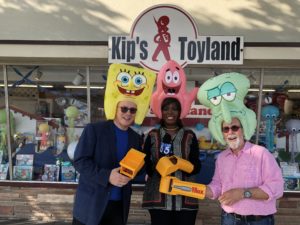 Here are the toys we were playing with (in alphabetical order).
And if you like, you can check out all the segments here.
Click the "Where to Buy" links in each description to find how to get (or pre-order)  these!
And don't forget to let us know which ones are your favorites.
Action Roaring Simba from Just Play
Ages 3+ $29.999
Where to Buy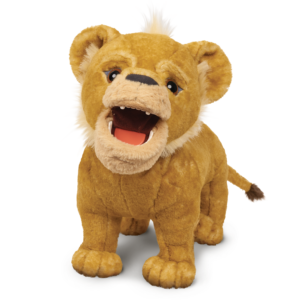 There's a lot of excitement around the live remake of Disney's The Lion King coming out in July. And just like the first one, the characters are sure to appeal to kids, who are definitely going to want to make them best friends. This roaring Simba is made from super-soft fabrics, so it's fun to cuddle up to the future king. Just a press on Simba's paw, and he'll give his trademark roar and move his head.  It's a fun way to bring the movie to life at home!
Boppi The Booty Shakin' Llama from Zuru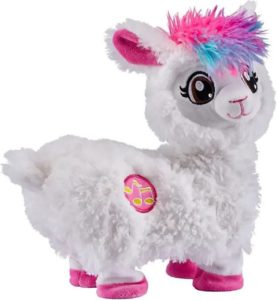 Ages 4+ $32.99
Where to Pre-Order (Ships July)
This has got to be one of the funniest toys of the year. It's a twerking llama. I mean, just saying the words, "twerking llama" makes you laugh, right? Boppi is cuddly and cute with a cartoonish face, but give him a press, and Boppi twerks around to three different songs. We just love the silliness, and we've been playing with it since last January, when Boppi first twerked for us in Hong Kong. We're predicting that this is going to be the gag gift that people of all ages will have to have, and we're predicting a sell out.
Blume from Skyrocket
Ages 5+ $9.99
Find Out More (Ships July)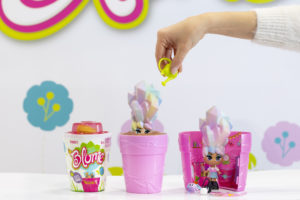 You're going to want these in your make-believe garden! The Blume dolls come in a flowerpot. Add water, wait a few seconds, and, as if by magic, the Blume doll starts to grow—right out of her flowering pot! The dolls combine the tactile fun  of a squish toy with charming, colorful design, and the dolls each have an outrageously-hip hairstyle, mix and match outfits, handbags, cute mini friends, and sticker books. There are 22 (!!!) in the first collection. Whew that's a lot of adorable to collect, and to make the chase even more fun, they have different ratings, including: "adorable", "rare", "super rare", and one "mystical" doll.
Escape This Book: Titanic by Bill Doyle
Ages 8-12 $10.99
Where to Buy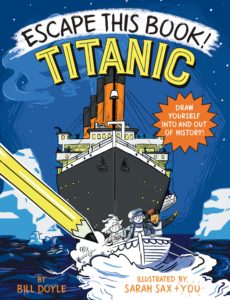 Summer reading was always one of my personal favorite pastimes…still is. But I also liked to play. Leave it to author Bill Doyle to figure out a way to combine reading and play in one of the most original and immersive reading activities we've ever seen. Combining historical facts about H.M.S. Titanic (something in which lots of kids are interested) with three different games, you are challenged to figure out puzzles and use what you learn on an adventure. There are three different ones you can play, and what's so cool about this is that kids are allowed to do things they never get to do with other books: rip, fold, tear, draw and more. Of course, at the end of the process, the book is ruined, but you've had an unforgettable good time. Oh, and there are two more books in the series coming. The next one is about escaping the Pyramids of Egypt. I asked, but Bill won't tell me what the third one is…yet. Whatever the mystery, it will be no surprise that it will be a blast.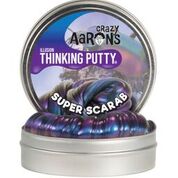 Crazy Aaaron's Thinking Putty from Crazy Aaron's
Ages 3+ Mini $3; Super Scarab $14; Super Scarab Mega (1 lb.)  $50
Where to Buy
Who would have thought there could be an entire toy company built around putty? Crazy Aaron has made the most innovative, most diverse and super fun collection of putty that is almost impossible to put down. One of the most fascinating things we've found as we've played with kids all over is how much they love this stuff.
And Crazy Aaaron, and his anything-but-crazy product team, have come up with so many different ways to play with it. Plus, you might be happy to know, as we are, that this is a company that is actively involved in its community and hires differently abled people to hep with production.
Gazillion Bubble Rush from Funrise
Ages 3+ $19.99
Where to Buy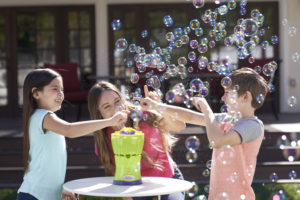 You know that Gazillion really does make the best bubbles. And we think this is one of the best bubble machines ever. Oh, yeah, it blows a lot of bubbles. A LOT of bubbles. But it's also got some innovations that families will love, too. It's easy to pour the solution into it, but what we thought was so ingenious was the  three-sectioned, no-spill modular design including a removable washable top, solution recycling tray and batteries and motor sealed inside the base. So, any bubble fluid that's not used is easily collected. Just separate the pieces and pour what's left back into the bottle, or fill the blower up and start again.
Ghostbusters Ecto-1A from Playmobil
Ages 6+ $59.99
Where to Buy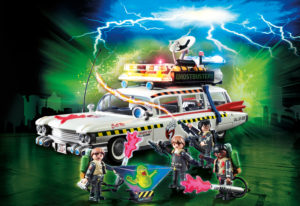 This is definitely designed for fans of all ages. I mean, it's the 35th anniversary of the original Ghostbusters movie! The Ecto-1A comes with the roof design from the second Ghostbusters movie. In honor of the anniversary, this version of the Ecto-1 boasts a new design with blue light and cool sound, removable roof, slime splashes and all four Ghostbusters heroes. With the included hologram pyramid, ghosts disappear into the ghost trap in a flash. Strap on the proton backpack and help Ray, Egon, Winston and Peter with the ghost hunt! The set includes the vehicle Ecto-1A, all four Ghostbusters characters, a hologram pyramid, proton packs and proton emitters, and other equipment for tracking down paranormal activities. This is going to be great for collectors…of multi-generational play.
Gridopolis from Gridopolis
Ages 8+ $50.00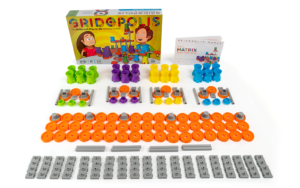 Where to Buy
This is easily one of the most exciting new games we've seen, particularly in the category of strategy games. It's actually so much more. You build the game, and then play it, but there are variations that are included. You may also be inspired to build your own. It's fun out of the box, and there are a variety of games, but we think the longer-term fun comes from what you can create. The pieces snap together, so you can make different board configurations and experiences.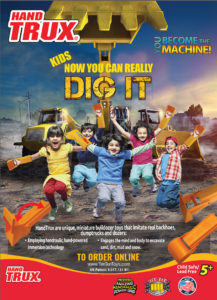 Handtrux from TenTonToys
Ages 5+ $13.99-$17.99
Where to Buy
These are some of the most awesome sand toys we've seen. Kids use the power of their arms on these sturdy toys to dig, build and play in sand. You can own the beach building fun with these. Plus, there's lots of imaginative play as you use the original scoop, bulldozer and dump truck.
The engineering is inspired, and kids are able to use a lot more leverage and a lot more power to build bigger and dig deeper. Kids always love fantasizing about having the power to be a machine, and this is the first toy we've ever seen that lets the kids be the machine!
L.O.L. Surprise Boys from MGA Entertainment
Age 4+ $9.99
Where to Buy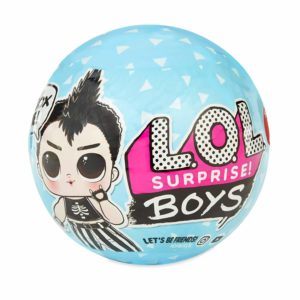 They're the brothers of the fan favorite L.O.L. Surprise dolls, the hottest dolls in the toy industry right now. Unwrap them layer by layer to find seven different surprises inside, all of which make for great play. Plus, like the original dolls, there is a water feature. They're super collectible, too, and at least this summer they're selling out as fast as stores can get them in. If you've got an L.O.L. Surprise fan in your family, you're going to want these!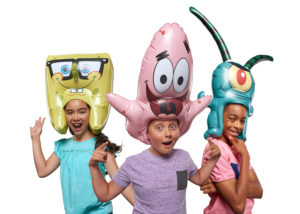 SpongeBob SquarePants 20th Anniversary Collections from Alpha Group
Ages 4 or 6 +
Spongeheads $19.99, Slimeez $6.99, SpongeBob StretchPants $24.99
Where to Buy
Just in time to celebrate the 20th anniversary of SpongeBob SquarePants (Can you believe it!?!), Alpha Group has come out with a collection of whacky whimsical and wonderful toys. Check out the inflatable Spongeheads, the Slimeez, filled with real Nickelodeon Slime and the StretchPants figure that will pull you right into the fun. (Pun intended.) Check out the whole line of SpongeBob silliness from Alpha Group, and get ready for your own brand of nautical nonsense!
Treasure X Aliens from Moose Toys
Ages 5 + $14.99
Where to Pre-Order (Ships July)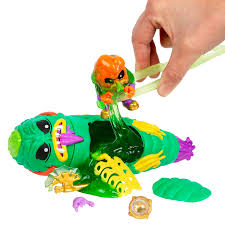 You've caught an icky alien! Are you brave enough to see what's inside? Eeeeeewwwww. Dig into the slimy surprising, 12-step dissection process and find what's inside. Hint: It's a treasure. Cut through the packaging using the included tool to release the alien from his Crystal Vessel, then slowly dissect the alien belly to save the Treasure Hunter! Don't forget to look out for the rib cage, gut critter and the green ooze within! Who knows what you're going to find? You may, however, find the rare space gem. Well that would be cool, right. Some of these are going to have real gems hidden inside!  Once you've finished the dissection, you can store the ooze in the container provided or squish it in the alien head and watch it squelch out of the eyes, mouth and nose! It's gross as all get-out, but we mean that in a good way!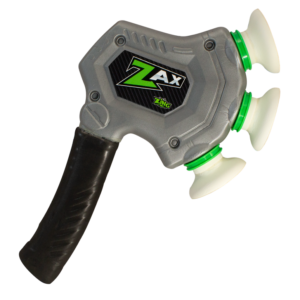 Zax from Zing
Ages 4+$9.99
Where to Buy
Did you know that axe throwing is "a thing?" I didn't till I encountered this toy. And it's become one of my favorites. It replicates the currently popular trend of axe throwing (Yes, you can go places and pay to hurl a real axe at a target.) in a way that's kid friendly. You'll be surprised how much fun this is. There's a bit of a learning curve to get it right, but developing the skill is a major part of the entertainment. We found that a sharp flick of the wrist that allows the axe to fly end-over-end is going to be your best bet. Check it out. And then try to put it down.