When I was a kid, we didn't have too much scheduled activity. We were left to our own devices, and after breakfast my mom would turn us out of the house to play. There was no sitting inside watching TV. Well, maybe on a rainy day, though we were much more likely to play games or read. There's something about the unstructured time that was both liberating and an opportunity to make up our own fun, and, wow, did we ever.
The last thing we could ever say around my parents was, "I'm bored." Their response was always "figure it out, or we'll clean the basement." Till the day we moved from that house, the basement never got cleaned. Giving kids the opportunity to create their own fun, and encouraging them to do it by not coming up with ideas for them is very empowering.
When it comes to summer, the advantage of these toys is that they offer lots of imaginative possibilities, and they don't have to cost a lot. We got the chance to play with our friends at WGN Midday News, and here are some of the great ideas we shared for inspiring diverse, engaging play.
If you missed the segment live, you can see it here!
Escape This Book: Titanic by Bill Doyle
Ages 8-12 $10.99
Where to Buy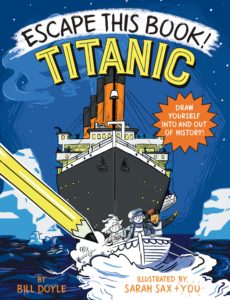 Reading was always one of my personal favorite summer pastimes…still is. But I also liked to play. Leave it to author Bill Doyle to figure out a way to combine reading and play in one of the most original and immersive reading activities we've ever seen. Combining historical facts about H.M.S. Titanic (something in which lots of kids are interested) with three different games, you are challenged to figure out puzzles and use what you learn on an adventure. There are three different ones you can play, and what's so cool about this is that kids are allowed to do things they never get to do with other books: rip, fold, tear, draw and more. Of course, at the end of the process, the book is ruined, but you've had an unforgettable good time. Oh, and there are two more books in the series coming. The next one is about escaping the Pyramids of Egypt. I asked, but Bill won't tell me what the third one is…yet. Whatever the mystery, it will be no surprise that it will be a blast.
Ghostbusters Ecto-1A from Playmobil
Ages 6+ $59.99
Where to Buy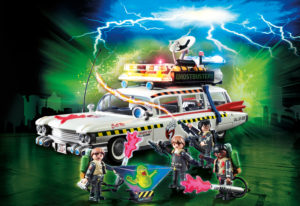 This definitely designed for fans of all ages. I mean, it's the 35th anniversary of the original Ghostbusters movie! The Ecto-1A comes with the roof design from the second Ghostbusters movie. In honor of the anniversary, this version of the Ecto-1 boasts a new design with blue light and cool sound, removable roof, slime splashes and all four Ghostbusters heroes. With the included hologram pyramid, ghosts disappear into the ghost trap in a flash. Strap on the proton backpack and help Ray, Egon, Winston and Peter with the ghost hunt! The set includes the vehicle Ecto-1A, all four Ghostbusters characters, a hologram pyramid, proton packs and proton emitters, and other equipment for tracking down paranormal activities. This is going to be great for collectors…of multi-generational play.
HandTrux from TenTonToys
Ages 5+ $13.99-$17.99
Where to Buy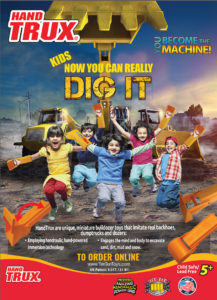 These are some of the most awesome sand toys we've seen. As the promotion says, they allow the kids to become the machine. As we've watched kids play with these, we've been impressed by the ways in which the imagination takes off and the opportunities for cooperative play.
You can own the beach building fun with these. Plus, there's lots of imaginative play as you use the original scoop, bulldozer and dump truck. The engineering is inspired, and kids are able to use a lot more leverage and a lot more power to build bigger and dig deeper.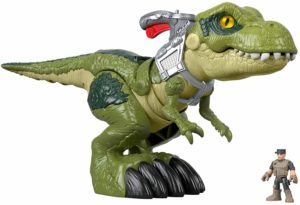 Imaginext Jurassic World Mega Mouth T Rex from Fisher-Price
Ages 3-8 $39.99
Where to Buy
Kids love dinosaurs, and this preschool dino collection is full of play, but not too scary. Kids can stomp, chomp and rampage with this interactive toy that will inspire all kinds of active, creative play. Better get out of its way though because…Oh, No!..the T-Rex has swallowed the figure!!! No worries, open the door on the back, rescue him and start all over. We really like the classic play pattern in a line that's all about children creating their own narratives as they play. This is definitely one of our rainy day picks for creative preschoolers and younger kids!
L.O.L. Surprise Boys from MGA Entertainment
Age 4+ $9.99
Where to Buy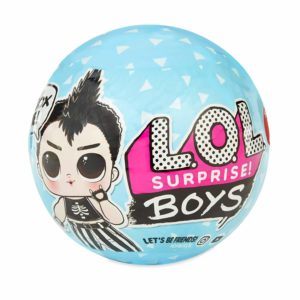 They're the brothers of the fan favorite L.O.L. Surprise dolls, the hottest dolls in the toy industry right now. Unwrap them layer by layer to find seven different surprises inside, all of which make for great play. Plus, like the original dolls, there is a water feature. They're super collectible, too, and at least this summer they're selling out as fast as stores can get them in. If you've got an L.O.L. Surprise fan in your family, you're going to want these!
Oops Scoops from Yulu
Ages 4+ $17.99
Where to Buy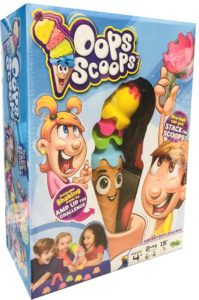 You can have ice cream every day this summer as you play this challenging skill-and-action game. Can you make the tallest ice cream cone without toppling over? You may have a steady hand, but, guess what? The cone actually shakes as you play, making it even more challenging. Scoop, stack and pass. The person who topples the treat is out, and play continues until one player is crowned the king of ice cream. We've had a blast with this simple, colorful game, and we think kids will, too.
Thinking Putty from Crazy Aaron's Putty
Ages 3+ Mini $3; Regular Size $14; Mega (1 lb.)  $50
Where to Buy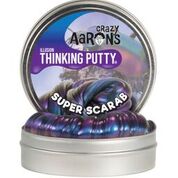 Who would have thought there could be an entire toy company built around putty? Crazy Aaron has made the most innovative, most diverse and super fun collection of putty that is almost impossible to put down. We love all the different colors, textures and features. This is really basic, tactile play, but it has a classic appeal. Even adults have a hard time putting this down. (And, whenever we get to travel with this, this is the toy that people most want to take home with them.) And why not? It's cool, calming and almost meditative.
We're also impressed that Crazy Aaron's employs many differently abled people and is a huge contributor to their communities.
Zax from Zing
Ages 4+$9.99
Where to Buy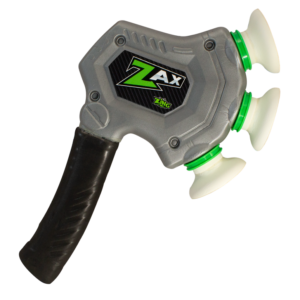 Did you know that axe throwing is "a thing?" I didn't till I encountered this toy. And it's become one of my favorites. It replicates the currently popular trend of axe throwing (Yes, you can go places and pay to hurl a real axe at a target.) in a way that's kid friendly. You'll be surprised how much fun this is. There's a bit of a learning curve to get it right, but developing the skill is a major part of the entertainment. We found that a sharp flick of the wrist that allows the axe to fly end-over-end is going to be your best bet. Check it out. And then try to put it down.