The holidays are here…well, at least the shopping is! The shopping season is just kicking off, and we're excited about many of the new toys this year. The good news is that there are some wonderful ideas for virtually every kid, from preschoolers to teenagers…and beyond. The toy year that began more than a year ago has yielded some great new toys, some outstanding updates, and a ton of creative play. Check out some of the ones that we've been really excited to play with. Most importantly, these have a lot of play value that contribute to the kind of productive play that keeps kids engaged and excited…and that create holiday memories that can last a lifetime.
Bookmark this page because over the next few weeks, we're going to keep updating it as we hear from kids and families about what's making it onto their holiday wish lists for this year.
Plus: Be sure to click on the Where to Buy links for availability and some great deals. 
LeapFrog Leap Builders ABC Smart House from LeapFrog
Ages 2-5 $39.99
Where to Buy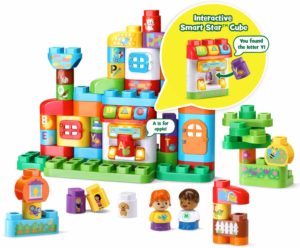 These are electronic building blocks that are designed for all kinds of open-ended, exploratory play for kids as young as two. It starts as a great building set that allows kids to create a colorful house using blocks that are sized just right for young hands.
But then, it comes to life! Insert the blocks into what LeapFrog calls the Smart Star cube, and you'll hear more than 170 words and phrases, some guided play instructions, and, of course, music. What we like about this is that it encourages a wide range of developmental skills from fine motor skills to listening, learning and self-guided play. It will be intriguing for the youngest kids right out of the box, but as they learn and grow, they'll find that they can do a lot more with this. They'll engage with everything from ABCs to household objects, colors and shapes all in a form that encourages lots of repeat play.
As we've been shopping around, we've seen some great deals on this toy, but if you have a curious kiddo in your house who's just starting on their learning journey, this will be a toy that we think they'll love.
Boppi The Booty Shakin' Llama from Zuru
Ages 4+ $17.99
Where to Buy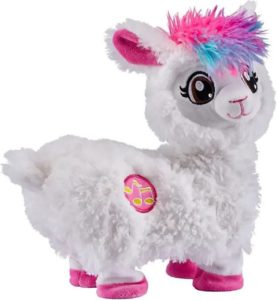 This has got to be one of the funniest toys of the year. It's a twerking llama. I mean, just saying the words, "twerking llama" makes you laugh, right? Boppi is cuddly and cute with a cartoonish face, but give him a press, and Boppi twerks around to three different songs. We just love the silliness, and we've been playing with it since last January, when Boppi first twerked for us in Hong Kong.
This is the kind of toy that's just silly fun, and since Llamas have been on trend this year, we think this is one of the funniest/cutest ones you're going to find anywhere.
Crystal Palace from Playmobil
Ages 4+ $139.99
Where to Buy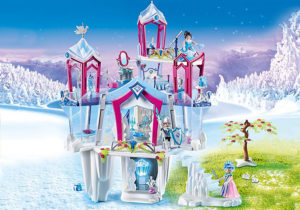 Known for imaginative, immersive playsets that inspire kid-directed, open-ended play, PLAYMOBIL introduces a new world called Winter Kingdom. The centerpiece of the collection is the dramatic Crystal Palace. Unlock all the hidden activities in the Palace, which includes a bedroom, throne room, and much more. It's the home to a magical princess and her grandmother. The magical gem lights up for extra sparkle.
What we love about this set is how it inspires kids to create their own stories, whether in solo play or with other children. Storytelling is such an important part of play and how children define themselves, and while the stories may change as kids get older, the process, and the benefits are constant. From creative thinking to self-expression, finding toys that inspire this type of creativity is one of the foundations of productive play. And that's all before you realize that kids are having a blast.
Disney Junior T.O.T.S. Nursery Headquarters Playset from Just Play
Ages 3+ $39.99
Where to Buy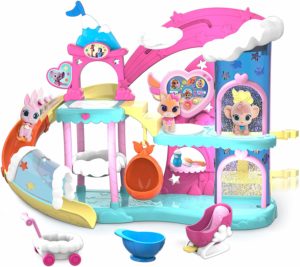 Inspired by the Disney Junior series. T.O.T.S. (Tiny Ones Transport Service), this is an interactive, nursery playset that encourages kids to crate their own stories. The series debuted in June 2019, and it's all about how Pip the Penguin and Freddy the Flamingo deliver pets to their forever homes. The comedy is perfectly pitched to preschoolers, as are the situations and the inevitable complications that arrive with getting the job done.
The playset includes pet babies (with color change diapers), and lots of features like lights, sounds, a baby slide, elevator, cloud transport seat, a secret trap door, and more. Of course, taking care of pets is classic, nurturing play, and the little pets are adorable. Fans of the series will enjoy all there is to do and play with. It's nicely designed, brightly colored, and easy for small hands to operate. Additional pets are sold separately.
Glitter Dots from Crayola
Ages 3+ $4.99-$49.99
Where to Buy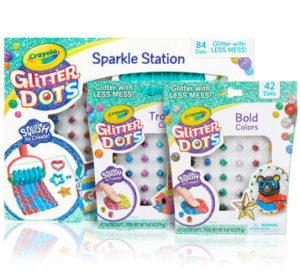 Kids love painting. Kids love glitter. The combination, however, may not be so enticing to moms who are less than thrilled about mess.That's what makes Crayola's Glitter Dots so innovative. Bright sparkly paint comes in a collection of squishy dots that kids can simply press onto their creations to add some colorful dazzle. They come in a wide variety of colors and different playsets that allow kids to make their own keychains, sparkle signs, window decorations, and, of course, simple creativity.
We particularly like the Sparkle Station that delivers a great value and many different ways to play and create with the glitter dots.
This is a wonderful new interpretation of a classic play pattern. toy history buffs will remember Kenner's Sparkle Paints, which were a huge hit in the 1960s. It's not that everything old is new; it's that great play  never gets old.
Gravitrax from Ravensburger
Ages 8+ $9.99-$59.99
Where to Buy
We can't get enough of this interactive, marble run construction set. The starter set has more than 100 pieces and 18 unique action parts. It  lets you create some pretty awesome runs, and then you can keep adding accessories and pieces to make even more remarkable creations. Build up. Add trick shots. There are even trampolines. Oh, yeah, it's STEM. You learn planning, trial-and-error, problem solving and all that good-for-you stuff, but this is just plain fun. You can also create custom builds digitally and watch them come to life, but what really gets us going again and again are those crazy marbles doing incredible things. This is great for the entire family!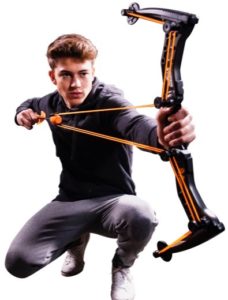 HyperStrike from Zing
Ages 14+ $29.99
Where to Buy
Active play gets a high-performance update with the HyperStrike Bow from Zing. It's great for teens engaged in active, outdoor play. Outstanding engineering means high performance at a great price. The soft-tip Zonic Whistle bow shoots Zing's special bounceback darts up to 250 feet (That's two-and-a-half football fields!) Unique design ensures easy play, thanks to the patented bungie loops that are easy for kids to use for ultimate control—and success.
As consumers are looking for alternatives to screen time and toys that promote physical activity, Zing continues to impress us with excellent design, great performance and the kind of style that inspires creativity. Bring your own mythic world to life as you create all kinds of action-packed scenarios with this bow.
Kindi Kids from Moose
Ages 3-5 $24.99
Where to Buy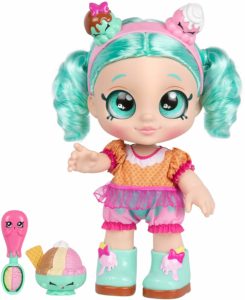 Kindi Kids are four large size dolls – Donatina, Peppa-Mint, Marsha Mello, and Jessicake – who show kids how fun kindergarten can be! Kindi Kids invite imagination and come to life with interactive accessories, like a cereal that disappears from its spoon as the doll takes a bite.
Their cute wobbly, bobble heads make them come to life when you pick them up! Each adorable doll has their own Shopkins accessories that magically interact with them when you play, making them appear to come to life even more! Each 10-inch doll has changeable clothes and removable shoes for lots of dress up play.
There are a lot of large dolls for toddlers out there, but we particularly like this collection. (you can see them all here.) Most dolls designed for kids this age are about nurturing and parent play. These are first best friends. In addition to being adorable, they help children play out peer relationships with companions. It's great preparation for kindergarten and then for practicing social play. (Hey, you always know you're going to hear about the developmental benefits of cool toys from us!)
LEGO Star Wars Kylo Ren Shuttle from LEGO
Ages 10+ $129.99
Where to Buy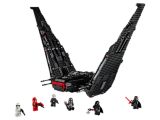 It may be hard to believe, but this is the 20th anniversary of LEGO Star Wars, one of the most successful and engaging toy lines of all time. And, yes, it's no spoiler alert to say that the main villain vehicle figures in the final installment of the Star Wars saga: The Rise of Skywalker.
This goes beyond merely building a model, however, there are tons of features designed to engage kids and collectors. There are a lot of action features that encourage playing out different scenes from the movie, such as retractable wings and spring-loaded shooters. And, of course there are minifigs! The set comes with Supreme Leader Kylo Ren, Genearl Pryde, as Sith Trooper, a First Order Stormtrooper and two Knights of Ren.
This is a dramatic lead item in a full line of outstanding LEGO Star Wars toys coming out for the movie. We're anticipating a sellout on this one in particular.
L.O.L. Surprise! Amazing Surprise from MGA Entertainment
Ages 6+ $129.99
Where to Buy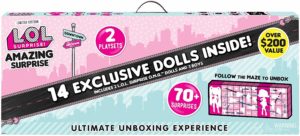 There's nothing hotter out there right now than L.O.L. Surprise! This is the ultimate unboxing experience with more than 70 surprises, 14 exclusive dolls, including two L.O.L. Surprises O.M.G. Fashion dolls. Kids can jump into the maze and follow along to reveal these treasures. It's an entire family with fantastic fashions…and loads of play. This is the prize of all prizes for the L.O.L. Surprise maven in your home.
Mario and Sonic at the Olympic Games Tokyo 2020 by Sega
Rated E 10+ $59.99
Where to Buy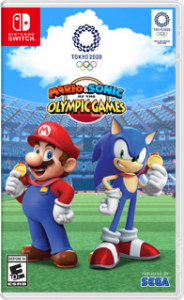 Join the party on the only new game featuring Mario this year…and he's teamed up with Sonic. You can play classic 2D events, new 3 D events, choose your character, play in Story Mode, jump into Dream Events and much more. It's great for solo or party play, with up to 4 players, and it works on the Nintendo Switch. We got to play an early version of this last summer, and we've been waiting for the full game release. This is a great family game for the holidays!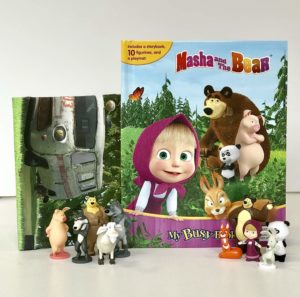 Masha & The Bear My Busy Books from Phidal Publishing
Ages 3 years+ $10.98
Where to Buy
Masha and the Bear is a world wide phenomenon. This adorable series about a little girl and her best friend, a retired circus bear, has counted more than 58 billion videos on YouTube, making it the most-watched cartoon on the platform. The series follows the adventures of the friends in the forest.
This is a book and playset all in one that includes the sturdy board book and 10 figures and a playmat so kids can create their own stories with these unique and lovable characters. We always love things that encourage reading and interaction with language, and this provides just the right balance of play and reading. It's great for solo, co-play or parent-and-child interaction. And, it's a really great value as well.
Other books in the series include the Masha and the Bear Puzzle Board book and the learning series, all of which are available separately.
Monopoly Voice Banking Board Game from Hasbro
Ages 8+ $29.99
Where to Buy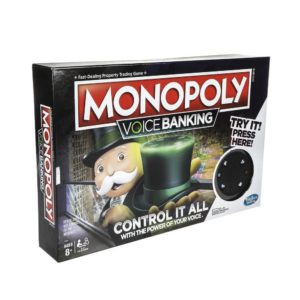 This new version of one of the most classic board games of all time is definitely something to talk about. The interactive, voice-activated Mr. Monopoly unit looks like his iconic top hat. It's voice activated and keeps track of all the players' money, properties and keeps the wheeling and dealing going. The game plays the same as it has for the past 84 years, and this new version adds a little technological magic with no cash or cards to bother with. Of course we love Monopoly, and we had a blast with this additional element that makes it seem very up-to-date.
Package from Santa
All ages $14.95-$74.95 Discounts for friends of The Toy Guy at the link.
Where to Buy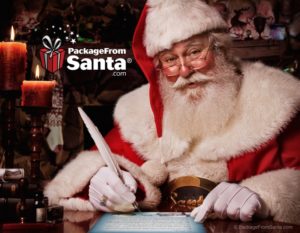 Here's a new holiday tradition that's easy for parents and creates a magical relationship with Santa. The folks at Package from Santa have a unique relationship with the North Pole. Kids can get a personalized communication from the Jolly Old Elf himself. Different packages are available, and they include a letter from Santa, a personalized video, a phone call, certification of being on the Nice List (phew!) and much more. This is a completely fun and interactive way to add lots of dramatic fun to the anticipation of the holiday.
Over the years, we've seen a lot of programs that help Santa get in touch with kids. (He's magic, so we don't worry about how he finds the time.) We were impressed by this for the level of creativity, the sophistication of the communication, and the imagination that went into it.
Disclosure: Litzky Public Relations, which also represents The Toy Guy is an affiliate of this company.
Pop Pops Snotz Slime Slammer Hammer from Yulu
Age 4+ $14.99
Where to Buy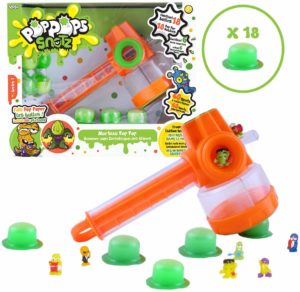 Pop Pops is an irresistible activity that combines the "just-can't-stop" fun of popping bubble wrap; the gross and gooey  satisfaction of playwith slime (still a hot tend), a cast of kooky and cute collectible characters, and one of the hottest continuing play patterns: unboxing! Use the Pop Pops hammer to smash the Pop Pops bubbles, a syringe to suck up the slime, and the storage compartments of the hammer to store the Snotz characters or slime.
Of course this is gross; that's the whole point. BUT it's contained. It's what we like to call "allowed naughtiness," as kids try to gross each other out and collect the slime. We've had a lot of opportunities to play with these with kids (and grown ups), and the timeless appeal gets them every time. As humans, we seem to get this wonderful pleasure from messy, destructive play. It's classic slapstick comedy, to be sure, and people can't get enough of it. Good thing you can buy refills in a variety of colors.
Rainbow Surprise Dolls from MGA
Ages 6+ $54.99
Where to Buy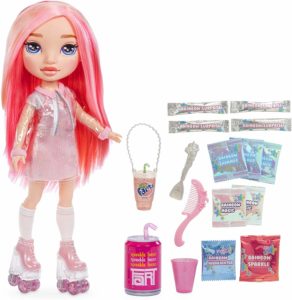 These are gorgeous 14-inch dolls from MGA. We have to say, they have really been pushing the envelope on design and play, and these combine classic, fashion doll play in a larger size with unboxing and the ultimate fashion statement…slime. Bet you didn't see that coming?
Here's how it works. Start with unboxing. There are more than 20 different surprises to reveal as you open it up, more than any other unboxing toy out there. When you're done, you'll reveal one of four dramatic fashion dolls. Will you get Rainbow Dream, Amethyst Rae, Blue Skye or Pixie Rose? You'll have to wait and see. Each of the dolls has great fashions and accessories, and there's even some funny gross out play.
But that's not all, customize her clear fashions with sparkly slime that you mix up yourself. We just love all the different types of play in this line. The combination of so many classic play patterns in one make this something a bit unusual, and quite delightful, for the doll lover in your life.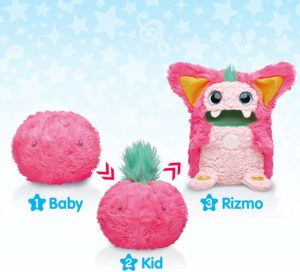 Rizmo from Tomy
Ages 6+ $59.99
Where to Buy
Rizmo is an adorable, interactive character, and a super cute friend kids will love to cuddle and play with. It's also the first-ever, high tech "evolving" toy that listens, learns, remembers and actually grows – both in play value and physical form — through its multiple sensors that feel and respond to motion, encouraging nurturing play that embraces tech but relies on classic play patterns. Rizmo grows from a ball of fluff to a fully-grown creature when kids sing, play and nurture it. It includes 7 built-in games and is ready to play right out of the box.
Of course we see many new interactive toys in any given year, but we've been impressed by the quality and complexity of the interaction with Rizmo. Kids really seem to get into creating a relationship with this character, more than we've typically seen. Moreover, when the character evolves, the play is just beginning, unlike some other interactive toys out there.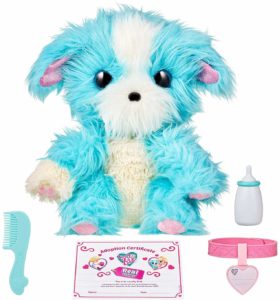 Scruff-A-Luvs Real Rescue from Moose
Ages 4+ $39.99
Where to Buy
Thinking of adopting a rescue pup or kitty? Each Scruff-a-Luvs Real Rescue pet is looking for its "fur-ever" home, and just like a real rescue pet, Scruff-a-Luv reacts to how you nurture it with over 35 lifelike sounds and interactions including shivering, whimpering, feeding, hiccups and heartbeat. When you get your pet, it's a matted ball of fur. You can feel it tremble; it's so scared and needs a lot of love and attention. You have to bathe and groom it to find out what your pet is, and then you have a friend for life.
Building on the overwhelming success of the original 2018 product, the new version is more interactive, more responsive, and has a great deal more play built in. Kids have been enchanted by the realistic sounds and movements that inspire lots of rich, nurturing play. It's also the first-ever water safe electronic plush that can be put in the bath. It's a wonderfully realistic toy, and it's perfect for kids who want to care for their own pet but who might not be quite ready to care for a live animal.
SpongeBob Giggle Blaster from Alpha Group, Nickelodeon
Ages 4+ $19.99
Where to Buy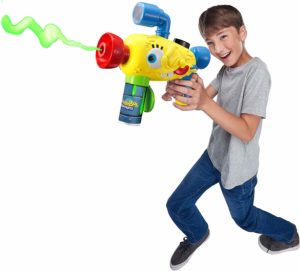 Hard to believe that SpongeBob SquarePants has been around for 20 years! That's an awful lot of undersea giggles for kids all around the world. Well, crawl out of your pineapple and check this out. The Giggle Blaster is what might happen if you took all your favorite crazy playthings and mashed them together. It giggles and says more than 20 SpongeBob phrases. It shoots "giggle goo," which is another name for silly string, and it's got a real, working periscope for trick shots.
We love silly string. It's just one of those things that makes you laugh, and it's not too, too messy. (It cleans up pretty easily, actually.) The whimsical design will appeal to SpongeBob fans, and we kind of wish we had this to prank our brothers with. We'll leave that to you.
Teenage Mutant Ninja Turtles At-Home Arcade from Arcade1Up
Ages 8+ $399
Where to Buy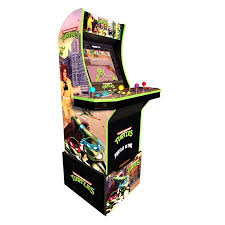 Arcade1Up has built a huge business recreating (in slightly smaller form) the iconic video games and arcade replicas from the 1980s. These games use the original game software and play exactly like the games parents probably remember…and to which kids will love being introduced.
The TMNT Arcade includes the TMNT Turtles in Time game, and it's the first of the games from the company that allows for four-players at once. The cabinet stands about 57″ tall, with the included, custom riser (sold separately on other Arcade1Up cabinets), and it's easy to assemble. Early reviews are citing this as the best of these games yet to hit the market. The company, now in its second year of producing these games, has really upped the quality of the cabinets and the controls without raising the prices.
And, by the way, these games are consistently well-reviewed by consumers and game reviewers. We were really excited to play it, and totally love the social aspect of multiple players.
Toilet Paper Blasters: Sheet Storm from Jakks Pacific
Ages 8+ $39.99
Where to Buy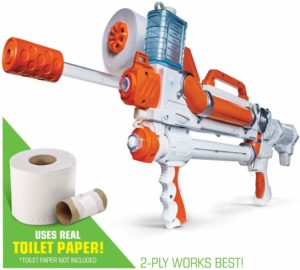 You know if I had had this when I was a kid, I probably would have spent even more time in detention! This is the ultimate spitball blaster. (Yes, they're clean.) You can blast toilet paper spitballs up to 50 feet. For those of you who want to know, you get more than 350 spitballs per roll.
This updated version of last year's hit toy gives the best performance yet, for those who are into this kind of thing. (And we think that's a lot of people.) We like to call this kind of toy "allowed naughtiness," which basically means that we know you're not supposed to fire spitballs all over the place, but this really is harmless, so you get all the fun of pushing boundaries with no downside. Yes, clean up is easy, too.
Simply attach the toilet paper to the blaster, fill the water tank, and the pump action lets you fire away to your heart's content. We might advise playing with this outdoors, but we didn't have any problem cleaning up inside, thanks to our vacuum cleaner. Jakks recommends using two-ply toilet tissue, so that's all we used, and it worked really well.
We pretty much think that everyone in the family is going to want a turn with this. It's that funny.
Viro Vega Scooter from MGA
Ages 8+ $269.99
Where to Buy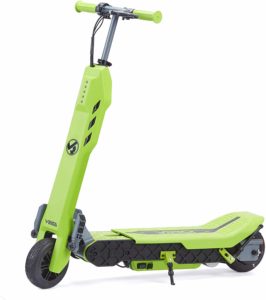 This is the year of the electric scooter. As Bird and Lime scooters transform urban transportation, more and more consumers are turning to these for fun and to beat traffic.
What makes this the Viro Vega unique is that it transforms from a scooter to a minibike and back again with an easy and fast adjustment. That makes it great for transportation and great for play.
The favorite mode is really going to depend on the rider. It really does depend on your personal style. Some people feel that the scooter mode allows them to zip around a bit faster, while the minibike mode seem a little more secure.
Kids can explore and cruise up to about 10 MPH, and the scooter has a range of up to 6 miles on a charge. Be sure to wear all protective gear, ride in designated riding areas, and head out for the wide open sidewalk!
Zax from Zing
Ages 4+$9.99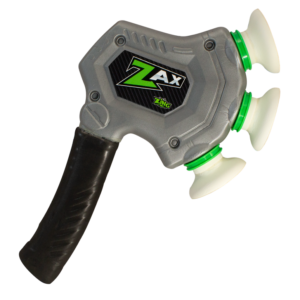 Where to Buy
Did you know that axe throwing is "a thing?" I didn't till I encountered this toy. And it's become one of my favorites. It replicates the currently popular trend of axe throwing (Yes, you can go places and pay to hurl a real axe at a target.) in a way that's kid friendly. You'll be surprised how much fun this is. There's a bit of a learning curve to get it right, but developing the skill is a major part of the entertainment. We found that a sharp flick of the wrist that allows the axe to fly end-over-end is going to be your best bet.
As with the company's HyperStrike Bow, this is great for creative, active play, and it's fun for all ages. Check it out. And then try to put it down.