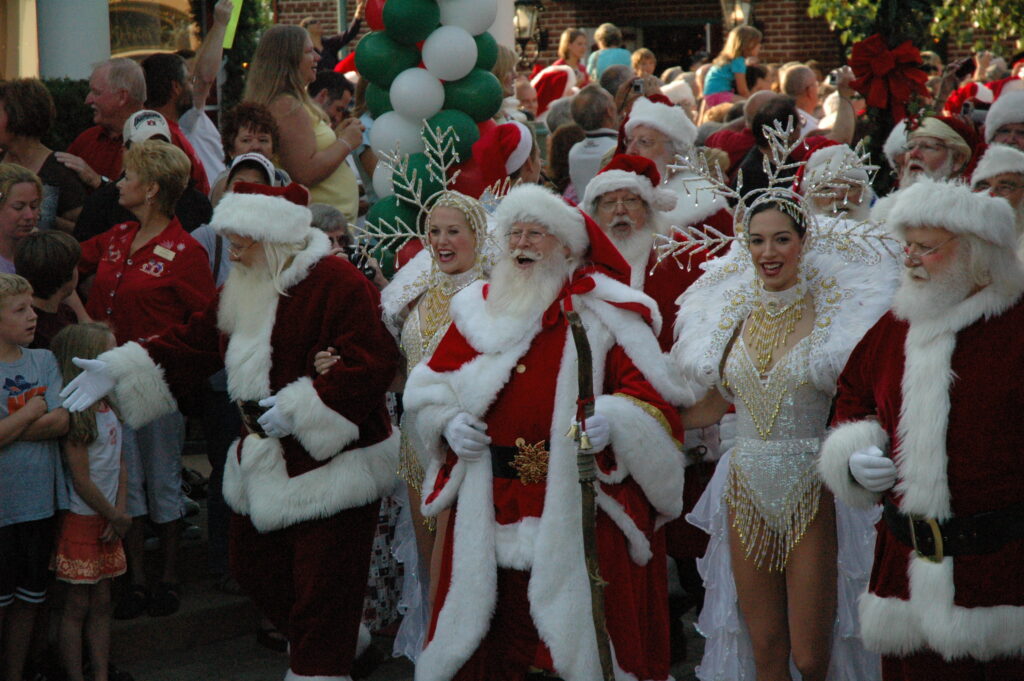 Well, here we are in the holiday season again, and it's time to be thinking about toys for the kids in your life−or maybe for you. After all thanks to the rise of "kidults," toys more than ever are for everyone.
While you've probably seen lists of hot toys from all kinds of sources, we always want you to remember The Toy Guy® mantra: The hot toy is only hot if it's hot for your kid! The good news, is that more and more parents and gift givers are hearing this.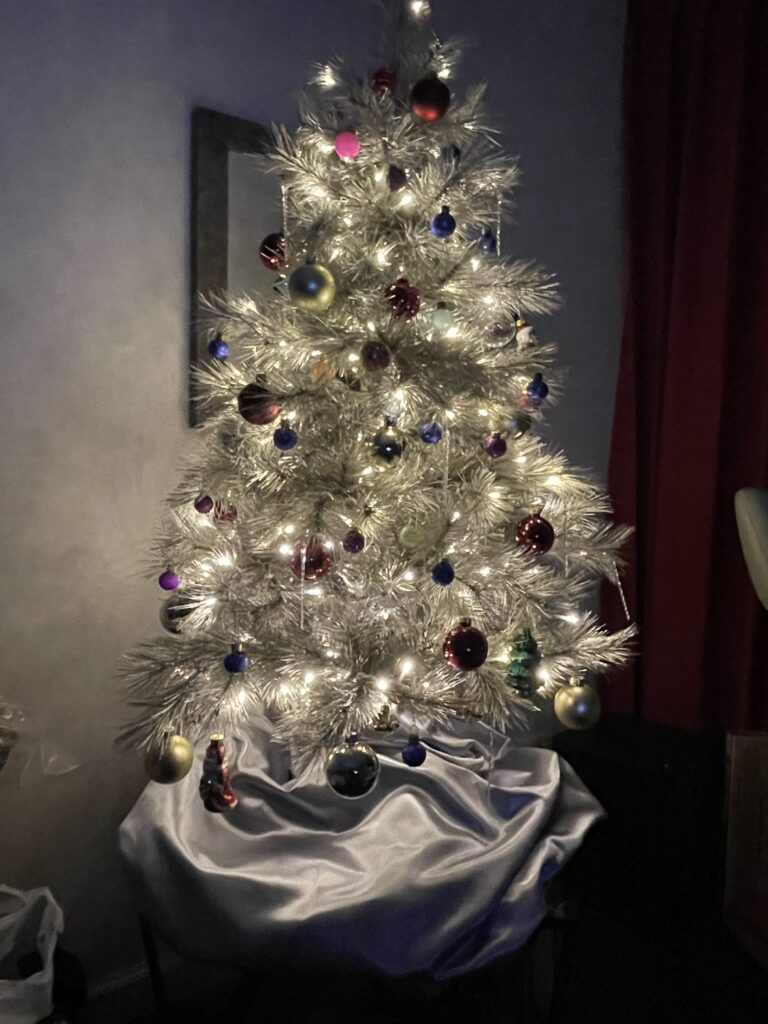 This is probably a good place to talk about how important play is for kids and families, not just at the holidays but all year 'round. It's recreation, an escape from daily cares. It's communication, a chance to encounter one another in a shared activity. It's imagination, and we could write a whole thesis on how important that is for so many aspects of life. And, most importantly, it's fun. And, when you consider how much you get from great toys in terms of those benefits, they really are very economical. That's because the most sophisticated technology driving all aspects of play is the imagination, powered by the amazing human brain. And every player comes with one pre-installed.
Shopping Tips to Know
This is still going to be a bit of a challenging season for shoppers. We've listed the suggested retail prices with all the toys below, but it pays to shop around! We're seeing savings of 20 percent or more on some of the toys we've listed here. Those sales may not last all season, though, so be sure to keep checking back, and when you see a good deal, snap it up. That's our biggest tip.
The other thing you want to pay attention to are ship dates. Especially when you buy online. As we get closer to the holidays you'll want to check to see what the arrival date is. Trust us, you don't want to be biting your nails wondering if something is going to arrive when you should be enjoying your celebrations.
We also hate to say it, but if you're shipping UPS, or getting things shipped that way, plan a little extra time. Recently we've found them to be a bit unreliable, and that's too bad. Nonetheless, plan ahead, and you can worry less.
Are There Trends This Year?
Sure. That hasn't changed. We just surveyed parents of kids up to age 11, and they are looking to spend on experiences as well as toys. That may mean fewer toys bought for the holidays, so the ones that are need to deliver rich play experiences. That means something kids want to do again and again−and that they may want to share with other kids. We're seeing a lot of great, social play, too, and that's a good thing.
Don't forget classic play patterns, stuffed animals, coloring, arts and crafts, and more. All of these are great for kids. Whatever you're looking for, we've got you covered. Read on.
Great Ideas for the Kids in Your World
We review hundreds of toys every year, and we love to play (as you probably guessed). Here are some of the cool toys we think would make great gifts that are new for this year.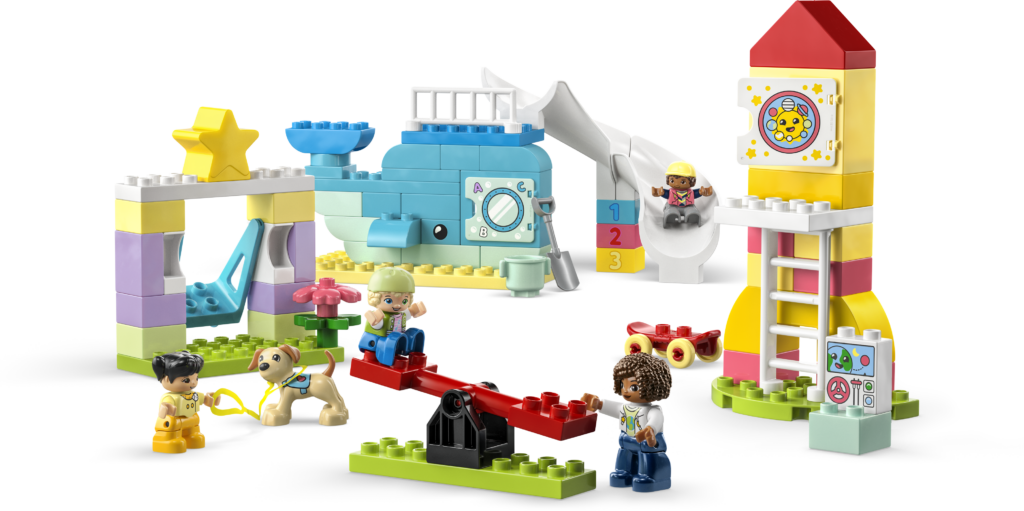 LEGO® DUPLO® Dream Playground from The LEGO Group
For ages 2 years and up.
$49.99
Where to Buy
This is build-and-play fun for toddlers. The DUPLO blocks are perfect for small hands and fine motor skills development, and when it's all assembled, it inspires outstanding, open-ended imaginative play. Players can explore letters and numbers, and more. It's great for solo play, but it can also help kids build social skills through interactive, imaginative role play with others as their imaginations bring this world to life. A Great Gift For: Curious preschoolers who love making up their own stories and open-ended play.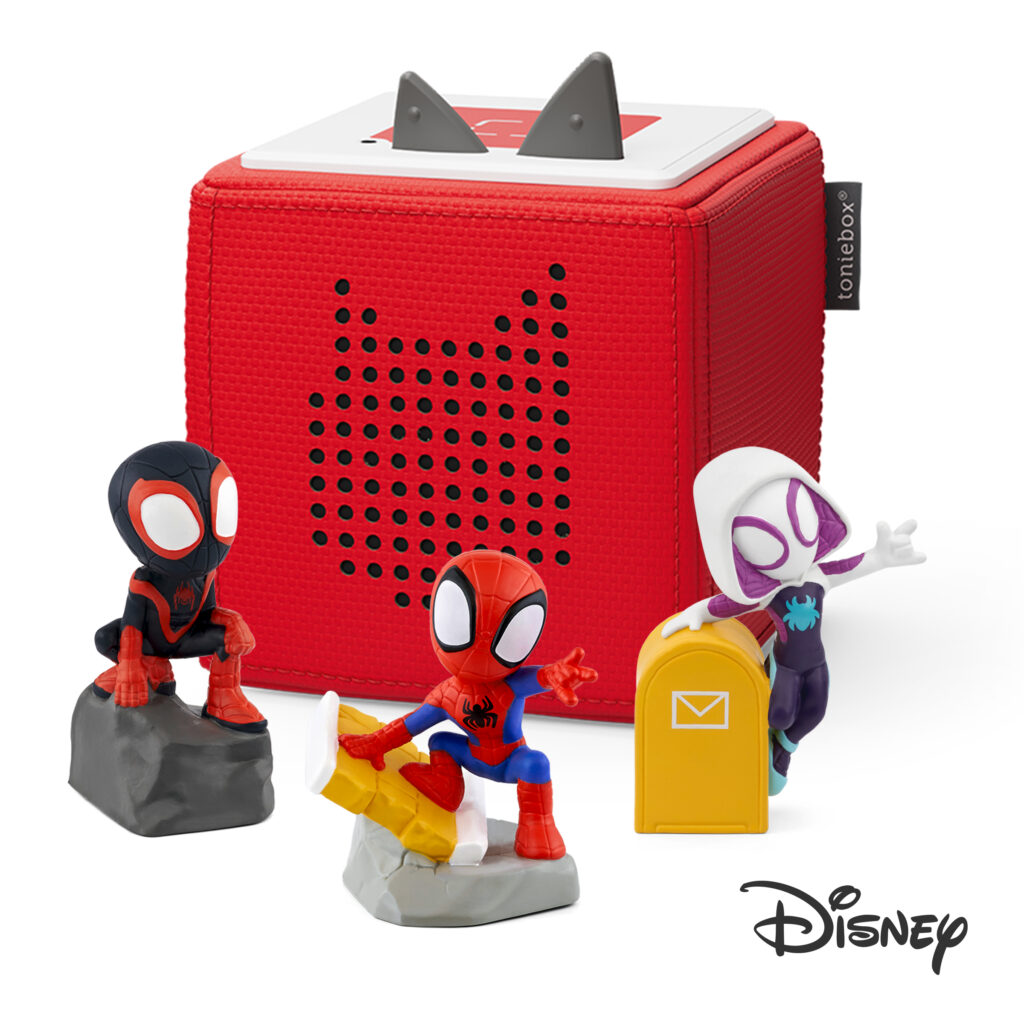 tonies from tonies
For ages 3 and up.
toniebox starter set $99.99, individual figures $14.99-$19.999
Where to Buy
Visitors to The Toy Guy know how much we love this whole line of products. It's screen-free storytelling in a huggable box. Sounds simplistic we know, and it is to an extent. When you place a tonies figure on the box, you unlock all kinds of great content including stories, interactive reading, and much more. New for this holiday season are the first-ever Marvel Tonies. Join Spidey, Spin and Ghost-Spider on three new crime fighting adventures! Each Tonie comes with multiple songs and one unique story. Oh, and don't forget how beautifully designed the figures are. Besides the fun kids will have, playing with tonies is develops listening skills and builds imaginations as kids picture the stories. We love this for some quiet time solo, or shared with other kids or parents. A Great Gift For: Kids 3-5 who love stories, and collectibles. Kids will love building a whole library of the diverse characters.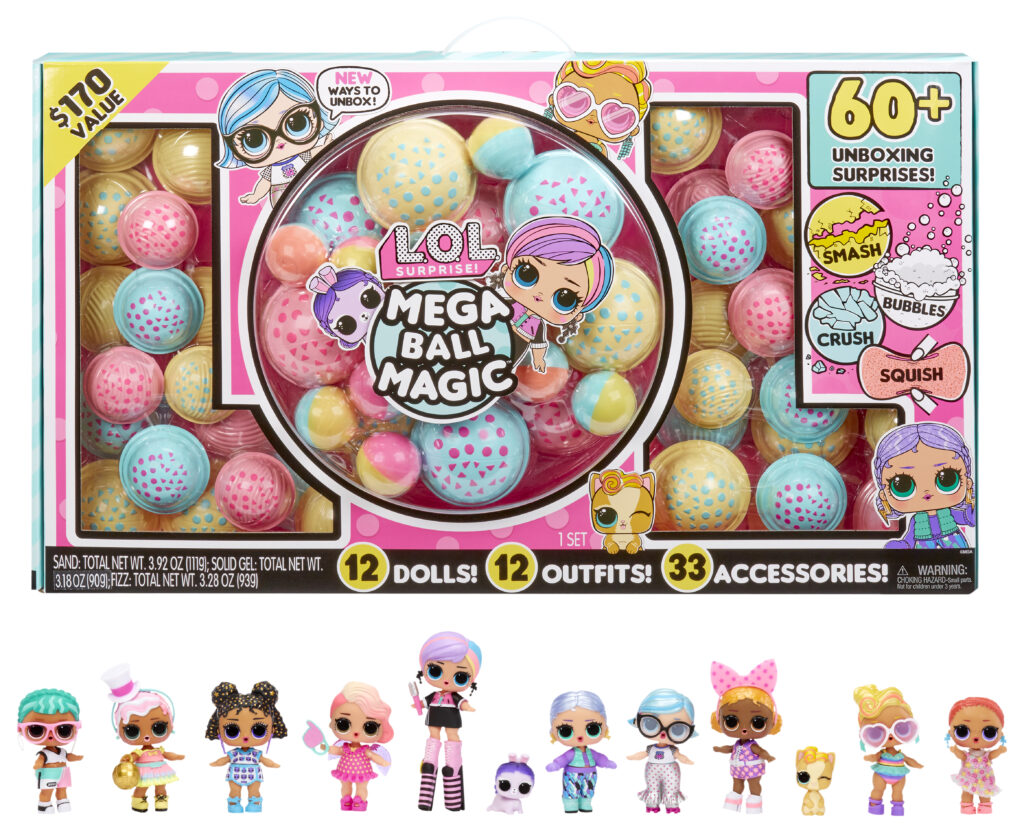 L.O.L. Surprise! Mega Ball Magic from MGA Entertainment
For ages 3 years and up.
$99.99
Where to Buy
The L.O.L. Surprise! Mega Ball Magic features the ultimate unboxing experience with L.O.L. Surprise! Unbox and unbox and unbox all day long with this case of 60+ L.O.L. balls and surprises. Find four innovative and tactile ways like smash, bubbles, crush, and squish sand to unbox the dolls + mix-and-match accessories and more! You'll get 10 dolls and 2 pets, plus so many accessories and fashions, and it all packs away in a big case. We thought we'd seen the ultimate "big gift" for L.O.L. Surprise! fans before, but MGA Entertainment topped even their own creativity with this huge "wow" set. This one is likely to be in short supply, so if you want it, buy early. A Great Gift For: The very lucky L.O.L. Surprise! fans in your world!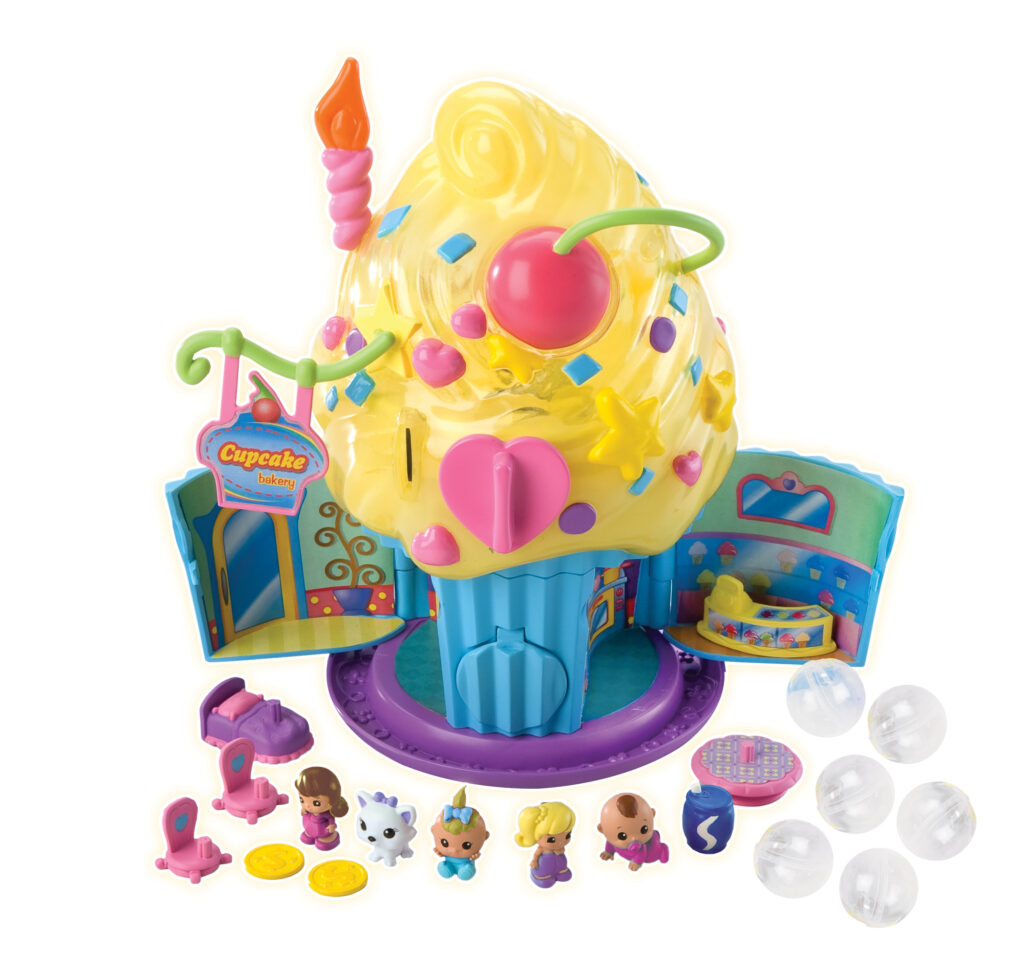 Squinkies Originals Cupcakes Surprize Bake Shop from Blip Toys
For ages 5 years and up.
$24.99
Where to Buy
Yes, cupcakes are still a thing. And micro toys are still a thing. AND unboxing is still a thing. So, put all those things together, and you an outstanding toy. Shaped like a dazzling cupcake, you can open it up to reveal a bake shop, perfect for pretend play. But there's more. Use one of the special coins, and put it in the vending machine, and get a cool capsule with a special toy inside. This is classic play, and no surprise because Squinkies were a phenomenon when they were first introduced. Indeed, they were the first micro collectible…and today's kids love them just as much. Vend, open, play, and collect…and you can do it over and over. A Great Gift For: Kids who love collectibles, unboxing and imaginative play.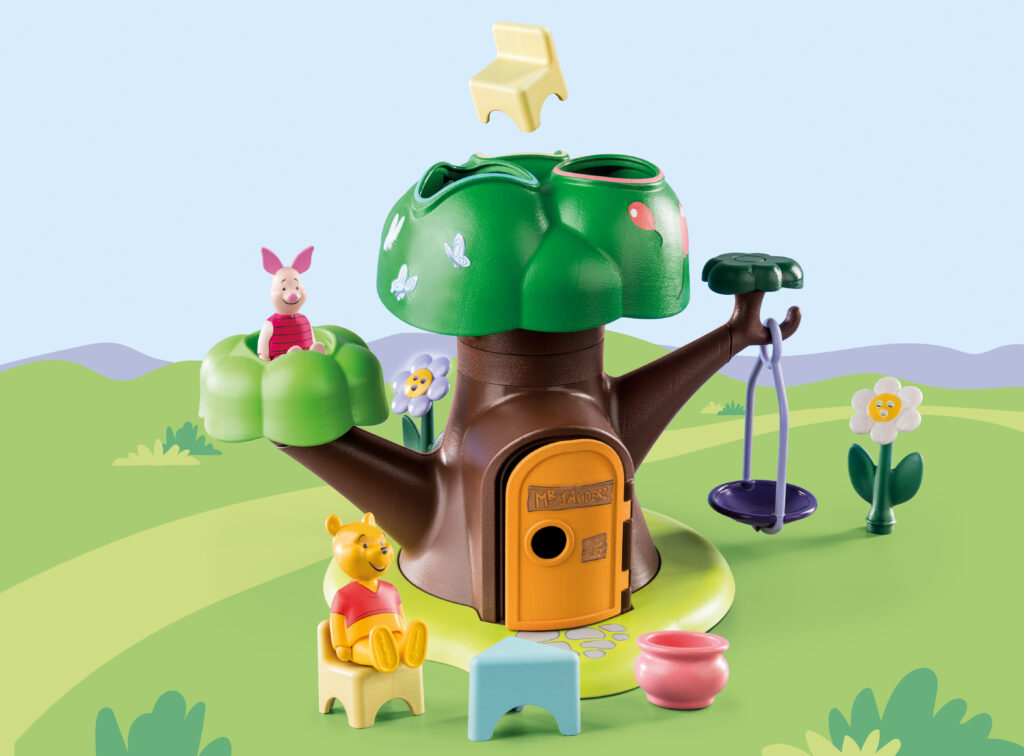 PLAYMOBIL 1.2.3. & Disney Winnie's and Piglet's Treehouse from PLAYMOBIL
For ages 18 months and up.
$49.99
Where to Buy
The 1.2.3. toddler line is all about kids learning through play. The unique learning concept starts at the youngest ages, and kids can engage in open-ended exploration. Then, as they get a little older, they manipulate and play with the toy to begin to develop fine motor skills, three-dimensional thinking. As kids get older, they'll be able to make up stories about their friends in the 100 Acre Wood. There's so much play built into this, and we love that the furniture and accessories are different shapes. And, after, all, the best learning play is when kids are actively and imaginatively engaged…something PLAYMOBIL always does so well. This is a beautiful set that kids will play with for a long time. And, it's' the first time PLAYMOBIL's 1.2.3. line has included favorite characters. A Great Gift For: The littlest fans of Winnie the Pooh and Piglet.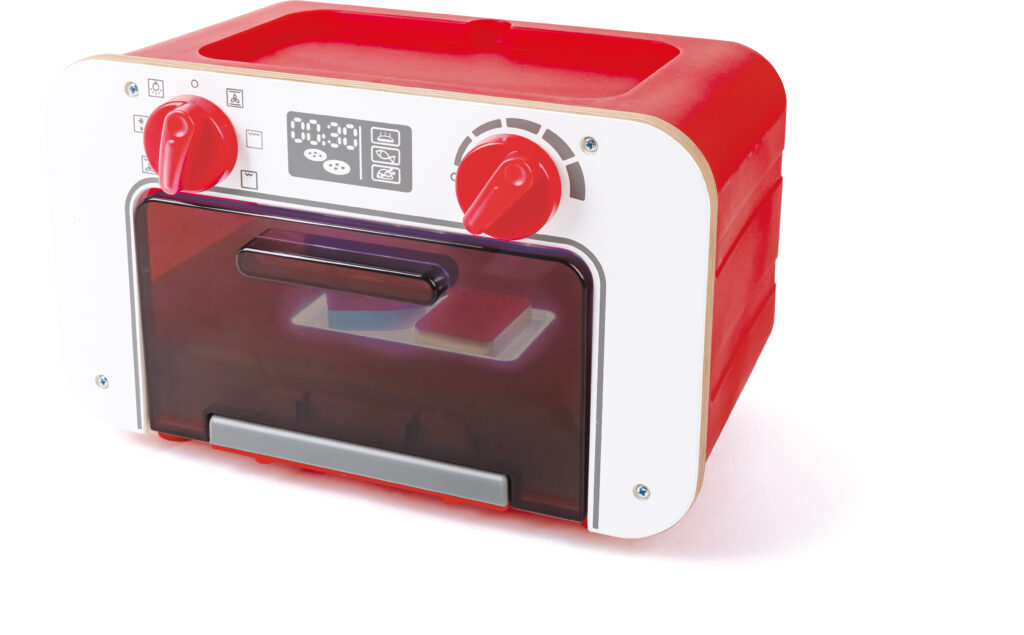 My Baking Oven with Magic Cookies from Hape
For ages 3 years and up.
$49.99
Where to Buy
Food play is one of the all-time classics. This super cute oven inspires imaginative cooking play as kids pop the cookies in the oven, turn it on and the cookies get brown. Of course, there's no heat involved, it's remarkable color-change technology, but kids will be intrigued at the "magic." We love this because it's a simple toy, a beautifully designed toy, and it will inspire all kinds of creative imaginative play. Turn the top tray over, and you have a make-believe cook top to integrate with all kinds of other kitchen toys. A Great Gift For: Imaginative kids who like cooking play.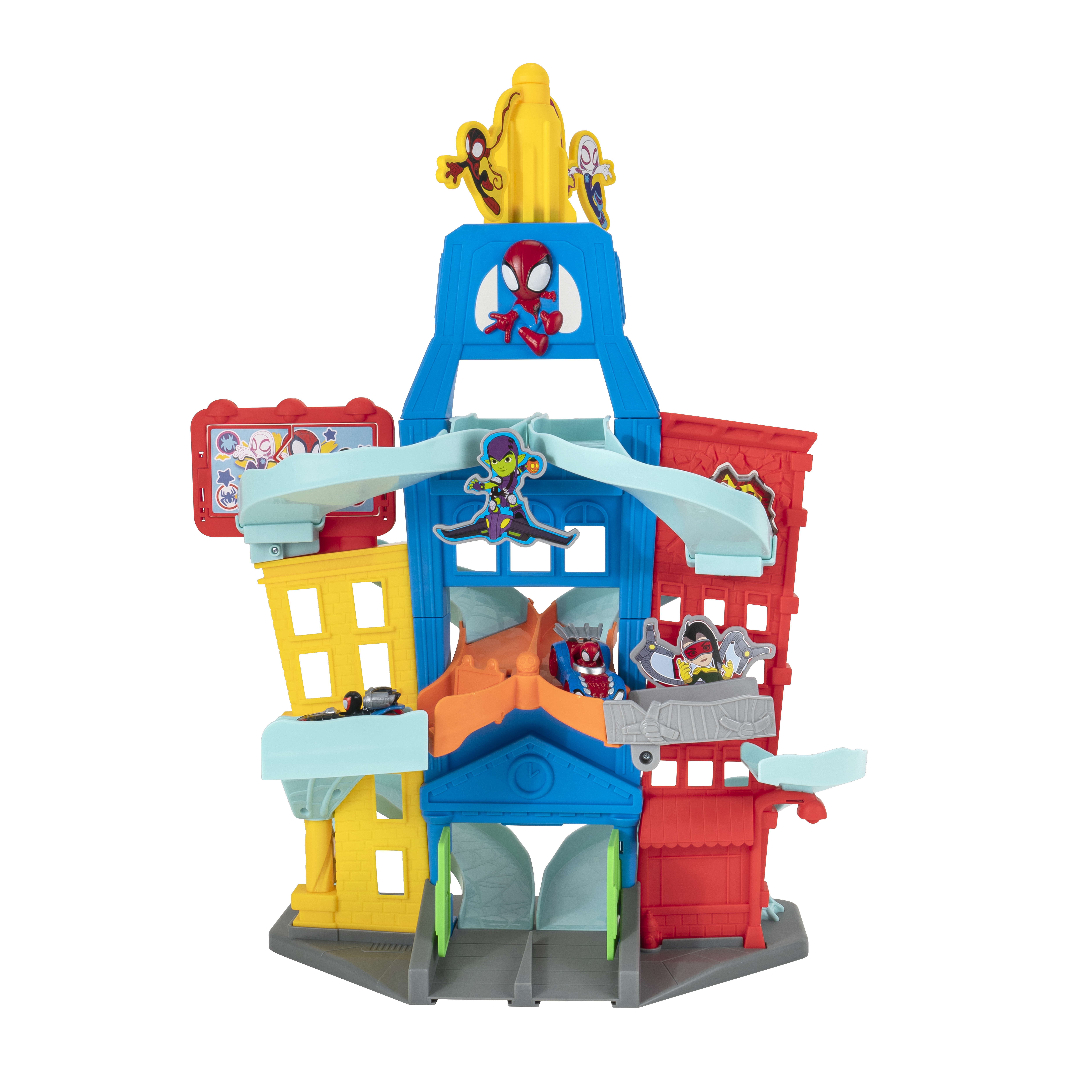 Spidey & His Amazing Friends Amazing Metals Trace Set from Jazwares
For ages 3 and up.
$49.99
Where to Buy
Get ready for racing, rocking adventure that brings all the action and fun of the hit TV show right into your home! Race the Spidey and Miles Amazing Metals vehicles down thedual race track and through five action zones. Escape Green Goblin's crash walls, collapsing bridge, web swing and more as kids race to save the city from destruction as they escape super-villain Rhino. We love the quality and the weight of the die-cast cars, and it's the first time Jazwares has made these. The detail is great, and the track stands an impressive two-feet tall. We like the feel of the cars, too. A Great Gift For: Fans of the Spidey and his Amazing friends TV show who like cars and action-packed play.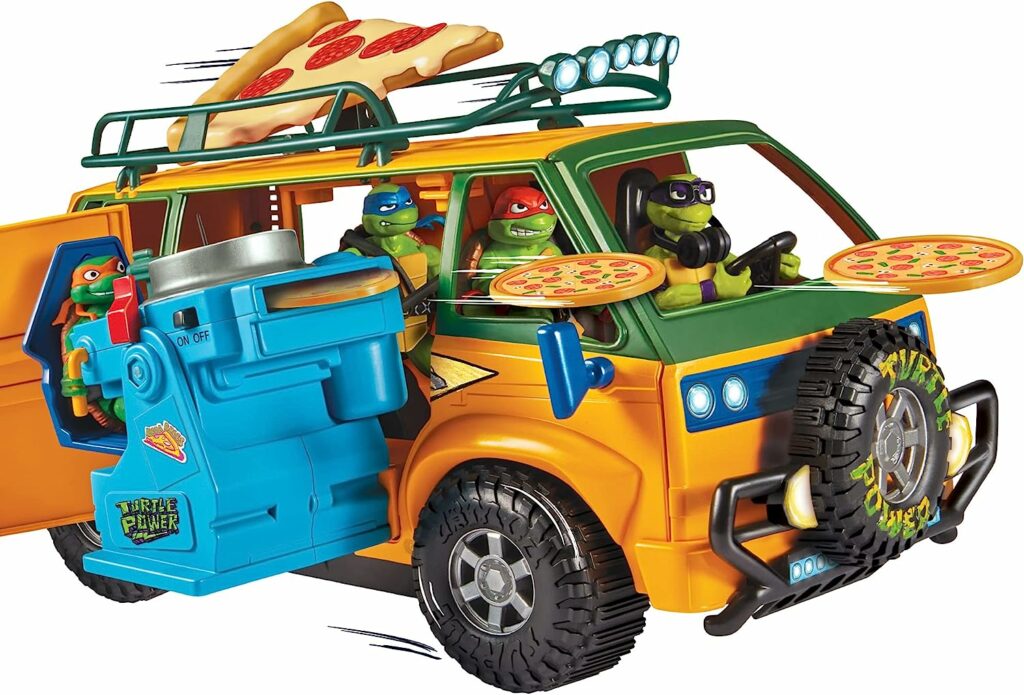 Teenage Mutant Ninja Turtles: Mutant Mayhem PizzaFire Van from Playmates Toys
For ages 4 and up.
$39.99
Where to Buy
Saying the name is fun, but playing with this is even funner! (Yeah, we know "funner" isn't a word. But our favorite Terrapins don't follow the rules, either.) Taken right off the screen from the hit Mutant Mayhem movie, the PizzaFire Van is out of the sewers and into the streets, as the Heroes on the Half Shell save the world…one more time. The van has room for all four Turtles and the fire power to take down Super Fly and his minions of baddies! It's super cool. Just hit the pizza slice button and the side door swings open, hit the button again and the pizza launcher slides out the side. Press the button on the motorized launcher to fire up to 8 pretend pizzas! Now that we're in the second generation of Turtles fans, these guys have proven they've got what it takes to make playtime always exciting. A Great Gift For: TMNT fans! This is action-packed play that's classic and fun.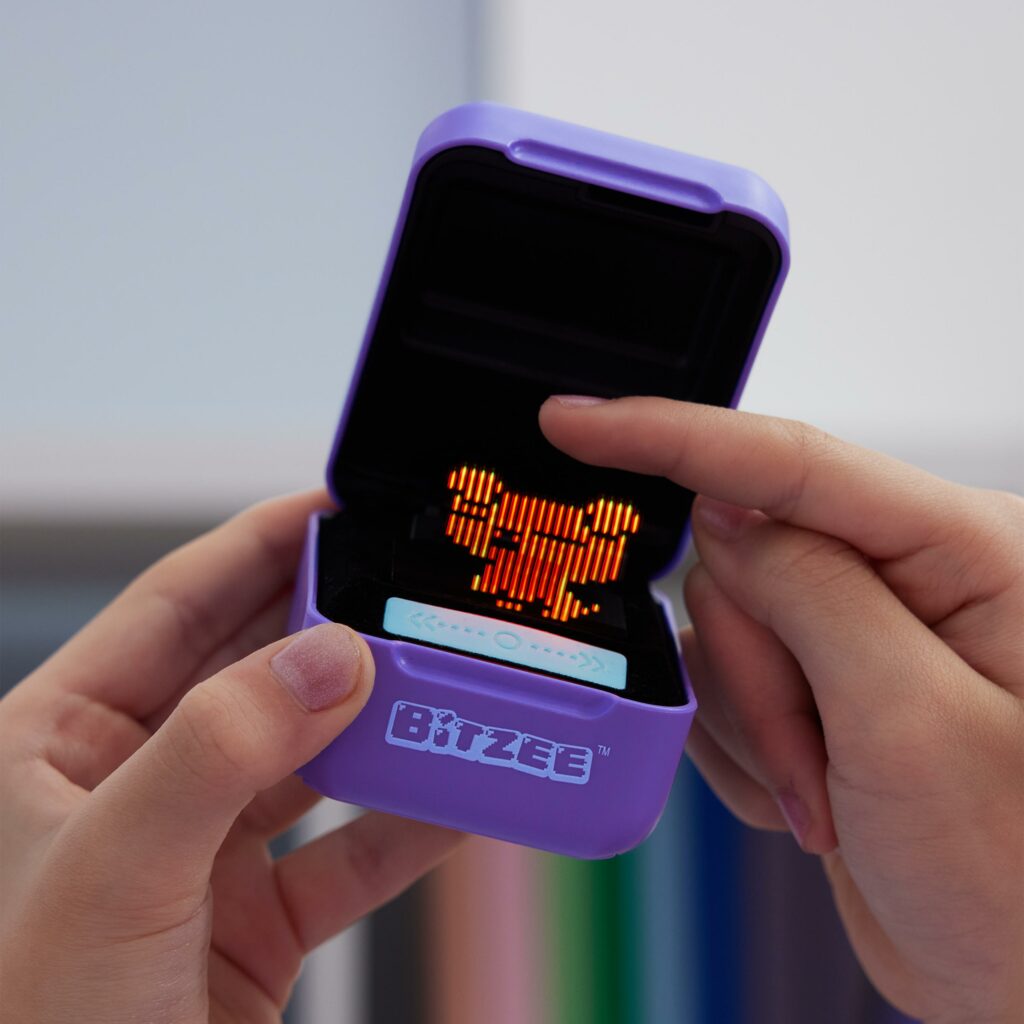 Bitzee from Spin Master
For ags 5 and up.
$29.99
Where to Buy
This incredible virtual pet takes this kind of play to a whole new level. You might even say it's touching. Touching that is because it's the first time you can actually touch your pet! Bitzee responds to swipes, tilts, shakes and touch with sounds and reactions. Each Bitzee starts as a baby. Like real pets, Bitzee virtual pets need love and care to grow. The more you play, the more pets you'll get. Feed them and play, rock them to sleep, clean up after them and give them love. Watch them grow from baby, to adult, to Super Bitzee. Unlock each Super Bitzee pet and discover unique outfits and games, then use the treat to attract your next virtual animal. You can collect 15 Bitzee pets in your case and show off your collection to friends anywhere. A Great Gift For: Fans of interactive pets. We have to say, this one is becoming super popular, largely because the touch interaction is something completely new, while the classic nurturing play has been around almost as long as there have been kids.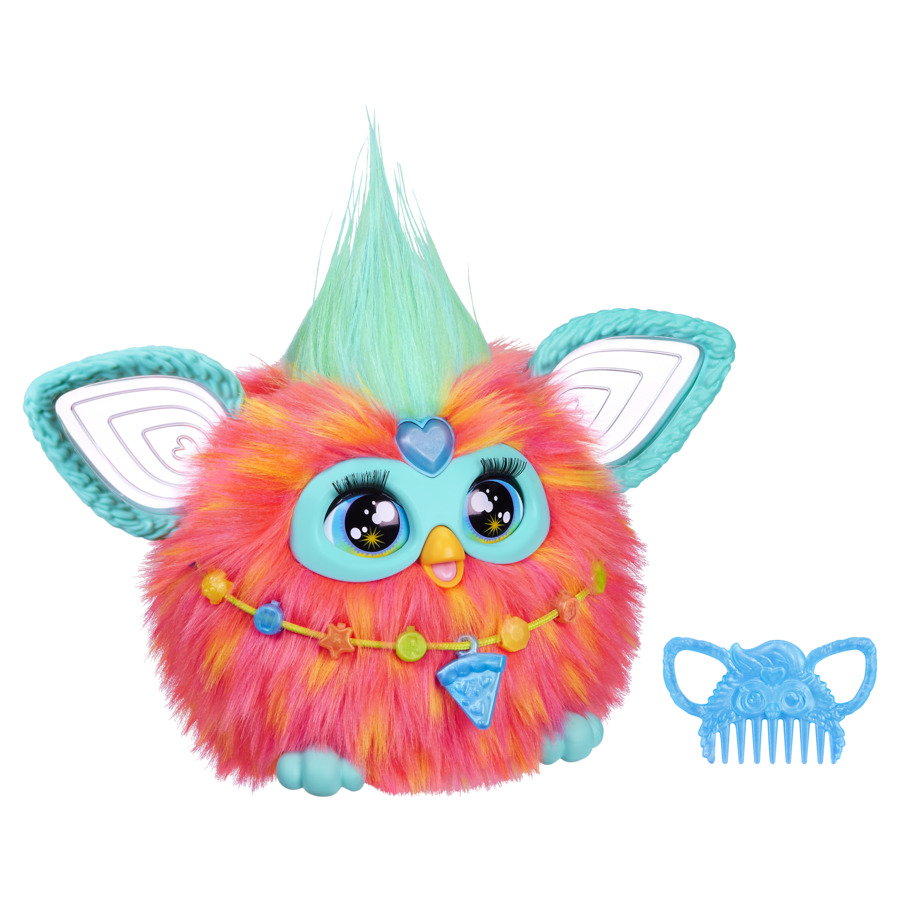 Furby Interactive Toy from Hasbro
For ages 6 and up.
$69.99
Where to Buy
Furby is one of the iconic toys of the last 30 years or so, but you've never seen a Furby like this. It's all new, thanks to advanced technology, but a lot of creative inspiration. The fuzzy best friend is best-friendlier than ever with so many cool features, and an adorable new look. Furby comes in two colors – Purple or Coral – and features 5 voice-activated modes and more than 600 phrases, jokes, songs, and so much more to discover. Tell Furby what you want to do with these 5 commands: Dance Party, Copy Cat, Tell My Fortune, Let's Chill, and Lightshow. Furby also responds to hugs, pats on the head, shaking, and feeding its pretend pizza charm (or your finger – yum). The more kids play, the more fun they can unlock!
Oh, and mom, here's a hack: Touch the gem on Furby's head three times, and it shuts off. (Not that you'd ever want to stop the adorableness.) A Great Gift For: Kids who love virtual pets, imaginative, interactive play and an affinity for super-cuteness.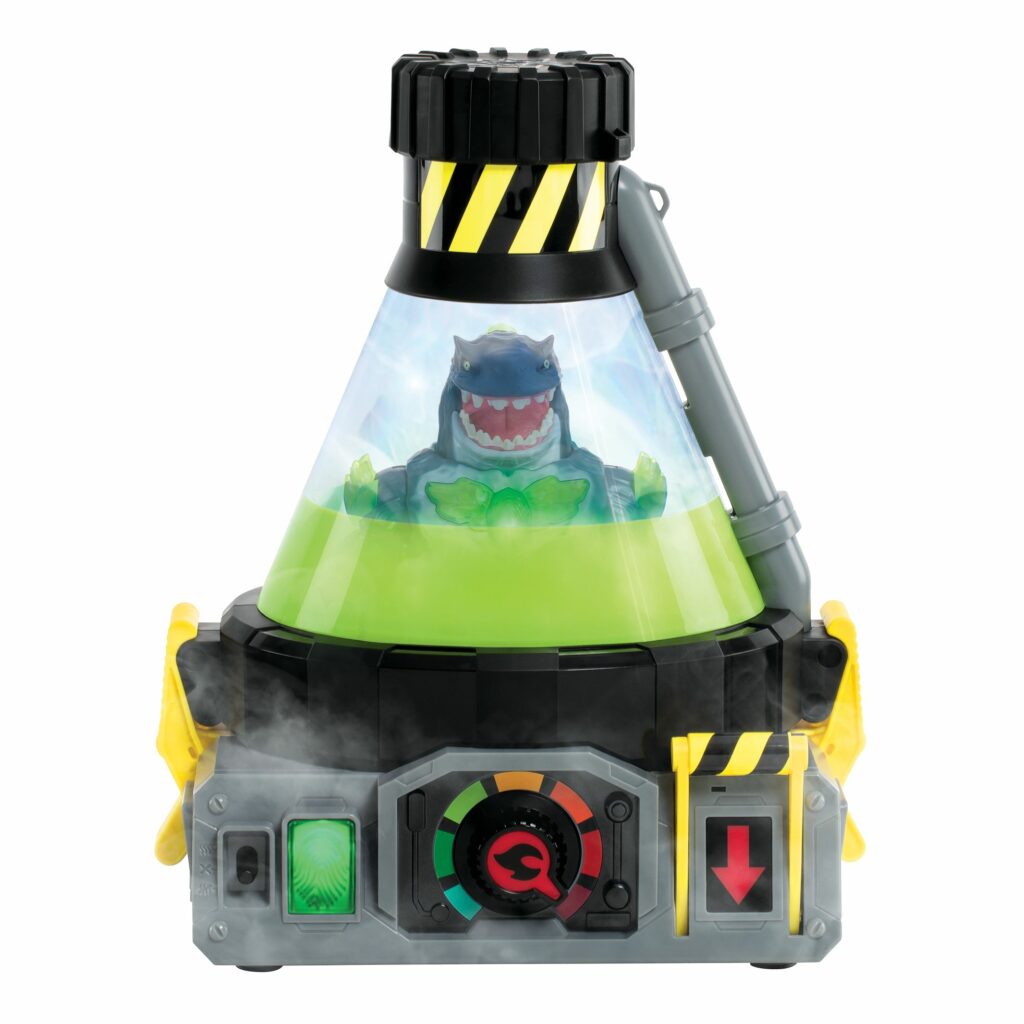 Beast Lab from Moose Toys
For ages 5 years and up.
$79.99
Where to Buy
Step into your very own mad science lab and create a sensational beast. Put all your components in the beaker, scan your fingerprint, and reveal the bestest beast ever. Crackling sounds, epic roars, flashing lights and fizzing bubbles emit from the chamber while Bio Mist flows. Adding the pandemonium crystal gives the beast its power. An alarm sounds! Pull the emergency lever, drain the ingredients and unleash the beast. Mayhem Megashark or Havoc Hammerhead emerges ready for action-packed battle fun. The beast evolves with new sounds, lights and ways to play and the experiment can be repeated again and again. A Great Gift For: Kids who love action figures and narrative based play and who will get into the imaginative fun of creating their own incredible figure.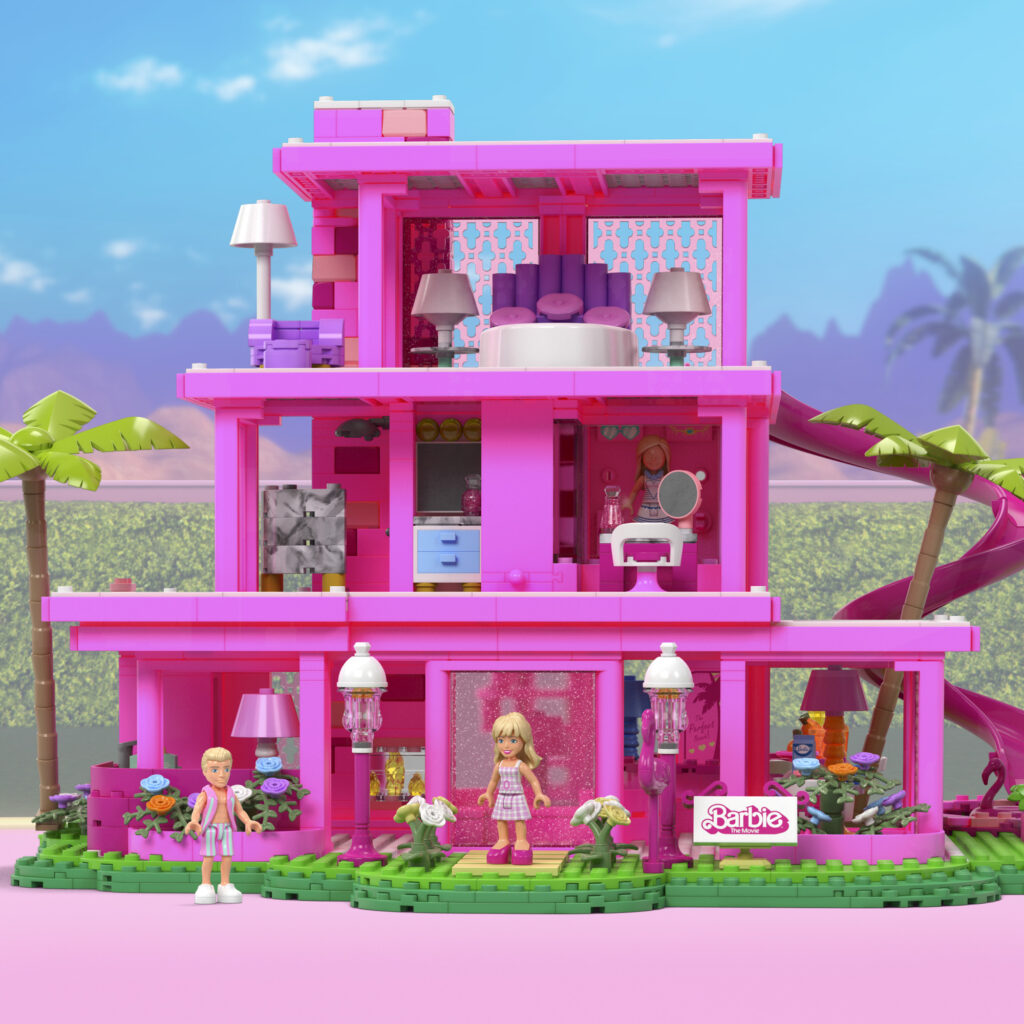 Barbie The Movie MEGA Dreamhouse from Mattel
For ages 10 years and up
$149.99
Where to Buy
It's instantly iconic−the house from the mega-hit Barbie movie. This three-story replica is made with 1,795 Mega Blocks bricks. The set also has micro-dolls of Barbie and Ken, and comes complete with a kitchen, bar, bedroom, spa, a spiral staircase and a pool with a slide that the dolls can slide down. If you've seen the movie, you'll love how the open spaces are built for hands-on play. Plus, this is the only replica of the Barbie Dreamhouse from the movie that's been made. A Great Gift For: Kids who love the Barbie movie, and we think adult collectors and Barbie fans will want this, too.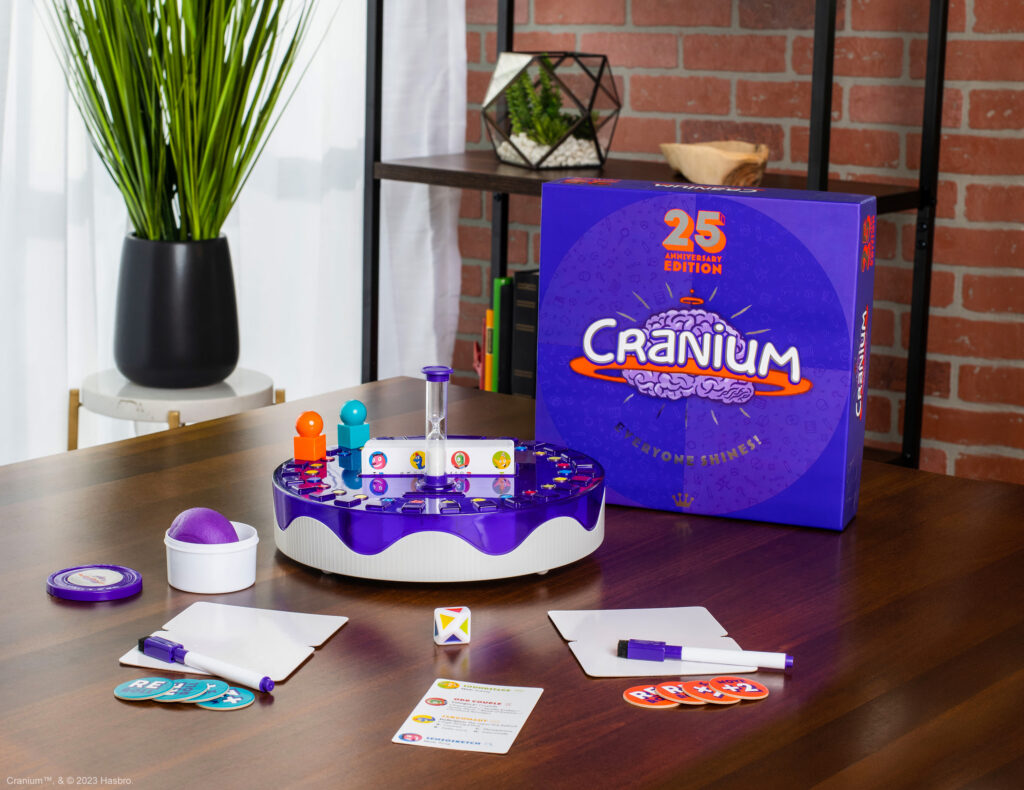 Cranium 25th Anniversary Edition Game from Funko Games and Hasbro
Ages 12 years and up.
$34.99
Where to Buy
There are so many reasons to love this game. First, it gets people together to laugh, play, and interact. The fast-paced gameplay combines elements of trivia, wordplay, creativity, and performance, challenging players to showcase their diverse skills and knowledge−18 different activities in all. They key element of this game has been that "everyone gets a chance to shine." Not so sharp on trivia? No worries, you can act out answer. Shy about talking in a group? Use the Cranium clay to sculpt. The point is that like the best games, everyone is actively engaged in the play. Plus, it's got iconic art, silliness, and delivers a whole party right out of the box.
Sound familiar? It should. Cranium was an out-of-the-box (literally) hit when it debuted 25 years ago. And now is the perfect time to bring it back as games are hotter than ever. And this isn't your parents' Cranium. The 25th Anniversary Edition brings the over-the-top fun, featuring updated activities and new ways to play. A Great Gift For: Really, for the whole family. Everyone plays…and everyone shines!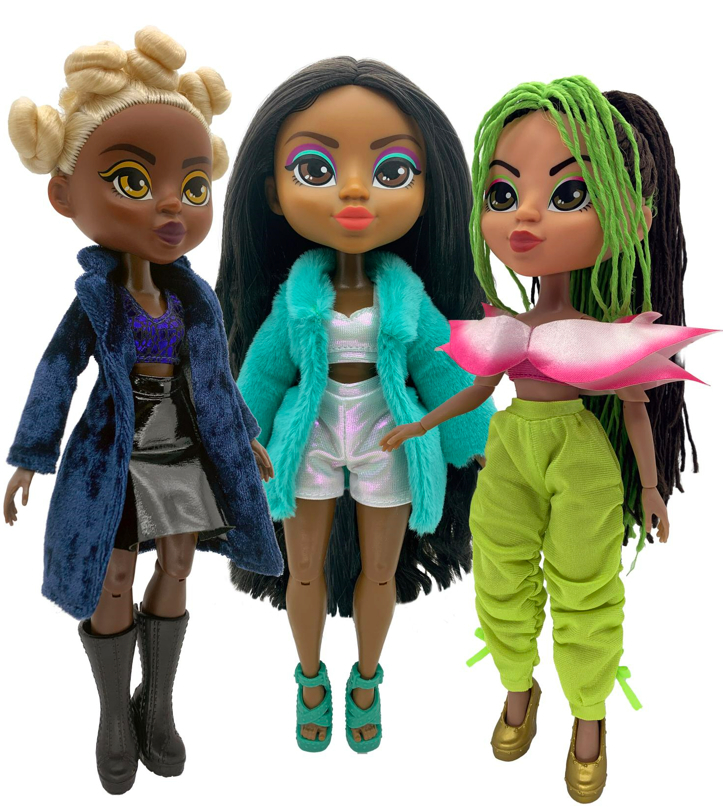 The Fresh Beats Collection from the Dr. Lisa Company
For ages 4 years and up.
$17.99
Where to Buy
Visitors to The Toy Guy know how much we love Dr. Lisa, and her amazing story. If you don't know it, you can read it here. The latest dolls in the collection are the Fresh Beats dolls. Three gorgeous ladies with fashions inspired by rock, hip-hop, and pop music. Loxx, Beigne au Lei and Bao BBY are the first three in a collection that will definitely be expanding in the months ahead.
Like all the dolls from this company, the high-fashion Fresh Beats dolls have custom-blended skin tones, premium rooted hair with authentic textures including patent pending locks that embrace diverse personalities with their stage-ready fashions, reflecting each doll's unique sense of style.
Dr. Lisa and her company are all about authenticity, and it's designed into every gorgeous doll. A Great Gift For: Kids who love fashion dolls and are looking for something new and very stylish.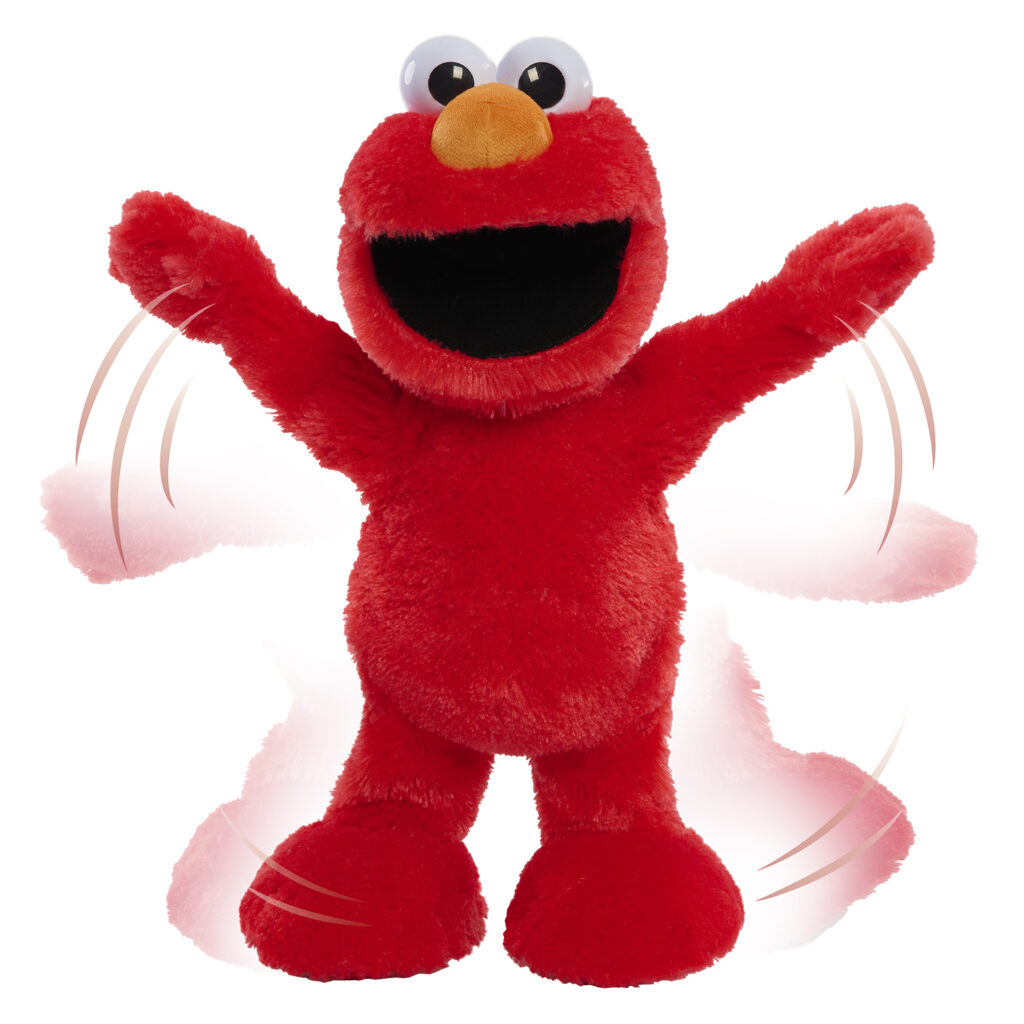 Sesame Street Elmo Slide Plush from Just Play
For ages 2 years and up.
$49.99
Where to Buy
Elmo is back. (Not that he ever went away.) We haven't seen an Elmo toy this exciting in years. Everyone's favorite bright red two-year-old engages kids to get up and dance along with Elmo, in English or Spanish. Give his hand a squeeze, and he sings, sways, flaps his arms, and glides from side to side to the super-catchy "Elmo Slide" song. It's so much fun, that kids—and grownups—won't be able to sit still when Elmo prompts them to dance with him. And when kids aren't dancing, they can play their own hilarious version of "Elmo says." We have to say we were really impressed by how elegantly designed this is, and standing 14-inches tall, he's a real playmate for fans. (Oh, and if this sounds familiar, the Elmo Slide was a bit of a viral sensation earlier this year!) A Great Gift For: Elmo fans of all ages…especially those who will be amused by his funny dancing and silly games.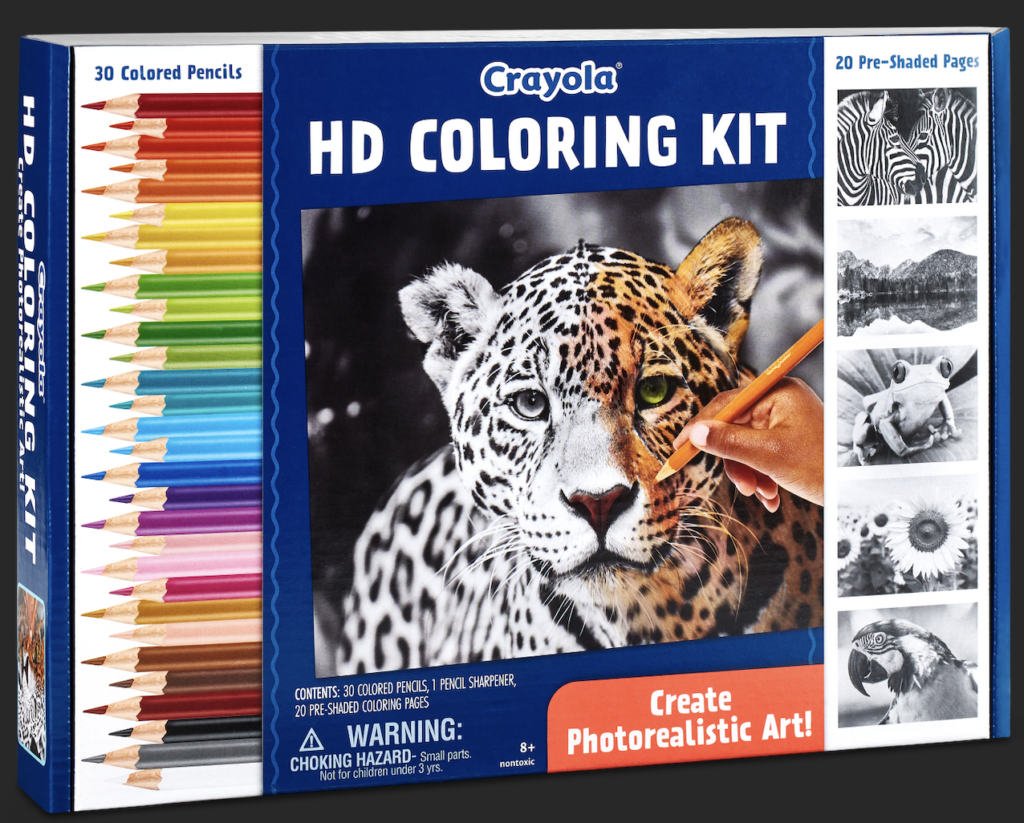 Crayola HD Coloring Kit from Crayola
For ages 8 years and up.
$19.99
Where to Buy
Oh, wow! Check out this truly innovative coloring activity kit. The set comes with 30 highly pigmented colored pencils and 20 coloring pages, which are dramatic photos. Use the pencils to create dramatic works of art−all suitable for framing, as the saying goes. The results are dynamic, photo-realistic works of art. They really reflect the "coloring is for everyone" theme that we're seeing these days. Everyone in the family will want a chance to make their own creations. And because it's Crayola, the quality is unsurpassed. The pencils feel great in your hand, and the color they lay down is dazzling. A Great Gift For: People who love to color!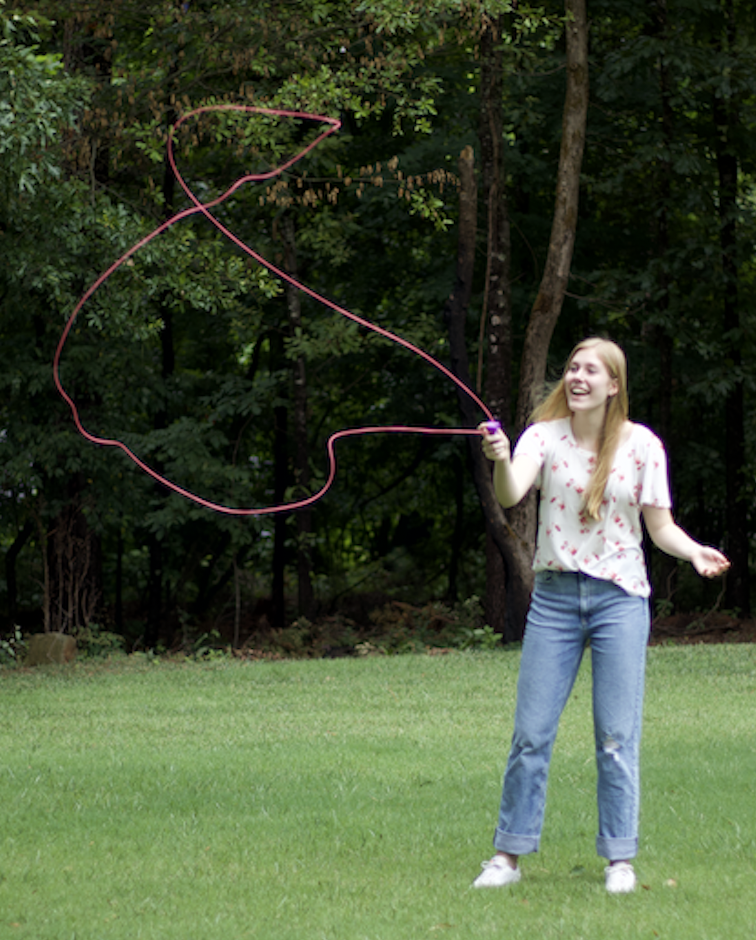 ZipString from ZipString
For ages 8 years and up.
$29.99
Where to Buy
We really have a hard time with this…putting it down that is. This is a truly mesmerizing toy for kids of all ages, though legally they say 8 and up. Physics and fun collide in this amazing, and amazingly simple, invention. Simply load the string, press the start button and begin an exciting experience, unleashing your imagination to discover a world of limitless trick possibilities. The string is comprised of ultra-light fibers capable of reaching speeds up to 35 mph, all carefully balancing several forces of gravity, lift, tension and drag to fly the string in the air. It's powered by a rechargeable battery, and the set comes with three strings, the handheld unit, and a USB charging cable. A Great Gift For: Really, almost anyone. We haven't given this to anyone who hasn't had a great time with it.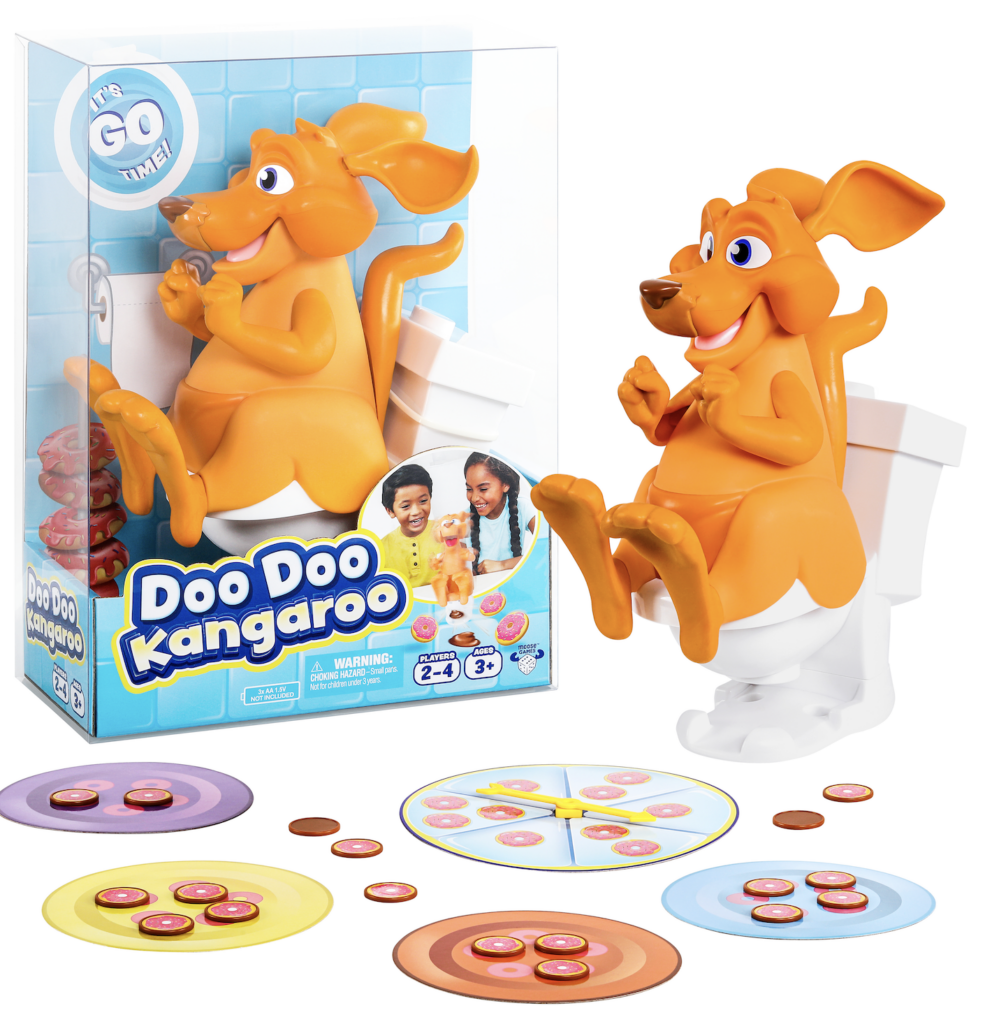 Doo Doo Kangaroo from Moose Toys
For ages 3 years and up.
$19.99
Where to Buy
When the 'roo has to doo, that's when the fun starts. This hilarious game is poo-fect for juvenile senses of humor (no matter how old you are.) After all, how often do you see a marsupial sitting on a standard toilet? You're already laughing, right? To play, feed the kangaroo donuts, sing the spinner and see how many times you have to flush the toilet. Pretty soon, the kangaroo "goes," and the donuts and doos start flying across the table as the kangaroo shakes and shimmies and players quickly try to grab donuts while dodging the doo doos. The first play to grab five donuts wins the round. Quick action and visual acuity are your key strategies, and it's easy to get excited and grab the wrong "prized." Oops. We call this "allowed naughtiness," and everyone is in on the joke. A Great Gift For: Kids with a sense of humor, families for silly play.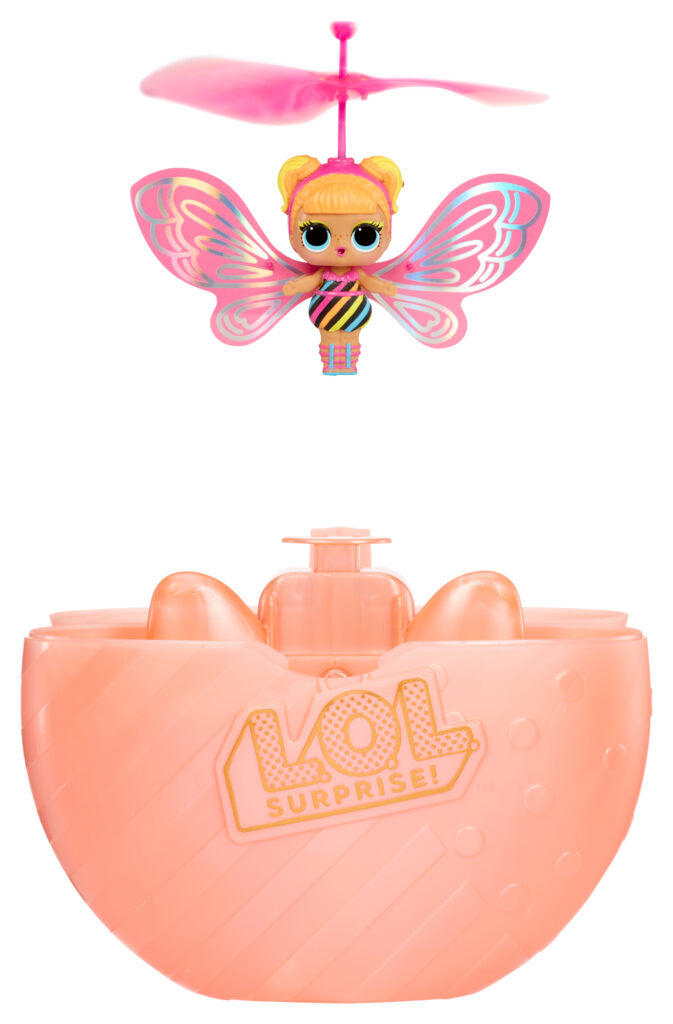 L.O.L.! Surprise Magic Flyers from MGA Entertainment
For ages 6 years and up.
$29.99
Where to Buy
They've been flying off shelves since they were first introduced, and now L.O.L. Surprise!, the incredibly popular, top-selling doll, line takes flight…for real. These adorable L.O.L. Tots are ready to delight kids in a whole new way. They come in their own magic bottle—a truly innovative twist on unboxing. Rub the bottle, and it shakes, rocks and lights up until it opens up to let the doll inside take to the sky. You're your hand under the doll, and watch as she really flies. There are three dolls to choose from, each with the signature, super cute L.O.L. styling. Plus, these genies do go back in the bottle, as kids can repeat the fun over and over. The bottle takes 3 AAA batteries, and the doll is rechargeable. We've talked about great product launches in the past, but we've never meant it in quite this way, and L.O.L. fans are sure to be enchanted! A Great Gift For: L.O.L. Surprise! fans who will enjoy the magic flying action.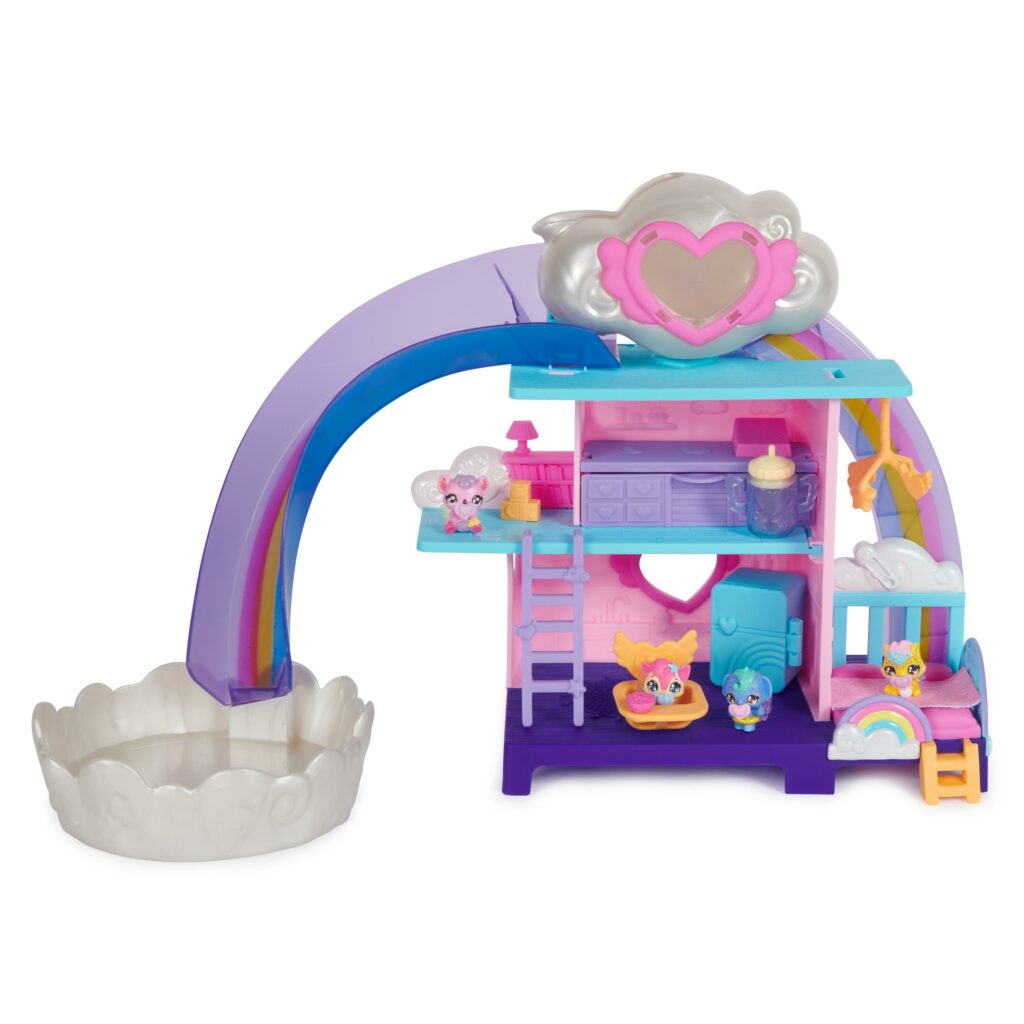 Hatchimals Alive Hatchi-Nursery Playset from Spin Master
For ages 3 years and up.
$34.99
Bring your play to magical life as you watch new best friends hatch and are ready to play. Hatchimals are one of the hottest collectible brands out there, and now there's a whole new way to hatch them. Set up the playset, and place the pool at the end of the rainbow slide. Place one—or all four—egg in the pool. Then fill the cloud at the top of the playset with water, and tilt it to send a gentle stream of water into the pool. You'll be amazed as you watch your new friends hatch—just like real eggs. Once they're hatched, there are so many ways to bring the world to life. Feed your Hatchimals in the kitchen, play on the slide, read in the playroom, snuggle up for a nap, display your characters and more! Plus, there are lots of accessories to add to the play. Build out your Hatchimals world with more eggs, sold separately. We love the magic of watching the eggs hatch, and the classic emotional connection of watching your new, toy BFF be born. It's easy, inspired, and oh-so magical! A Great Gift For: Kids who love collectibles, creating their own stories…and who will be wowed by the simple hatching magic.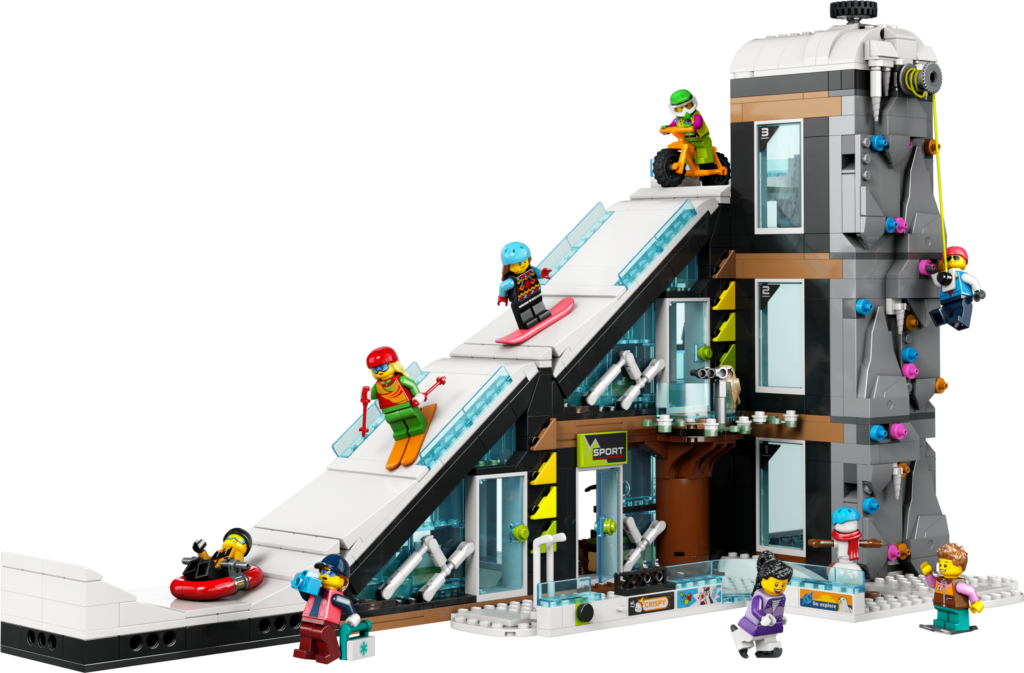 LEGO City Ski and Climbing Center from The LEGO Group
For ages 7 years and up.
$119.99
Where to Buy
It's a make-believe winter sports resort, with so much to do. It's a 3-level building with all kinds of winter sports−skiing, rock climbing and just hanging out. It's an inspiration for all kinds of imaginative play. And when you're not in the playroom, use the LEGO Builder app to explore, visualize, and save virtual playlets. One of the things we love about construction sets it that they encompass so many different ways of engaging kids in building and then bringing the set to life with their imaginations. It's a rich experience that's entertaining and educational. A Great Gift For: LEGO fans, of course, but all kids who love imaginative play…and winter sports.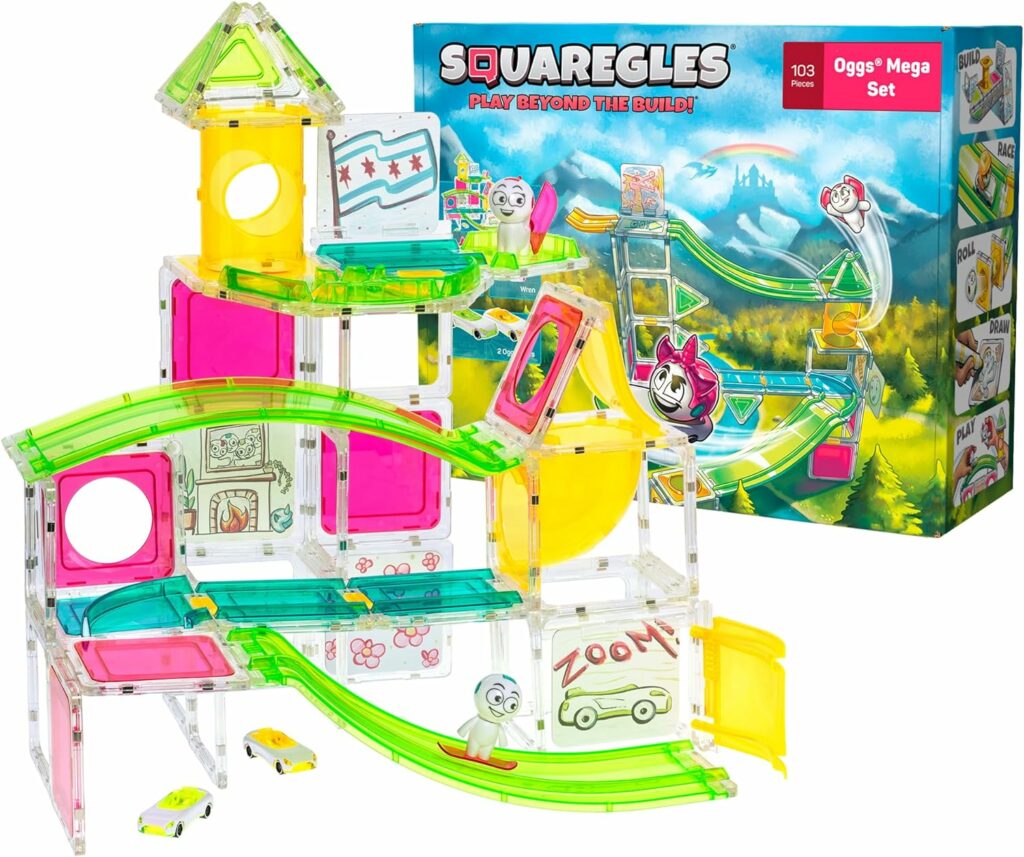 Oggs Mega Set from Squaregles
For ages 4 years and up
$119
Where to Buy
We've seen a lot of magnetic building sets, but this one goes to the next level. There is so much to build here with big pieces and super strong (and safe) magnets built in. Lots of different play patterns like drawing, crafting and building race tracks and marble runs. They can create different worlds they bring to life with their own creativity. Plus, the Oggs are unique characters that add levels of imaginative play to kids' creations. Their heads are like balls, so they can inhabit the worlds kids create, adding a whole level of narrative play and overall depth to the experience. This is the start set, and there are lots more available. Created by two dads who met at a playdate and wanted to expand kids' play options, Squaregles was born−and the rest is play history. A Great Gift For: Creative kids who love building, drawing, and making up stories. It's ideal for solo of co-play, too.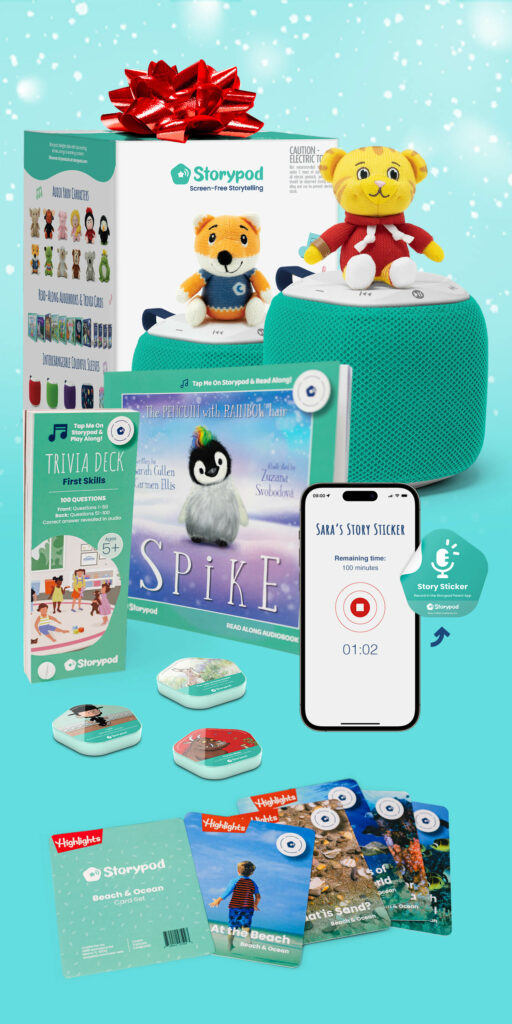 Storypod from Storypod
Ages 6 and up
$99.99 starter set, additional books, figures, accessories available
Where to Buy
This is another reading system we love. The ingenious reading/playing/connecting system is really something special. It encompasses a wide range of audio play for 0-6-year-old kids featuring fun and engaging formats such as yarn-figurines, books, activity cards, and tokens. You can read books, that come in printed form, or as tokens. Simply touch them to the top of the unit, and you're off. There are also trivia games and much more. One of the features we really love are the Story Stickers. You can record up to 60 minutes in the app, attach the sticker to anything−and it will tell the story. Great for parents who want to read to their kids if they're away, or you can personalize a give. Or, our favorite, record a story about a family photo, and it's available in the voice of the teller any time. You can also get an optional, machine-washable sleeve, which we think is inspired. A Great Gift For: Kids who love stories, and parents and others who will enjoy making their own recorded messages for kids to listen to any time.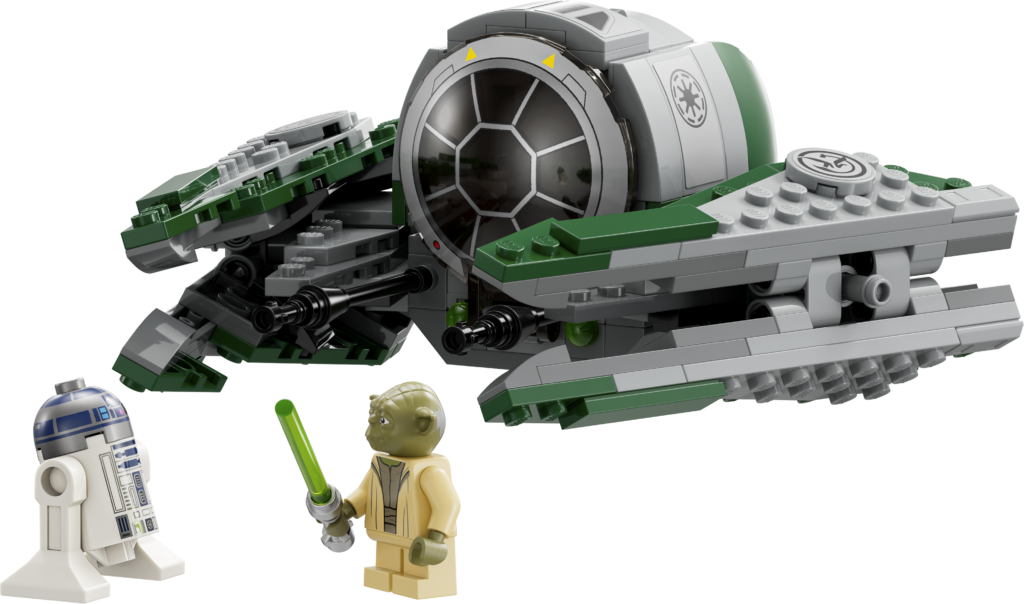 LEGO Star Wars Yoda's Jedi Strarfighter from The LEGO Group
For ages 8 years and up.
$34.99
Where to Buy
Star Wars fans start early, and this LEGO set allows kids to embark on exciting missions with a detailed recreation of Yoda's Jedi Starfighter from Star Wars: The Clone Wars, complete with an opening cockpit, space for R2-D2, spring-loaded shooters, and adjustable wings. The set includes two popular Star Wars characters, Master Yoda in LEGO minifigure form with a lightsaber and an R2-D2 LEGO droid figure. A Great Gift For: This is ideal for kids who Star Wars: The Clone Wars, as well as all the many LEGO Star Wars sets out there.


DISCLOSURE: PURCHASE LINKS ARE TO PLACES THAT HAD IN-STOCK AVAILABILITY AT THE TIME OF PUBLICATION. THE TOY GUY DOES NOT RECEIVE ANY COMMISSION OR FEES IF YOU PURCHASE THROUGH THOSE LINKS. WE DEFINITELY RECOMMEND SHOPPING AROUND. PRICES LISTED HERE ARE MANUFACTURER'S SUGGESTED RETAIL PRICES. IN SOME CASES, PRICES MAY VARY.